Dine and dance during Sneaky Saturdays ─ Mrs Sippy Bali's on-going weekly pool party series that redefines the Ibizan party experience. Experience the tantalising VIP Sneaky Lunch and indulge in mouth-watering bites in-between dancing and pool dipping at the popular day club oasis.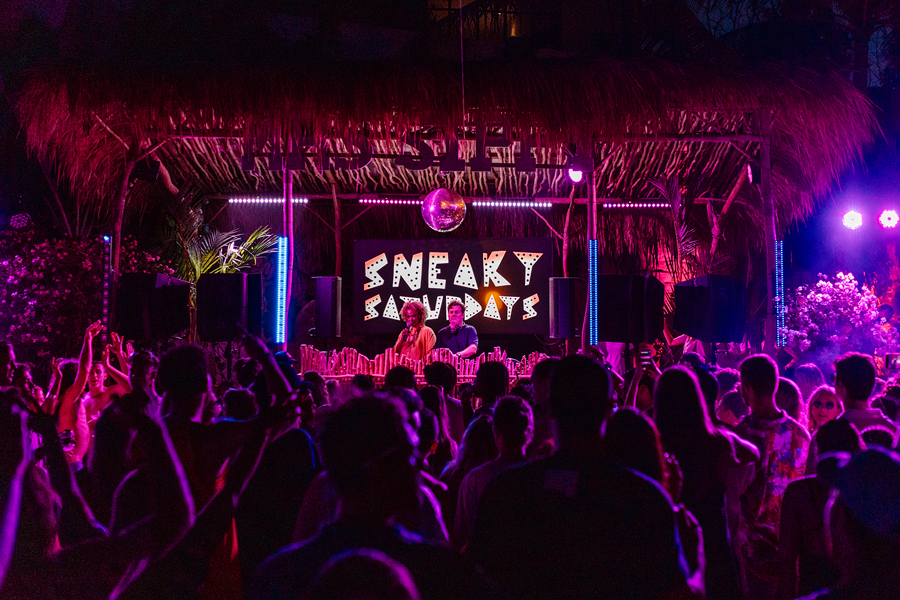 On Saturday, 6 July 2019, Mrs Sippy Bali successfully launched Sneaky Saturdays ─ the hottest summer pool party series ─ featuring award-winning Australian duo Sneaky Sound System on a 3-month residency. The powerful vocals of Connie Mitchell combined with the awesome beats provided by Black Angus presents the most electrifying day pool blowout on the island.
Now, you can also enjoy a sumptuous lunch during Sneaky Saturdays with the VIP Sneaky Lunch experience held in their picturesque garden area. Relish in the Sneaky Lunch menu which offers an eclectic line-up of Mediterranean-inspired dishes such as lobster rolls and grilled prawns, and sip in between dips with Mrs Sippy's classic cocktails. Try out the refreshing Sippy Spritz, which is a mix of Belvedere, limoncello and blood orange tonic, or better yet, try their signature Sippy Frosé, which is a concoction of rosé, mango juice, peach liqueur and lemon.
The VIP Sneaky Lunch is available from 1pm – 5pm. For the best experience, reserve the luxurious poolside daybeds for a close-up view of the party scene with exclusive bottle services to experience the real Ibiza party vibes.
Formed in 2001, Sneaky Sound System has a list of accolades in their bag including their 3x platinum-certified self-titled debut album, 14 nominations at the ARIA Music Awards (winning Best Dance Release and Breakthrough Artist in 2007), 4 nominations at the MTV Australia Awards (winning Independent Spirit in 2009), and an endless list of discographies and collaborations including their breakthrough single, "I Love It", and their collaboration with legendary DJ, Tiesto, on the chart-topping single, "I Will Be Here".
If you haven't gone to Sneaky Saturdays yet, worry not, you still have a chance to join the party and dance to the pulsating beats by Sneaky Sound System. Sneaky Saturdays is on-going every Saturday with the last edition happening on Saturday, 28 September 2019.
Sneaky Saturdays also have a weekly group of acrobatic performers on the dive platforms. Don't miss out on catching them in action starting from 3pm! If you're feeling a little bit adventurous, awaken the daredevil in you and try jumping off the 5m high platform yourself.
Entry fee to Sneaky Saturdays is priced at IDR 200,000 and can be purchased on the spot or online at www.eventbrite.com.au/e/sneaky-saturdays-tickets-62829134633. The event will start at 3pm (doors open at 10am). For more information please call +62 811 3960 3196 or for daybed booking email to reservations@mrssippybali.com.
Mrs Sippy Bali
Jl. Taman Ganesha, Gang Gagak 8, Seminyak
+62 811 3960 3196
reservations@mrssippybali.com
mrssippybali.com