The beach clubs in Bali have become the ultimate seaside hubs, a magnet for lovers of the tropical life and the island is home to a few seriously hit hotspots that bring a breath of fresh air to coastal living. So, pick your favourite and settle into a day of beachfront fun
The sun is out; in the heat we flock to the coast to plunge ourselves into the cooling waters of the surrounding seas. It is here on the stretching beaches we find our refuge; chilled cocktail and champagne glasses dripping with condensation, tropical beach vibes play aloud, beautiful people in their stylish beachwear soak in the infinity pools that look out to sea or lounge on their backs to take in the rays.
Potato Head Beach Club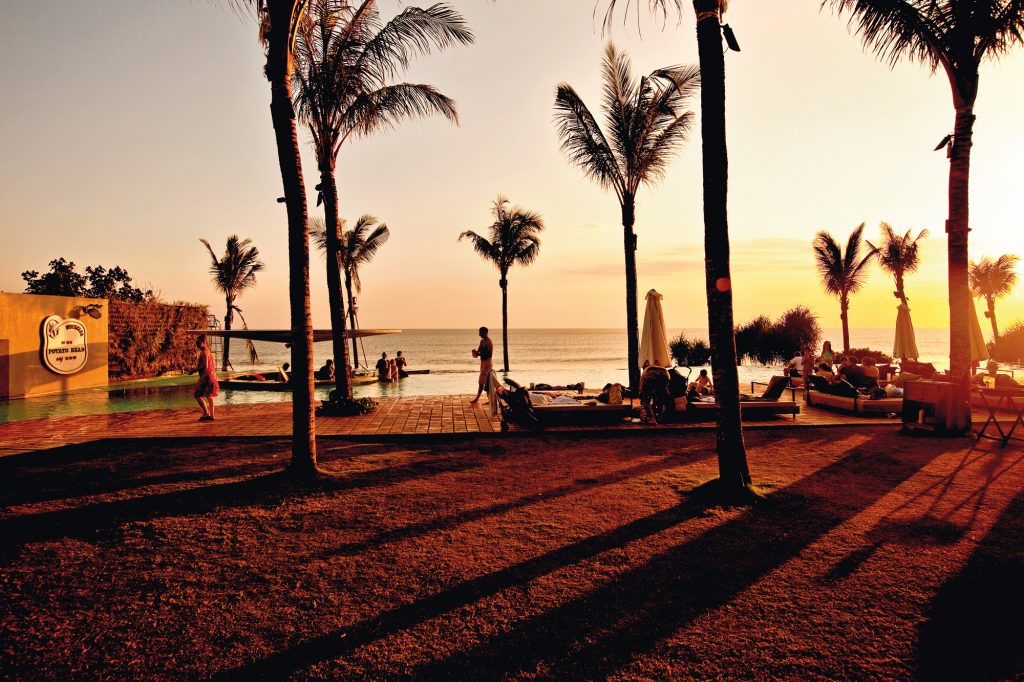 At the top of many people's bucket lists when they hit the shores of Bali is Potato Head, and deservedly so. With its trademark building – a modern Coliseum desgined by Andra Matin with huge façade of vintage, multi-coloured window shutters – most people are awe-struck before even entering. Inside, a 'stadium' dedicated to beachside indulgence awaits: the restaurant seating surrounds the central 500-square metre lawn, used for picnic-style relaxation under palm trees. Ahead, much sought after daybeds line the infinity pool, complete with its own sunken pool bar for brave day-drinkers. Although, you can't blame them as Potato Head Beach Club has certainly thrown creativity and originality into their bar creations, such as their tropical and tiki concoctions paying homage to Bali, served in anything from a seashell to fresh coconut. Perfect for sunsets, but just as exciting at night. A regular host to international DJ's, artists, pop-up shops and eclectic collaborations that keep Potato Head at the forefront of creative entertainment.
Potato Head Beach Club
Jalan Petitenget 51B Seminyak
+62 361 4737979
www.ptthead.com
---
Finns Beach Club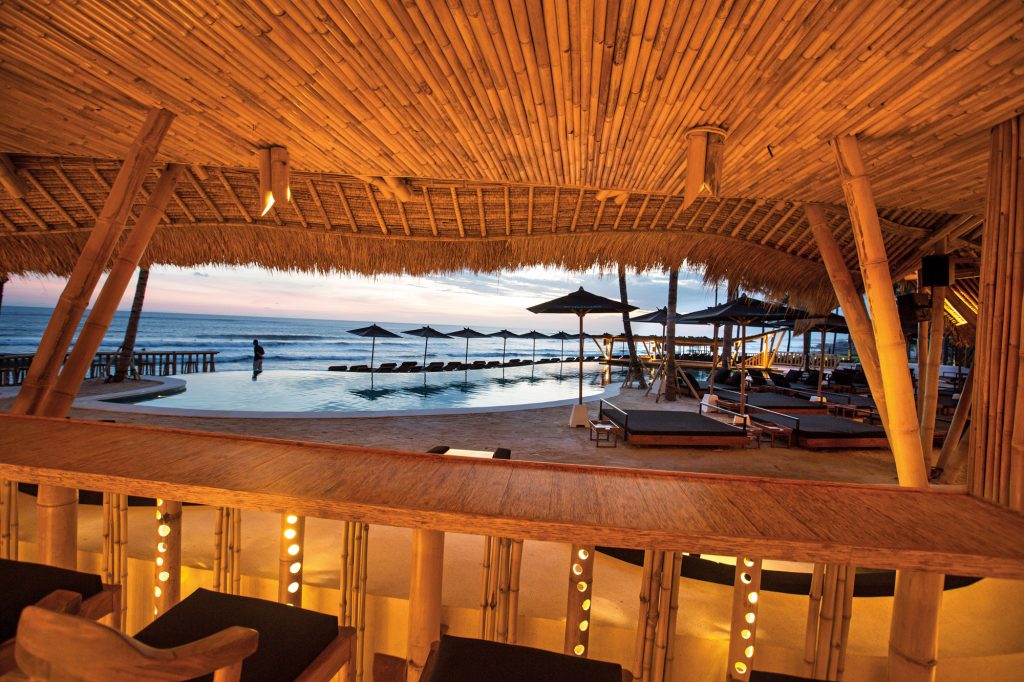 At the famous Berawa Beach surf break, only 10 minutes from Seminyak, the brand new Finns Beach Club has opened in Canggu. Its huge, purely bamboo structure is a gorgeous spectacle that plays to the whole beach hut vibe, just at greatly elevated level. Daybeds and loungers pepper the pool area, where you'll find the swim-up Pool Bar, facing west in preparation for sunset. Open at 9am for the eager sun seekers and closing at midnight, Finns is prepared to have you all day and night; daily DJ's spin after 4pm to bring in that perfectly tropical beach vibe to the venue right into the night.
Finns Beach Club
Jalan Pantai Berawa, Canggu
+62 361 8446327
www.finnsbeachclub.com
---
El Kabron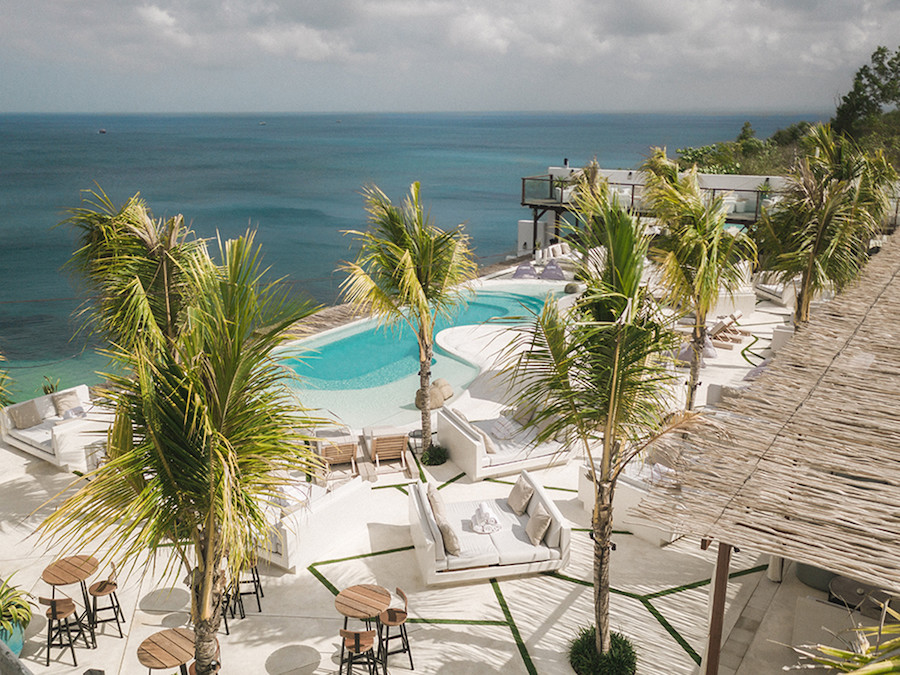 Although not exactly a 'beach club', as it is found high atop a cliff in Bukit Pecatu and not on a beach, El Kabron embodies everything a beach club is and does. From its cliff top nook, it has prime views of the spanning Indian Ocean and thus becomes a choice sunset spot for many. Its pearl white finishings and décor give it an elegant Ibiza look and feel, completed by its Spanish cuisine centred menu. Atop its perfect vantage point, party patrons and cocktail lovers put their feet up around the cliff-top infinity pool, around the garden lounge, or perhaps stealing a seat at one of the private alcoves that hang on the cliff's edge.
El Kabron Spanish Spanish Restaurant & Cliff Club
Jalan Pantai Cemongkak, Pecatu
+62 851 008 034 16
www.elkabron.com
---
Standing Stones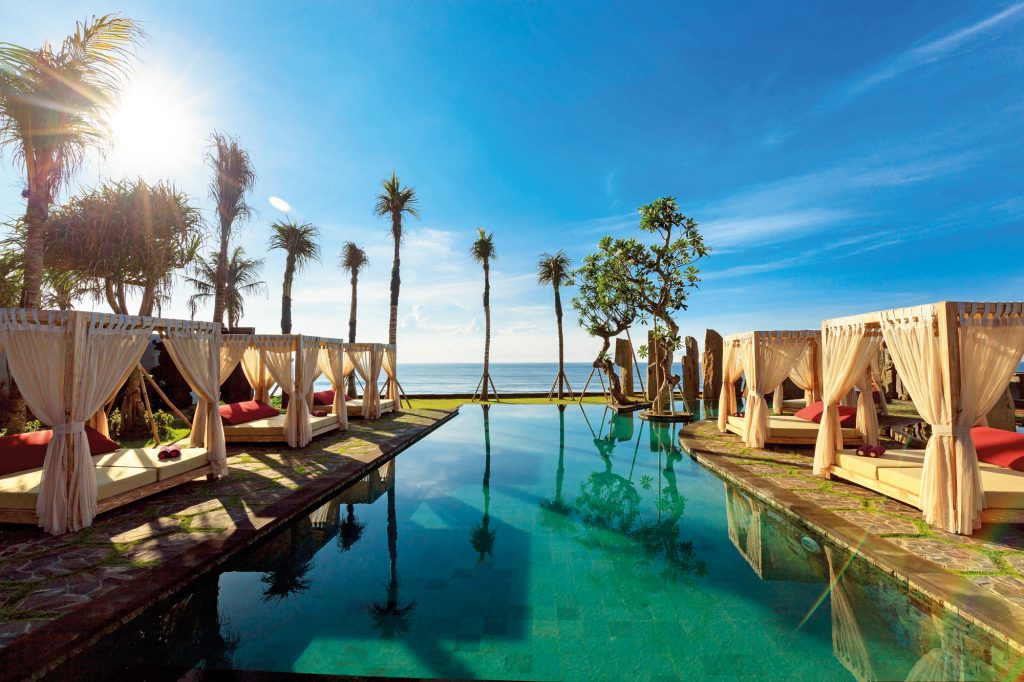 Along the exotic black sands of Bali's eastern coastline is one getaway that is a far cry from the usual modern establishments we find ourselves whiling away in on hot summer days. No, Standing Stones at the Royal Purnama Art Suites and Villas is not your typical beach club; this open-air venue in 'rural' Gianyar, where tropical foliage still grows wild, the focus remains on the natural Balinese surroundings. The exquisite, river-like pool is lined with private loungers that resemble royal four-poster beds, draped in linens for an extra regal touch. A spacious lawn houses a solitary bar, minimalistic in style but with an understated elegance, calling for slow sips of tastefully crafted creations. Standing Stones Beach Lounge is not about the music or the 'see and be seen', it never tries to be cool and thus remains classy. It is a refined escape for those who want the beach club experience without the noise and crowds. International dishes are offered at the combined restaurant, which focuses on fresh produce from the surrounding area, suitable for a leisurely lunch or romantic dinner. However, don't forget to take a photo at the venue's iconic ensemble of towering stone obelisks where the place gets its name!
Standing Stones Restaurant and Beach Lounge at Royal Purnama Art Suites and Villas
Jalan Pantai Purnama, Sukawati, Gianyar Regency
+62 361 8493706
www.theroyalpurnama.com
---
Ku De Ta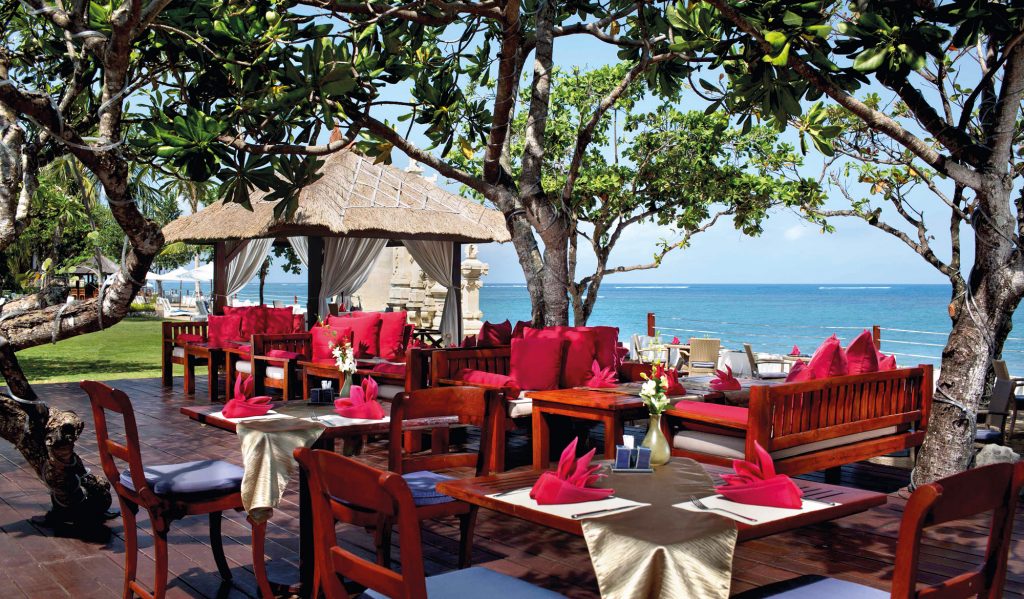 Internationally acclaimed as one of the most sought after beachfront dining experiences in Bali and Indonesia, Ku De Ta has brought the world's rich and famous to Seminyak since it opened in the early 2000's. We'd be surprised if you didn't know the name. Continuously improving its space, now with its own infinity pool, this open-air venue focuses on providing a unique combination of world-renowned entertainment and Balinese hospitality. As one Asia's ultimate lifestyle venues, people comw to Ku De Ta looking for a sunset fiesta, which made the spot famous. From its central floor space to its balcony of sunset spotting seats, people are sitting back taking that Bali vibe, with one of Ku De Ta's signature cocktails in hand and no doubt a DJ of global recognition.
Ku De Ta
Jalan Kayu Aya 9, Seminyak,
+62 361 736 969
www.kudeta.net
---
Manarai Beach House

Manarai Beach House,
ITDC Lot 5, Nusa Dua
+62 361 8492900
www.nikkibeach.com/bali
---
---
AZUL Beach Club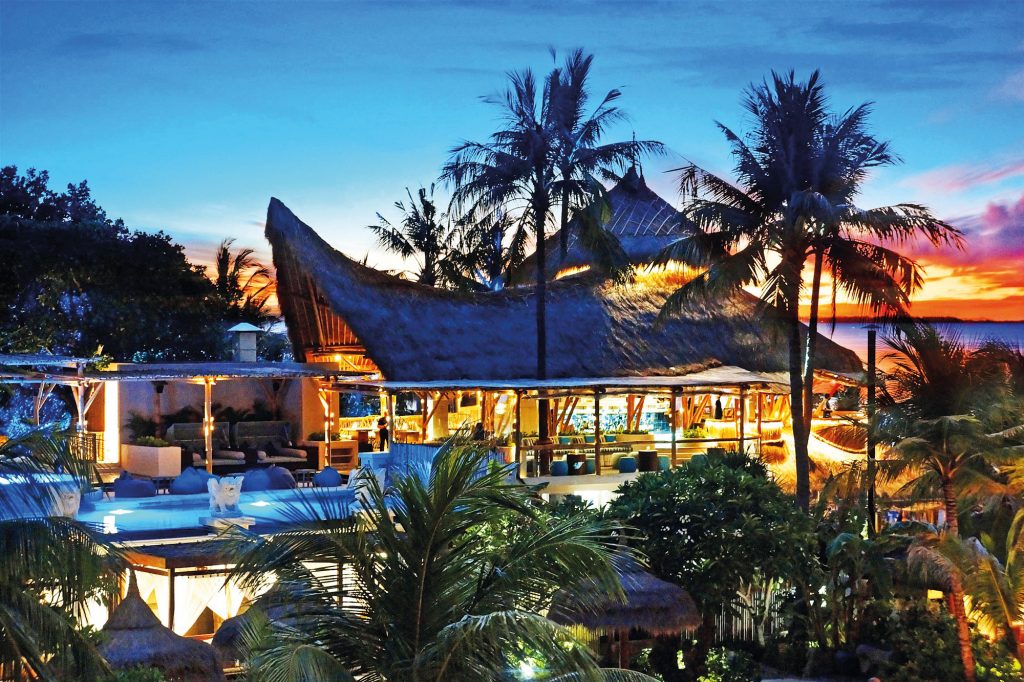 The newest addition to Bali's buzzing coastal life is AZUL Beach Club. Instantly noticeable on the popular Padma beachfront in Legian, AZUL is a fully bamboo structure that twists and turns its way up three-stories. An all-encompassing epicurean experience, AZUL can be described as an eat, drink and play destination for the discerning, beach-lover. Whilst sophisticated, it is a casual experience where guests can lounge, dine and unwind. The cocktails are the work of their traveling 'mixultant' (mixology consultant), who has thrown tropical fruits and flavours into the mix whilst breaking the barrier with brave, laboratory-esque creations With a chic space that impresses and an atmosphere that remains cozy, AZUL is a welcome addition to Bali's food and beverage scene.
Azul Beach Club at Bali Mandira
Jalan Padma 2, Legian, Bali, Indonesia
+62 361 765759
www.azulbali.com
---
Komune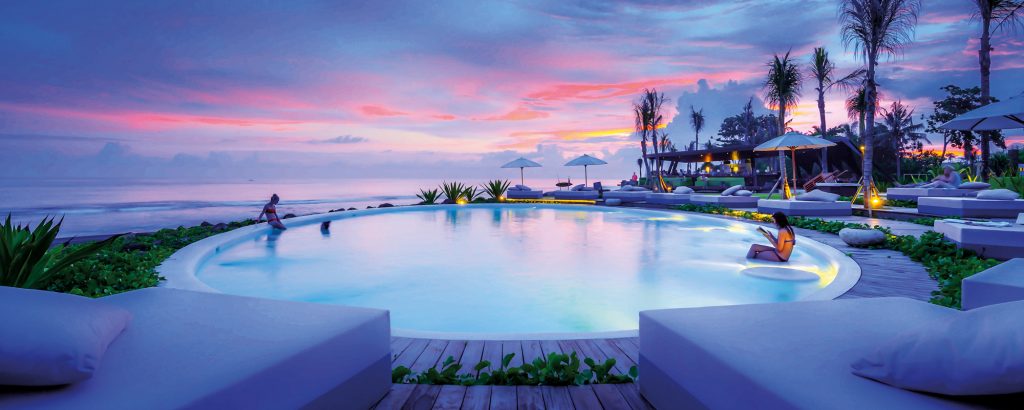 Komune Beach Club is a surfer's paradise. Overlooking Keramas reef, where waves beckon many surfers to the volcanic black sand of Gianyar, Komune offers the perfect refuge. Shut away from the busyness of civilization, the club is home to a big beach bar which sits close to its beach-facing swimming pool. Swim or lounge as surfers shred into the glassy waves. Many enjoy the still natural and rural surroundings of Komune, which has managed to hang onto a really authentic tropical feeling that many look for when they get to Bali. On some nights, Komune keeps its doors open with some movies under the stars at their outdoor cinema!
Komune Resort and Beach Club Bali
Jalan Pantai Keramas, Medahan, Gianyar Regency
+62 361 3018888
www.komuneresorts.com
[mappress mapid="22″]