When you are travelling, it is essential to understand the history of a place. Museums are the best places to go for this, filled with art, artefacts and mementos of culture. Here in Bali, the culture is rich and to learn and understand it you'll need to go to the places that display this culture in the best way. That's why we've collected a list of the best museums in Bali which not only present the past, but also show a glimpse of the island's future.
7 Best Museums in Bali
---
Agung Rai Museum of Art (Ubud)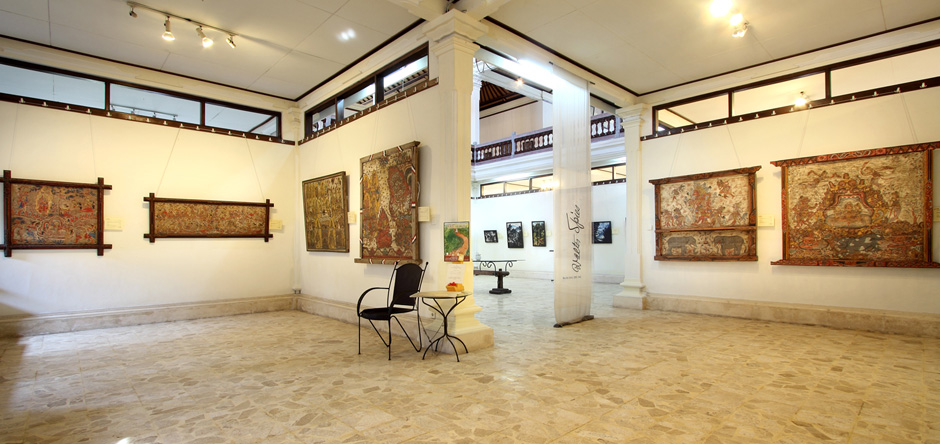 Founded in 1996 by Agung Rai, a Balinese who is committed to preserving and developing Balinese art and culture, this museum is not just a place that has collected and preserved artworks but is also here to develop the art of painting, sculpture, dance, music and other cultural art forms. They provide the infrastructure for the surrounding neighbourhoods to learn those artistic skills. Existing as more than just a museum, ARMA allows you to enjoy the special exhibitions, theatre performances, dances, music and painting classes, a bookshop, library and reading room, cultural workshops, conferences, seminars and training programmes.
Collections:
The painting collection at ARMA ranges from traditional to contemporary, including the classical Kamasan Collection on tree bark, masterpieces by Batuan artists of the 30s and 40s, and the only available works to be seen on the island from 19th century Javanese artist Raden Saleh and Syarif Bustaman. The displayed collection of foreign artists who made a contribution to the development of Balinese arts is also available inside the museum. ARMA is one of the best museums in Bali to see the chronological development of art in Bali, from traditional pieces, influences to contemporary forms. The most popular pieces are the works by Balinese masters I Gusti Nyoman Lempad, Ida Bagus Made, Anak Agung Gede Sobrat and I Gusti Made Deblog. This is not just a regular one of the museums in Bali , it is a walk through Bali's art history.
Agung Rai Museum of Art
Address : Jalan Raya Pengosekan, Ubud, Gianyar
Telephone : +62 361 976659
Website : www.armabali.com
---
Bajra Sandhi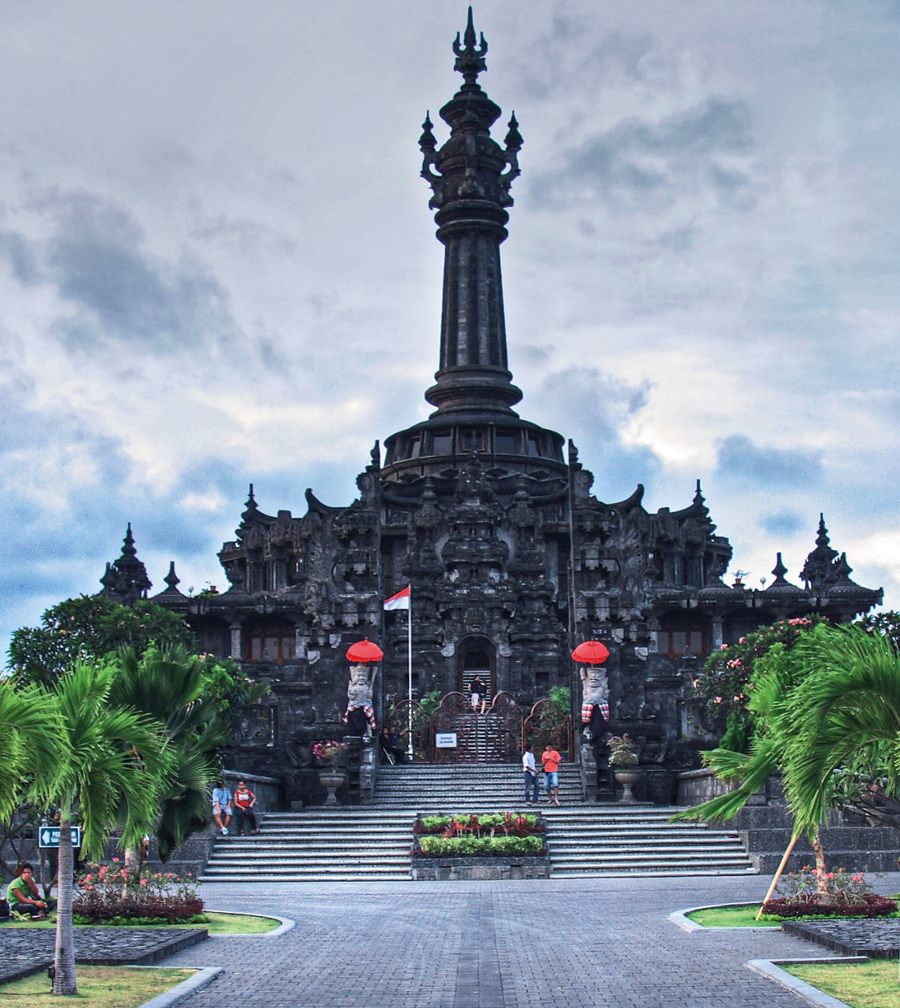 Standing in the centre of a park, Bajra Sandhi Museum displays spectacular and artistic Balinese architecture. Located in central of Denpasar, this is where you can learn a lot about the history and culture of Bali. The museum is a dedication to the struggles of the past and reminds future generations of culture and the need to preserve it. The site has numerous dioramas that depict the political and economic events of Bali dating back to thousands of years. The surrounding areas of the museum is a great place for runners, cyclists and yoga enthusiasts to enjoy the park.

Collections:
One of the important collections in this museum is the Bajra, most commonly used by Hindu priests while chanting Vedic mantras during the religious ceremonies. This historical museum captures the Balinese struggle against the Dutch colonial invasion. The Balinese Struggle Monument with its Balinese architecture and detailed carvings is an important part of the museum. This one of the museums in Bali that are more frequented by locals, which makes it a less busy destination for visitors!
Bajra Sandhi (Renon Monument)
Address : Jalan Raya Puputan No. 142, Panjer, Denpasar
Telephone : +62 823 3027 2304
---
Bali Museum
Again, likely Bajra Sandhi, because this is one of the museums in Denpasar, it is less frequented by tourists. This museum is definitely a heritage centre that depicts Balinese culture and history. Built in the early 30's, Bali Museum has four main structures. In Tabanan, visitors can see musical instruments and theatrical masks. In Karangasem, paintings and sculptures are on display. If you are interested in the local textile industry and its history, you can see them in Buleleng. For those who are keen to see archaeological artefacts, these can be found in Timur.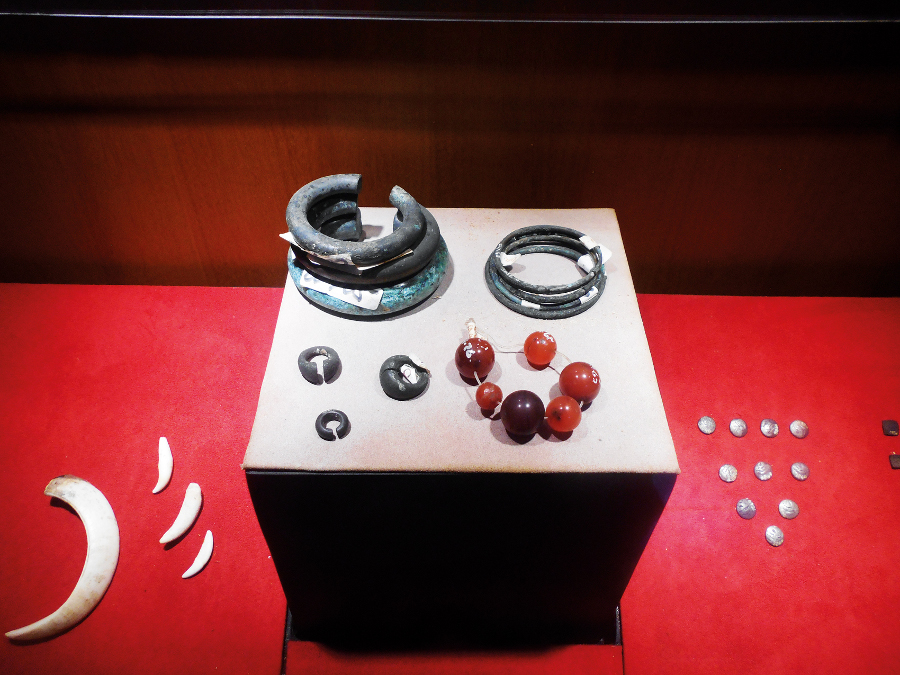 Collections:
The collections stored in this museum can be classified as a prehistoric object collection. They keep a stock of artefacts that can be traced back to the megalithic period, like a sarcophagus, bronze statues from the height of the Hindu and Buddha eras, superstitious formulas, ethnographic objects, religious ceremony tools, stupika clay, many ancient tools and weapons among many others. It also houses different Balinese looms and ancient calendars.
Bali Museum
Address : Jalan Mayor Wisnu, Dauh Puri Kangin, East Denpasar
Telephone : +62 361 222680
---
Le Mayeur
Le Mayeur Museum used to be the home of the painter himself, Adrien-Jean Le Mayeur de Merpres. Facing directly to Sanur Beach, this memorial museum is a great example of Balinese architecture with elegant window shutters depicting the story from Ramayana. There are five rooms in this house, and each of the rooms tell a story about the love of his life, Ni Pollok. The museum helps bring to life this love story with inanimate objects preserved for everyone to view. Original antique furniture, photographs from the past and a great collection of stone and wood carvings add that extra touch to this museum. From family home to one of the most famous museums in Bali , quite a transformation.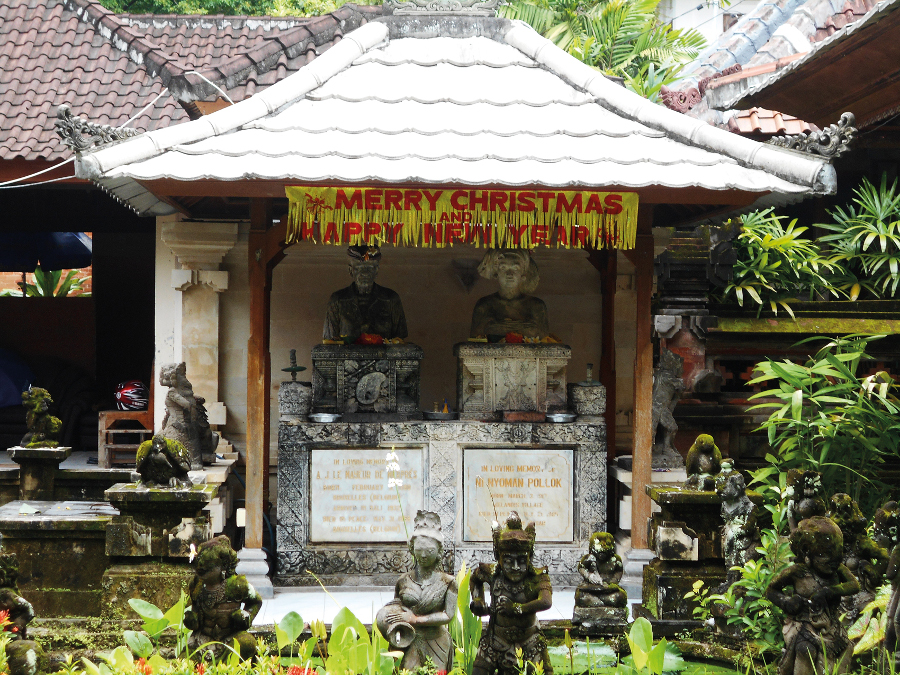 Collections:
When you walk through each room, you will understand the love and dedication of Le Mayeur for arts and women. There is a studio room, study room, reading room, multiple bedrooms and Ni Pollok's vanity room. Some of his famous collections are; By the Lotus Pond, Girls on Beach, Garden at Sanur, Women Around the Lotus Pond, Temple Festival in Bali, and many more. But, of course, the popular one among those is the Ni Pollok collection. Le Mayeur's paintings of Bali are mostly depictions of everyday life. Here at Le Mayeur, not only does the building display a piece of history, the building itself is part of the history.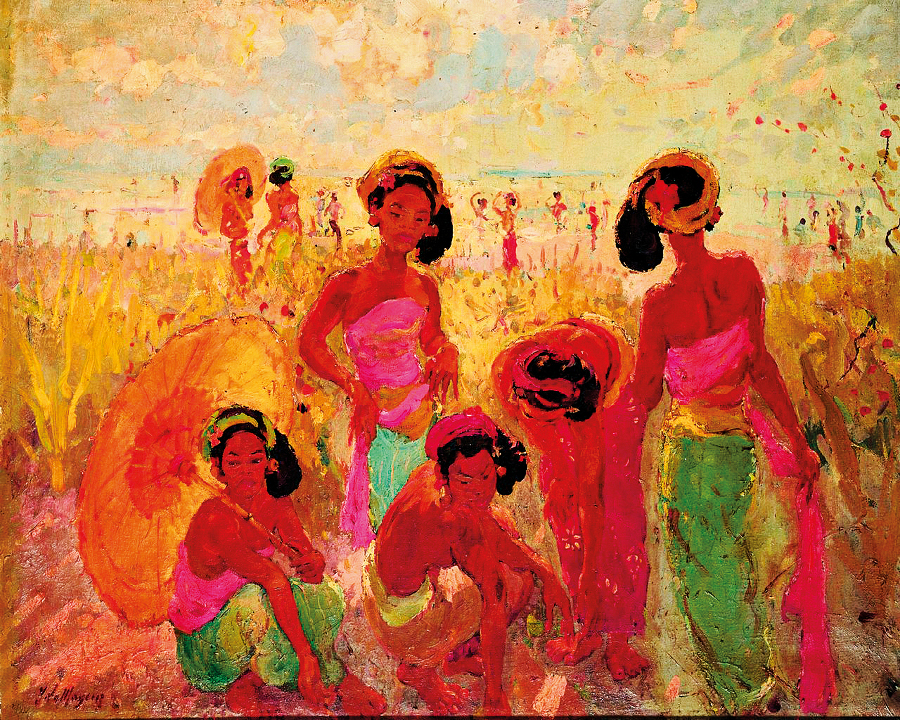 Le Mayeur
Address : Jalan Hang Tuah, Sanur Kaja, South Denpasar
Telephone : +62 361 286201
---
Neka Art Museum
This museum in Ubud, Neka Art Museum, was built in 1976. It houses many art pieces where you can learn about the development of Bali's visual arts. The collections are spread out into different pavilions inside the museum. The museum was founded by Pande Wayan Suteja Neka, whom the museum is named after.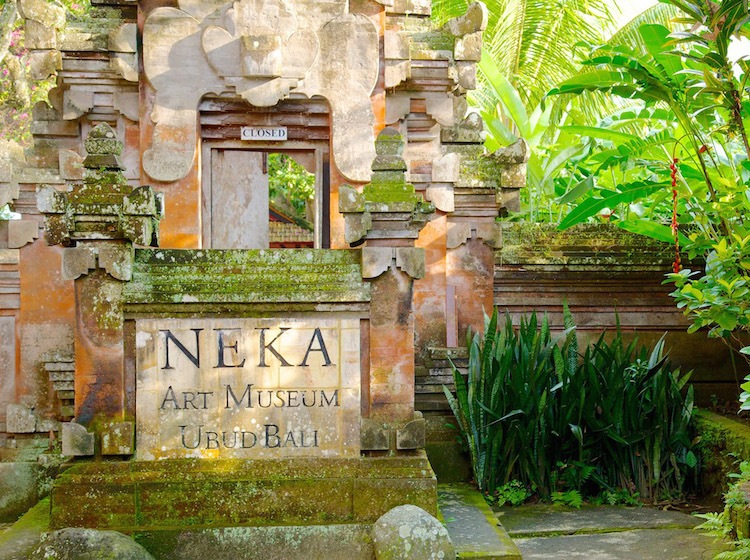 Collections:
The Lempad Pavilion is built in honour of a late Balinese sculptor and architect, I Gusti Nyoman Lempad. This area is filled with his unique styles of painting. The Arie Smit Pavilion was set up in admiration of Adrianus Wilhelmus Smit, a Dutch-born Indonesian painter who developed arts in Ubud. The pavilion consists of two floors, the first displaying the works of young artists who were inspired by Smit, while the second floor features the works of Smit in various themes. The Contemporary Indonesian Art Hall Pavilion has paintings by artists from other parts of Indonesia, including stunning works by the late Affandi. There is also a pavilion dedicated to photography. Here, you can find documentation of black-and-white photos since the 30s taken by Robert Koke (one of the earliest expatriates in Bali).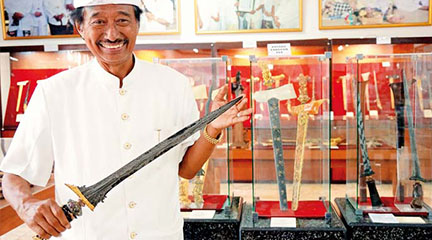 Neka is not only one of Bali's best museums for art, it also features a traditional keris dagger collection in one of the pavilions. As this is the founder's own passion, he managed to collect 272 curved daggers throughout the half-century of his lifetime. Many people come to this museum bringing old and new keris to be examined by Neka.
Neka Art Museum
Address : Jalan Raya Sanggingan Campuhan, Kedewatan, Ubud, Gianyar
Telephone : +62 361 975074
Website : www.museumneka.com
---
Rudana
Nestled in a beautiful Balinese architectural layout, Rudana Museum incorporates the human devotion to God. Each building within this museum has symbols associated with this devotion. This museum employs a spatial structure that embeds the concept of Tri Hita Karana. You can enjoy the expansive green gardens and rice fields that surround the building. The fragrant tropical trees and flowers make this place exude serenity. The museum is divided into several compounds and each structure a collection of a different styles.
Collections:
Rudana is one of the best contemporary art galleries and museums in Bali , home to a vast collection of artworks done by famous local and international painters. From traditional to modern, naturalism to abstract, you will see the differences between the classical Balinese arts from the contemporary paintings that have been influenced by the Western concepts.
Not just limited to paintings, this museum also stores high-value carvings and statues, such as Prasasti Panca Tan Matra, Prasasti Angkus Prana, Sapta Rsi Statue, Ganesha Statue, Peace & Prosperity Statue and Gajah Nusantara Statue. These artworks are considered high value because they are very rare and unmatched by others.
Rudana Museum
Address : Jalan Peliatan, Ubud, Gianyar
Telephone : +62 361 975779
Website : www.museumrudana.org
---
Setia Darma
Established in 2006, Setia Darma House of Masks and Puppets keeps various kinds of masks and puppets from different regions of Indonesia and around the world. Covering more than 1 hectare of land in Ubud, this area is surrounded with paddy landscapes, tropical gardens and traditional Balinese villages. The outdoor area of the exhibition space is available for hire and suitable for performances, training, group outings and filming.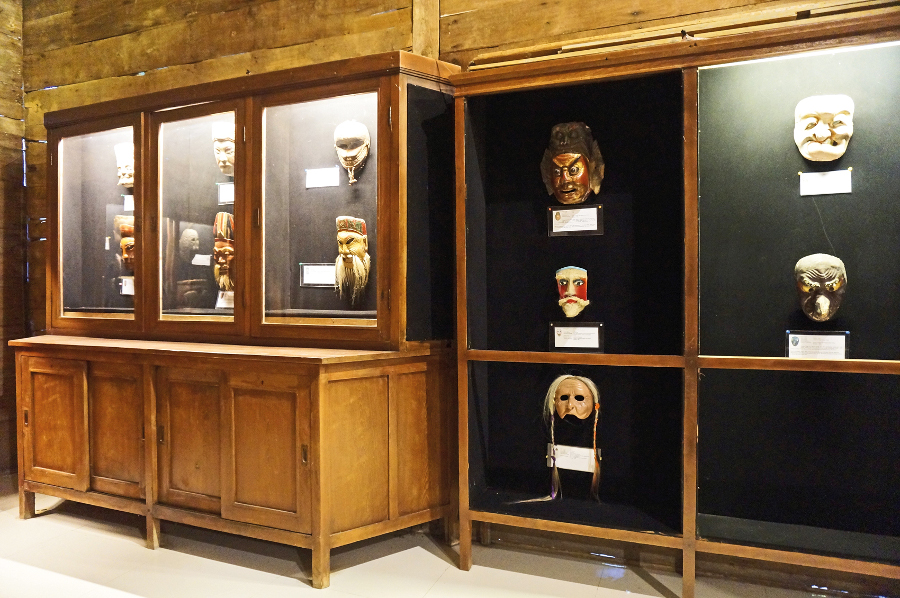 Collections:
There are more than 1,300 masks and 5,700 puppets, including intricate wayang kulit, leather characters for shadow puppetry, wayang golek (wooden puppets), masks for dances. The masks are collected from Indonesia, Africa, and Japan, while the puppets are from Indonesia, China, Malaysia, Thailand, Myanmar, and Cambodia. Every mask has a story behind it. Some of the masks portray the real spirit of Bali's courageous and flamboyant character.
Setia Darma House of Masks and Puppets
Address : Jalan Tegal Bingin, Mas, Ubud, Kemenuh, Gianyar
Telephone : +62 361 8987493
Website : www.masksandpuppets.com
---
Ubud Diary
Nestled in Lodtunduh, south of Ubud is the latest art gallery to open in Bali that is set to be a cultural landmark – Ubud Diary. Opened in late November 2019, Ubud Diary showcases a collection largely of the Ubud-style paintings. The gallery's grand opening coincided with the launch of a book written by Richard Horstman entitled 'Ubud Diary: Celebrating the Ubud School of Painting – The Diversity of Visual Language'.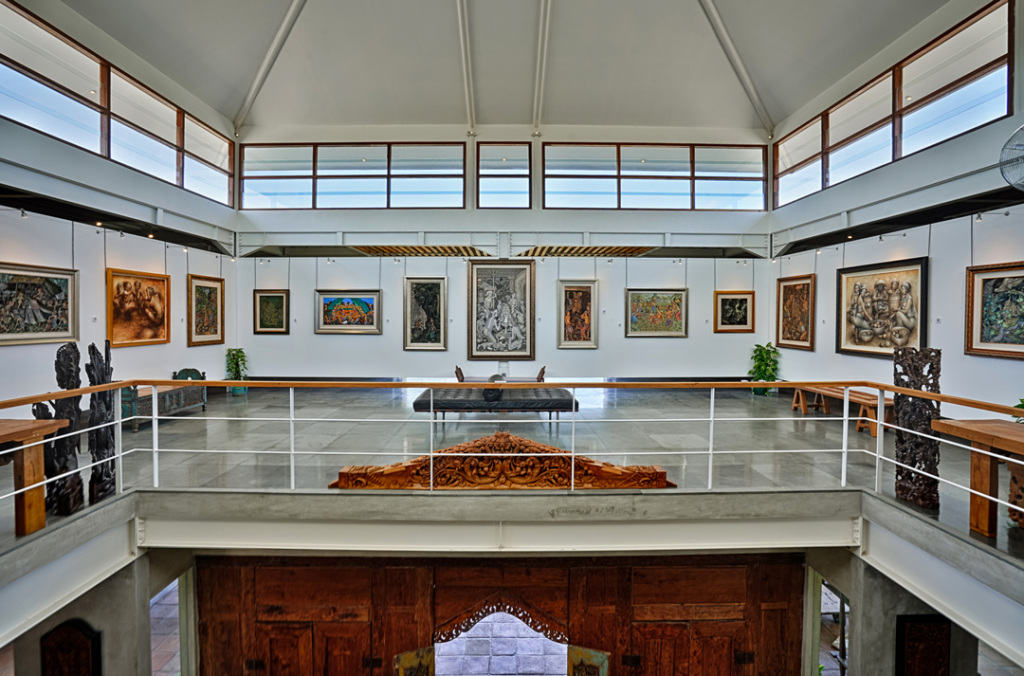 Founded by Tommy Diary, famously known as Made Ary, the gallery was conceived after the realisation that today's generation has seemingly forgotten about the Ubud School of Painting and how the Ubud style painting, which is a fundamental part of the Balinese art history, is not picked up by today's' young artists. The gallery's main mission is to promote the Ubud style of painting, therefore, the Ubud style becomes the focal point of this new gallery, with the goal to preserve and revive the Ubud School of Painting.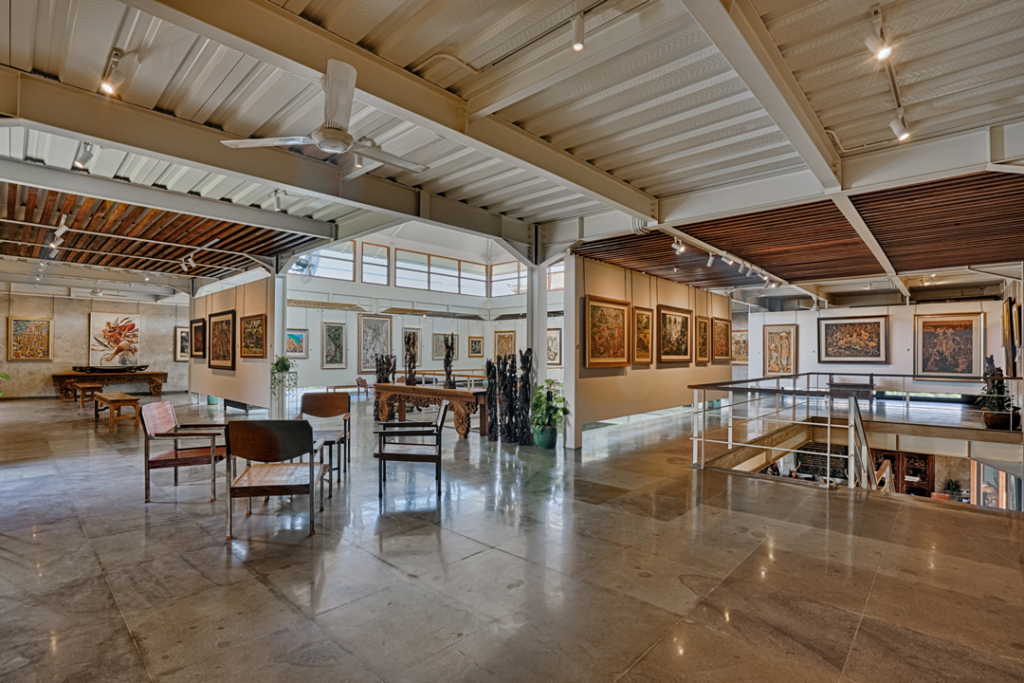 Inside this Bali art space, visitors will find the works of over 20 distinguished Ubud-style Balinese artists showcased along the walls. Each artist takes on the Ubud-style, although with their respective subjects and personal interpretations. Additionally, the gallery not only exhibits paintings but also displays a collection of wooden antiquities and artefacts. The design of the building itself extends its devotion to Indonesian culture by incorporating carved doorways and decorations. Other than the gallery, Ubud Diary also features a villa. Keeping up with the latest technology, each artwork displayed features a QR-Code, which when scanned through the Ubud Diary mobile application, contains information and details about the artworks.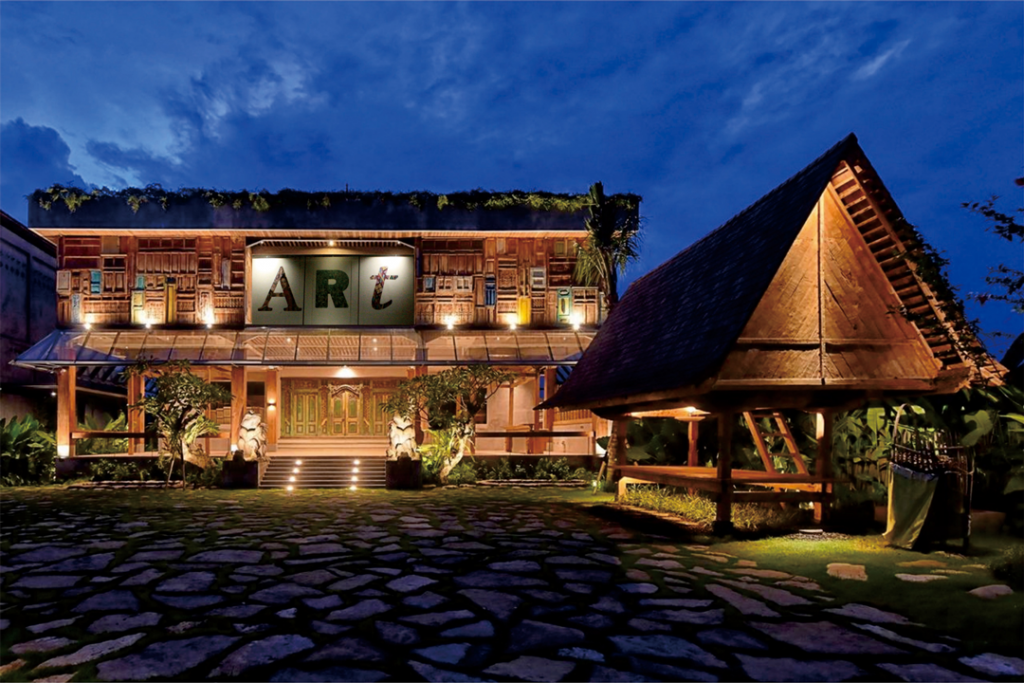 Set to become yet another Ubud landmark and cultural destination for art-appreciators from all corners of the globe, Ubud Diary will help promote awareness to the Ubud School of Painting and keep the Ubud-style alive for future generations, on top of being one of the very niche art spaces in Bali .
Monday – Sunday: 8 AM – 10 PM
Jl. A. A. Gede Rai No. 7, Lodtunduh, Ubud
+62 813 8000 7899
ubuddiary.com
Visiting the art museums in Bali gives you a look into the island's past, but by visiting one of the island's contemporary art spaces, you can witness the most current pulse of Bali's art landscape.