"It is nice finding that place where you can just go and relax." One of the signature body relaxation procedures in Ayana Resort & Spa is the Aquatonic Seawater Therapy that is done in the Aquatonic Seawater Therapy Pool. During the procedure, warm salty water is filled in the pool, and upon dipping yourself inside, a healing process that calms the system and invigorates the bather begins. At Ayana Resort, you have a great opportunity of experiencing a warm sea salt bath in an almost natural state.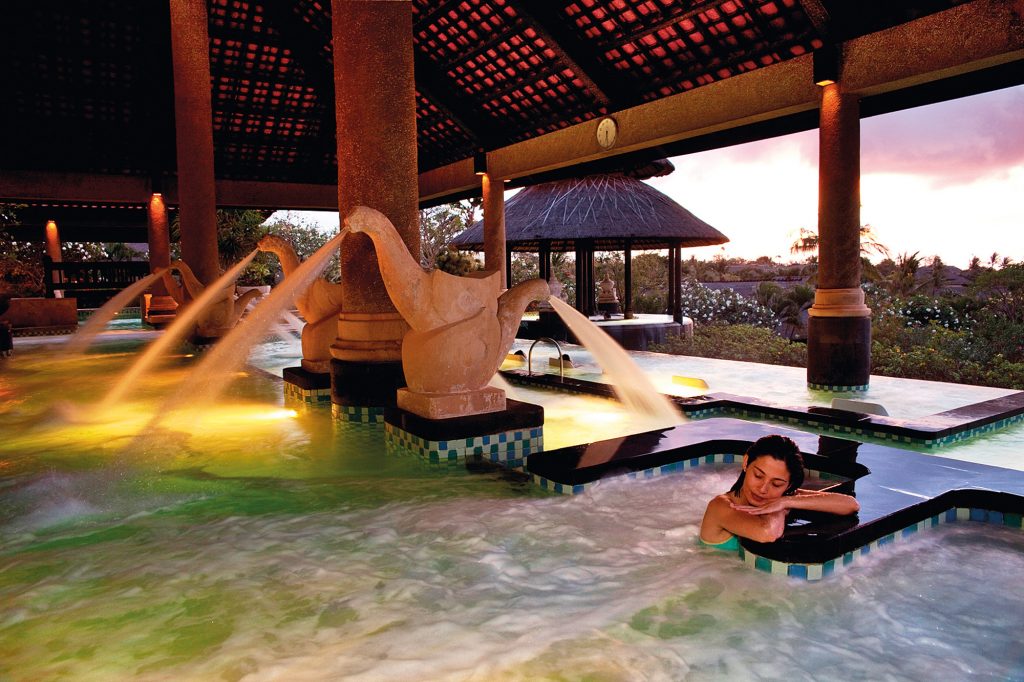 The pool is a marvellous combination of specific bubble baths, shower jets, counter current walking zones, water massage zones together with currents & counter currents, all of which offer treatment to different parts of the body via differing positioning and intensity. This offers beneficial effects that tones the muscles and enhances better blood circulation.
The Aquatonic pool has a capacity of 700,000,000 litres of water that is directly supplied to this pool from the Indian Ocean that lays beneath Ayana. This helps rebalances mineral deficiencies that we have lost. With the various aspects of the pool, one is able to exercise their way through twelve hydro massage positions containing more than 60 therapeutic jet streams, geysers and micro-bubbles for the rehabilitation of injured muscles as well as for stress relief.
Not only will the pool be effective in making you relax your mind and muscles, there is much more to these warm salty waters. Psoriasis, eczema, muscular and back pain, cardiovascular functioning, diabetes and improved immune system are all things that can be positively dealt with, all done while you are in a relaxation mode. Stress & tension, improved metabolism, cellulite reduction muscle toning, skin relaxation and toning, anti-ageing therapies and improved quality of sleep are all results that one gets upon taking a bath in this pool.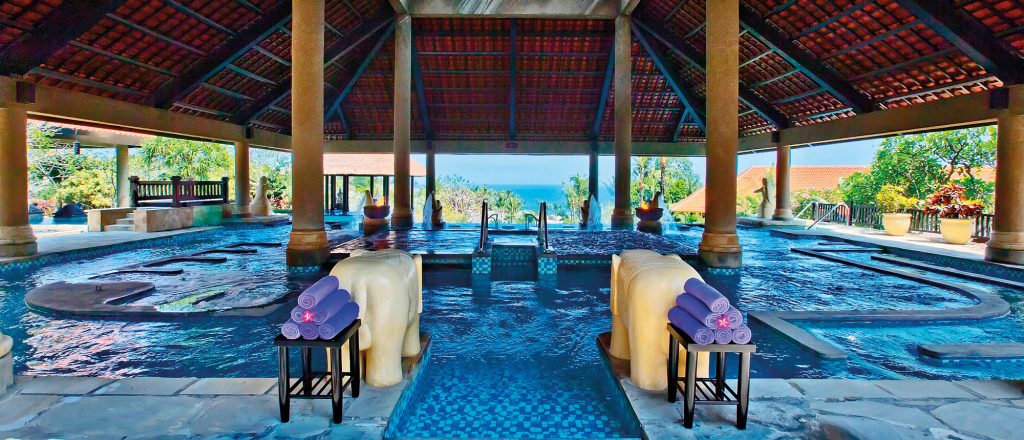 The best time to get into the pool is always at sunset, just before an early night's sleep. Expect a deep and dreamy sleep after this treatment. It is recommended you take your bath just before or after a flight, to or from a different time zone, so as to combat the effects of jet lag. Indulging in the pools after exercising or before a traditional massage is great for enhancing the drainage of lymphatic nodes.
With all these benefits and options, an amazing and therapeutic treatment awaits you in these incredible healing waters of Bali.
ThermesMarins Bali Spa
AYANA Resort and Spa
A : Jalan Karang Mas Sejahtera, Jimbaran
T : +62 361 702222
W : www.ayanaresort.com