American clothing brand Volcom has made a home in Indonesia, being part of the surf and skate scene 1996. Beyond that, they have embraced local art and culture in Bali with their Bali Inspired Tees. NOW! Bali speaks to two of the Volcom artists from  creative team from Volcom Indonesia who are behind this t-shirt line, two Balinese excited about sharing their own heritage through retail.
Bali's History of Art
Bali is an island of artists. Painters and sculptors, dancers and singers, there seems to be no stopping the Balinese creative endeavour, seemingly gifted to each island inhabitant at birth.
Of course, it is not by divine intervention that the Balinese are blessed with artistic skill, it comes from their way of life, their customs, rituals and traditions. Visual art, for example, has long been part of the cultural history – Kamasan, Bali's first taking to art, was a narrative style painting introduced to the island in 1343 when the Majapahit Empire conquered Bali and introduced Hinduism. These 2-dimensional murals would tell stories from the Mahabharata or the Ramayana, epics of gods, wars, love and learning. Art was necessary to share moral stories from these holy books, a medium that could spread a message. 
Same goes for the sculptors and carvers; wood carved into Balinese masks or intricate doorways, stone fashioned into perfectly symmetrical temples, lontar leaves folded neatly into offerings. Rites and rituals have made it necessary for the Balinese to hone their creative skills and make them part of daily life.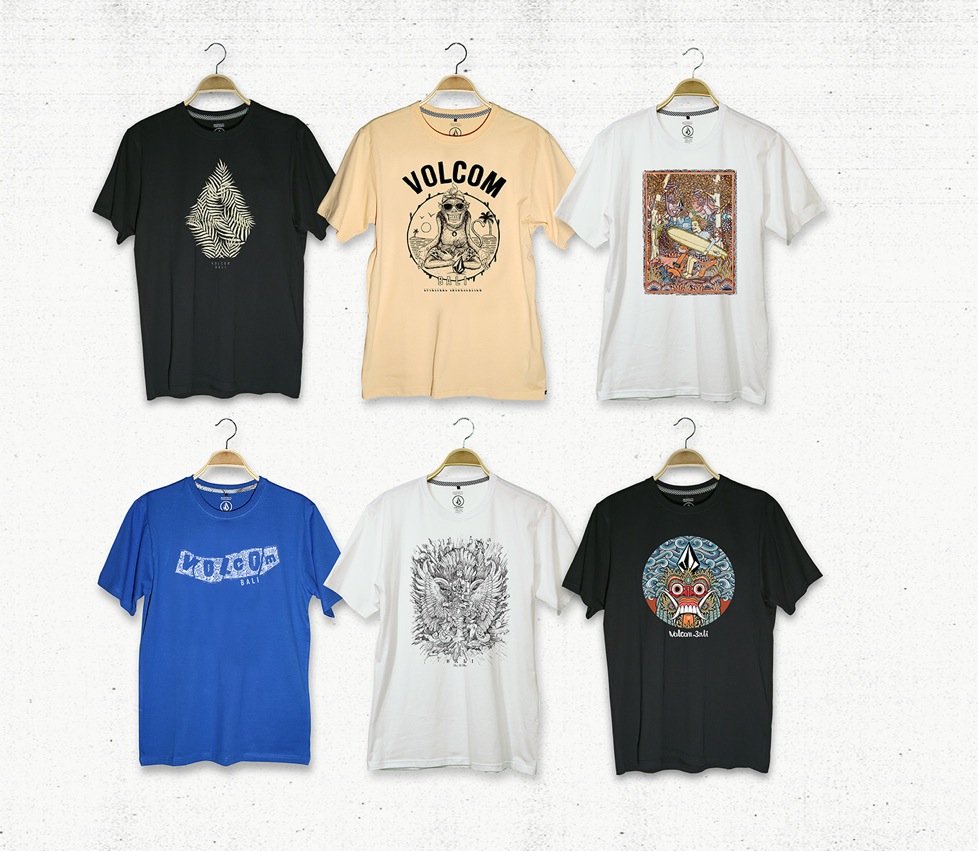 Even in the more developed Bali of today, creativity continues to flourish. The artists and carvers still exist, but contemporary art has now found a place, as has photography, design and other vocations in which artistic skills can bloom. 
One such industry that this has thrived in is fashion; a natural home for the creative type. Clothing brand Volcom by their very brand identity are "inspired by creative spirit".  Whilst seen as a 'riding' brand, for skaters, surfers and snowboarders, their beginnings are also strongly rooted in art, music and film. That philosophy has merged with Balinese culture and the Volcom Indonesia creative team have been able to explore modern ways to express this in the Bali Inspired Tees collection. 
This unique line of t-shirts features Bali inspired art, iconography and styles. Whilst some may see them as simple tees, others will appreciate both the cultural and artistic elements that have gone into creating these articles of clothing, a special creation made just for the Bali market. Two of the Volcom artists from their creative team, I Made Sadnyana and Wayan Bayu, are behind this artistic collection.
The Volcom Artists :
I Made Sadnyana, Creative Manager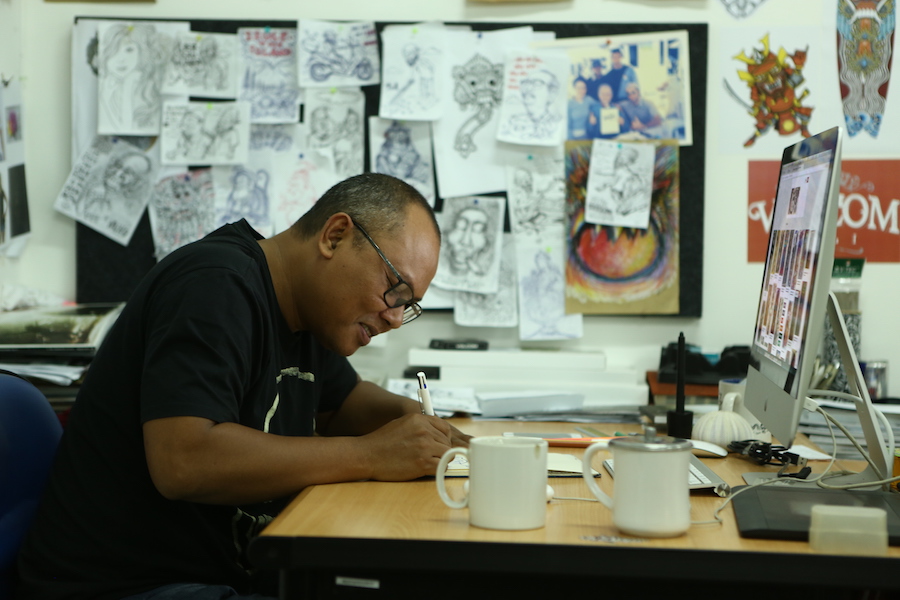 Pak Made is a philosopher more than he is an artist. Steeped in Balinese wisdom, he is both leader and spiritual counsellor of his team. Light-hearted, clear-minded and humble would be the best ways to describe him. 
As a Balinese Hindu, Pak Made is in touch with his spiritual side. He tells us that in Bali "art and religion are the same", because they both come from a place of sincerity. They are both expressions coming from within; a true Balinese artist expects nothing when he or she creates, it is a pure act of expression. As mentioned earlier, the arts are a part of life here on the island. 
He was one of the original team when Volcom Indonesia began in 1996, so Pak Made grew within two spaces, the Volcom culture and his own Balinese culture. With that he recognised the potential synergy between the two, finally resulting in them merging together for the Bali Inspired t-shirt line. 
Wayan Bayu Adhy Wiguna, Sr. Graphic & Illustrator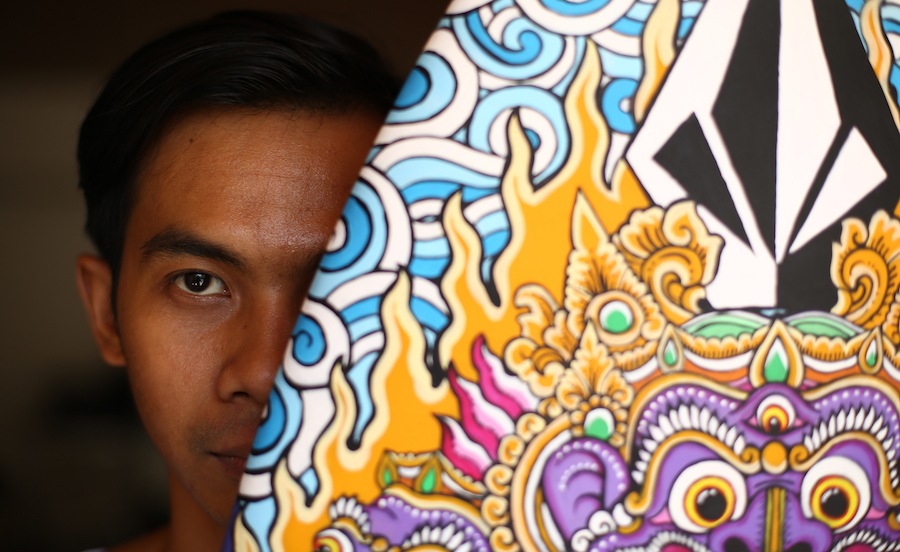 Young Bayu is your typical artist. Focused, with an acute attention to detail; gentle, with a subtle shyness. It is by Bayu's hand that Pak Made's concepts can come to reality. 
Immensely talented, Bayu is an example of Bali's creative future. Skilled in both drawing on paper as well as new media (digital), he has perfected his own version of the Kamasan style as well as other Balinese iconography, such as Barong or Rangda masks often used in classical paintings.  What Bayu represents is an ideal modernisation of Bali's culture, one foot in the past and one in the present, keeping themes interesting for today's generation so that history is never lost. 
His way of bringing classical images into today's world ranges anywhere from putting Rama and Shinta on a surfboard to colourising a mask with vibrant hues and flair. This way, they remain quintessentially Bali but are relevant and attractive for the current era. Without a doubt he is a cherished member of the Volcom artists. 
Whilst both Pak Made and Bayu may see their work as fun and ways to express themselves, these Volcom artists are really doing more than that. With their work they are putting Balinese art and culture at the forefront, giving a space for it to thrive and be popular in a modern era. 
www.volcom.co.id 
Bali Inspired Tees are available in Bali only at finer Volcom Indonesia Retailers:
Volcom Store Oberoi (Seminyak)
Jalan Kayu Aya No 54, Seminyak
+62 361 737 553
Volcom Store Canggu
Jl. Raya Batu Bolong No. 2A, Canggu
+62 853 3922 6846
Volcom Store Ubud
Jl. Monkey Forest
+62 361 737 553
Volcom Kuta Square
Kuta Square Block A No. 11
0361.752.711
Volcom Bemo Corner (Legian)
Bemo Corner Jl. Legian No 4
0361.752.146