The more we practise self-care, the more confident, creative, and productive we are! Indulging in activities and pastimes that you enjoy is an act of self-care. For some, self-care can be internal, finding moments of quiet or peace, sinking into a flower bath or doing an hour of meditation. For others, self-care is about looking your best so that you feel at your best as well, and that's what these hotspots are all about, making you look your best! These hair spas, nail spas and beauticians are the island's self-care experts.
Blow Bar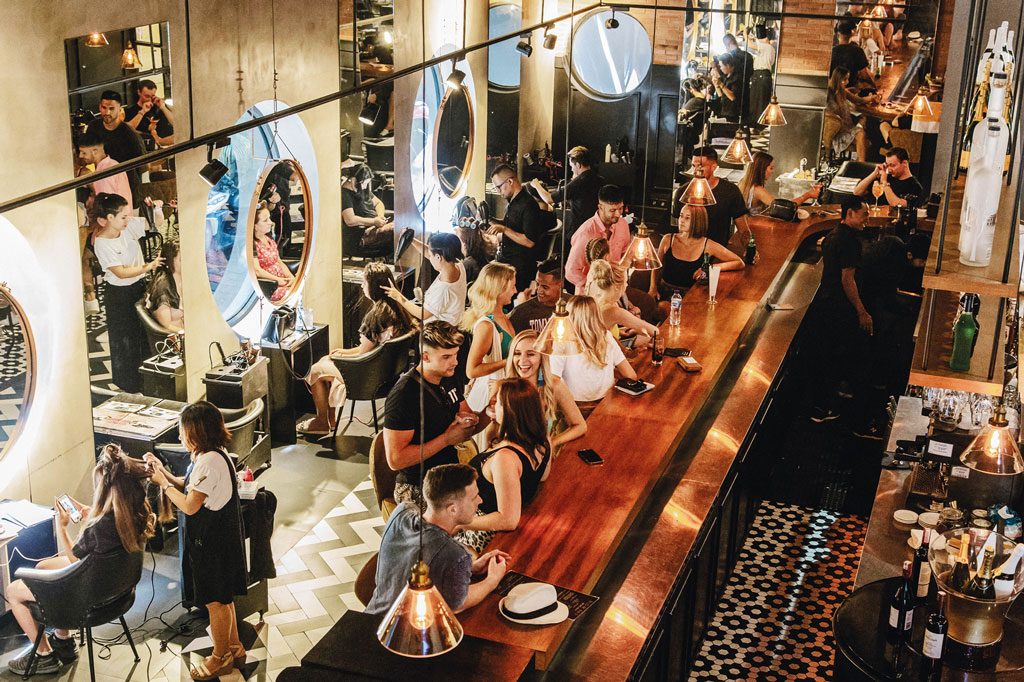 If you're in the mood for a manicure with a martini on the side, or vice versa, there's one spa meets speakeasy in Seminyak that you have to head to. With a hidden entrance down a small side-street, or accessed through the Bamboo Blonde boutique, Blow Bar is an alternative bar that serves up blow-drys as much as it serves bubbling Bellinis. The focus here goes beyond just the typical voluminous blowouts and fresh highlights, what Blow Bar offers is a social experience. Imagine sitting next to your girls, as the stylist whips up your next glamorous look and the bartender shakes up a tropical cocktail. From a preppy up-style to beachy waves, the hair salon has a team of professional stylists to give you a million dollar look for a refreshing new style or night out on the town. Blow Bar isn't exclusive to ladies, blokes can enjoy a Bro Dry, trim with a beer, or a Scotch & Shave, and other treatments on offer. Spread over a spacious urban warehouse, the bar offers a range of designer drinks, old school favourites, beers, wines, Champagnes, and light bar snacks. They have a dedicated Manicure and Pedicure Boudoir that seats six guests in crescent-shaped booths offering the latest in SNS Nail Treatments, Gel and Chrome Mirror Nail systems. Blow Bar opens daily from 10 AM to 11 PM.

Blow Bar
Jalan Oberoi 61, Seminyak
+62 361 3350600
www.blowbarbali.com
Think Pink Nails
Exuding a New York-style salon, Think Pink Nails is a mecca for all-things manicure and pedicure. The salon has over 2500 nail polish colours on offer, pedicure spa chairs with a heavenly rolling massage feature and a manicure bar. It is the top stop for an immaculate self-care session in busy Seminyak! From the signature and gel, acrylic, to warm stone mani-pedi, both adults and kids are welcome at this nail salon. Not only are they experts in nails, the salon will also have you indulging in hair treatments; facial and body massages; eyelash, eyebrow, hair removal, and spray tan services. The beauty space boasts a casual set-up for those looking for a quick fix but also opulent for a full-on spa day out with the girls. For those demanding a high-level of privacy, book the Private Room, which is a single or double occupancy alcove where you are treated to a large screen television with Apple TV.
Think Pink Nails
Jalan Batu Belig No. 108, Seminyak
+62 851 0018 8116
www.thinkpinknails.com
Rob Peetoom Hair Spa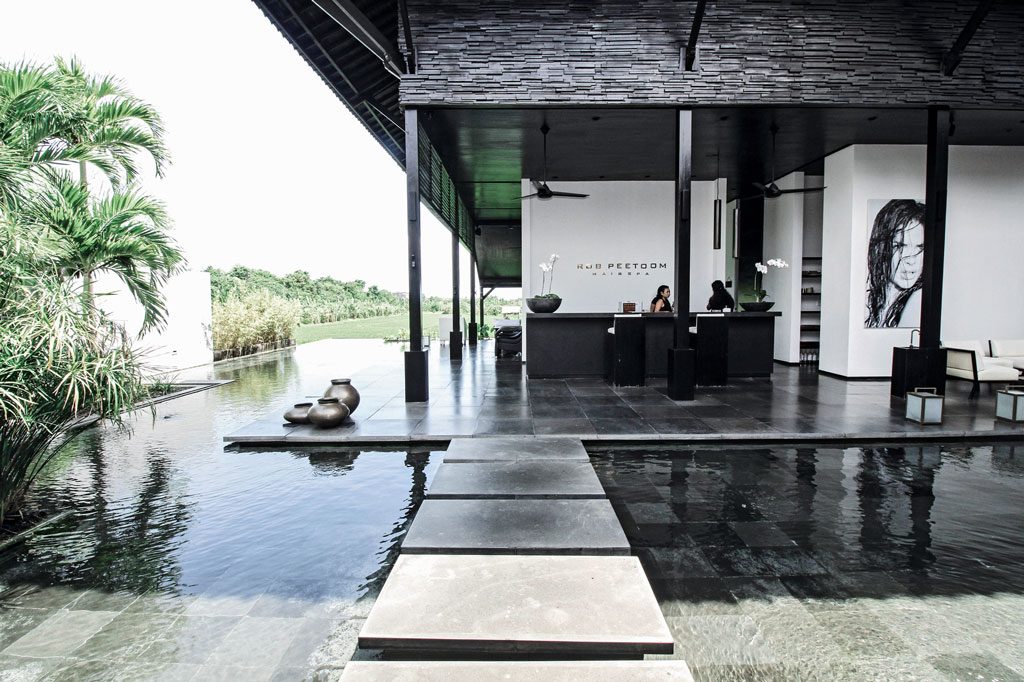 World-renowned hairdresser Rob Peetoom and his salons have been at the forefront of the industry since the '60s. Leading through quality services by experienced stylists in sensational locations, Rob Peetoom operates under the belief that your hair should suit your individual personality and lifestyle. In 2012, Rob Peetoom brought his unique salon experience from the Netherlands to the island of Bali, pitching up a Peetom haven in chic Seminyak. His international philosophy of natural hair is complemented with the Balinese spirit, rituals, and worship of inner beauty. The Seminyak salon and spa is full of peace and serenity, which aligns with the pure and natural treatments they offer. You'll enjoy hair and scalp rituals whilst savouring in scenes of rice paddies – it's the perfect blend of luxury and comfort. His second Bali hair spa is located in Kuta, mere minutes away from the beach, giving the salon a majestic ocean view. The recommended services include head massages, vapour machines, and treatments using restorative produce essential after hours of sun damage, rough sea salt or chlorine from pools.

Rob Peetoom Hair Spa
Jalan Petitenget No.16, Seminyak
+62 811 3875 688
www.robpeetoomhairspabali.com
The Shampoo Lounge & Bali Barber
The Shampoo Lounge is one of Bali's most popular salons, loved for its wide variety of premium services delivered in a fun environment. Their signature services include professional Keratin, Blow Outs, Colouring, Extensions, Braidings, Nails (acrylic, shellac, gel), Lashes, and make up for bridal. Since opening its doors in 2011, it has garnered a clientele of both international and domestic visitors. They have also expanded its flagship in Seminyak to Nusa Dua and Sofitel Bali Nusa Dua Beach Resort. TSL's team of certified stylists operate in-house as well as remotely to support weddings, villa soirees, and other large events – meaning they'll deliver the glam to your doorstep! Just when you think it can't get any better, TSL is a one-stop for salon, spa, as well as men's barber services – all under one roof. All Shampoo Lounge locations feature fully integrated but separately managed barbershop by Bali Barber. The boys at Bali Barber will take care of your cutthroat shaves and hair styling needs. They've also perfected an Athletic Massage to ease problematic and sore muscles. Spa services include facials for all types of skin, waxing, massage varieties for all preferences, and reflexology to get those feet ready to dance the night away. Make a day of it and enjoy one of the many spa packages at TSL.
The Shampoo Lounge & Bali Barber
Jalan Basangkasa No. 8X, Seminyak
+62 853 3833 3338 / +62 361 4741 710
www.shampoolounge.com / www.balibarber.com
Body Temple Spa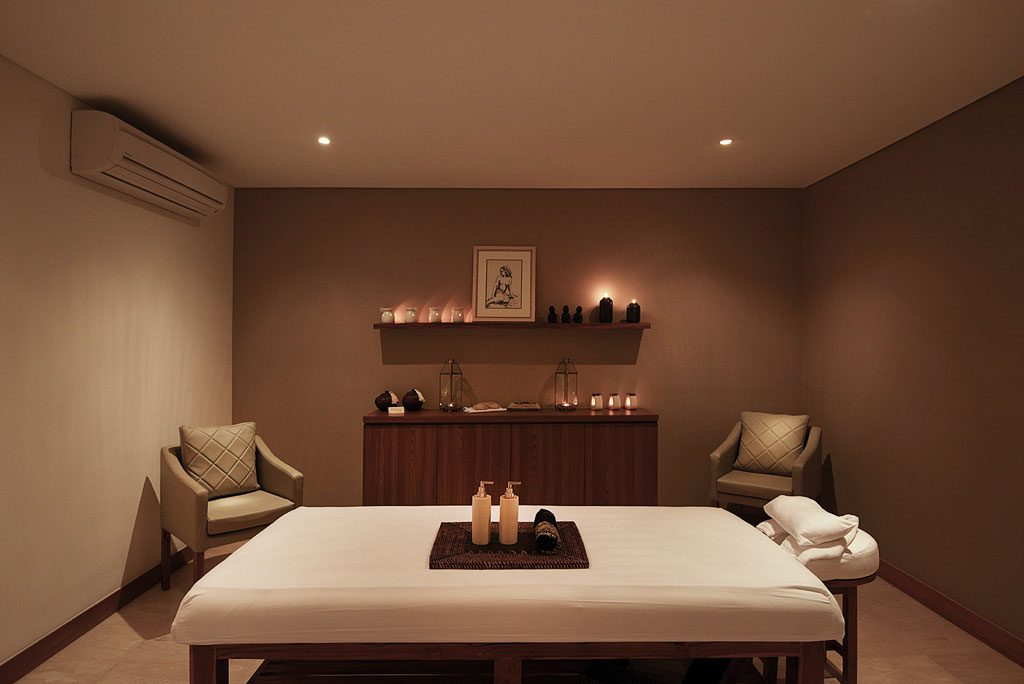 This luxury self-care oasis in Canggu puts the things you and your body crave as their priority. Ask yourself what your body needs today and Body Temple Spa will help you find the answer. Located on the quieter lower-level of the Finns Recreation Club in Canggu, the spa commits to a mantra of creating an experience that is unique to you and your body. The full-range of beauty treatments aim to detox, rejuvenate, relax, and energise. Whether that's a soothing Warm Stone Massage post-morning surf or a Coffee and Mint body scrub after a weekend in the sun. In addition to relaxing massages and body wraps, illuminating facials, and the exclusive Thalgo body treatments, Body Temple Spa sticks to the classic favourites, such as manicure and pedicure (normal polish and gel), lashes, waxing, and even ear candling services, all using imported products from Australia. The cherry on top, Body Temple Spa has an on-site TONI&GUY Essenuals hair salon equipped with a team of junior and senior stylists, style directors, and barbers. Get a cut, wash, and blow dry or a full-head colour change! They offer permanent waves and straightening services, as well as bridal hair and hair extensions. If you're after a pick me up after a big night or if you're under the weather, Body Temple Spa also hosts treatments from The Dose, who specialise in IV Treatments for anything from hangover cures, anti-aging and immunity boosters – now that's what we call self-care!

Body Temple Spa
Finns Recreation Club, Jalan Pantai Berawa, Canggu
+62 361 474 1019
www.bodytemplebali.com