Here in Bali, one will find superb restaurants that showcase the rich variety of Indonesian cuisine, as well as those uplifting Bali's own unique regional fare for all to savour. Discover our recommendations of the best Indonesian restaurants in Bali, serving both authentic Indonesian and Balinese fare.
Renowned as the spice islands, the Indonesian archipelago is 'peppered' with exotic herbs, spices and ingredients. Its fame is legendary throughout history: treasure so fervently sought by European traders and colonisers. With such fragrant and aromatic produce, it is only natural that Indonesia would develop such complex, appetising cuisine. Whether searching for an Indonesian restaurant in Seminyak or the best Indonesian restaurant in Ubud, this list will have it all.
---
Dapur Raja Bali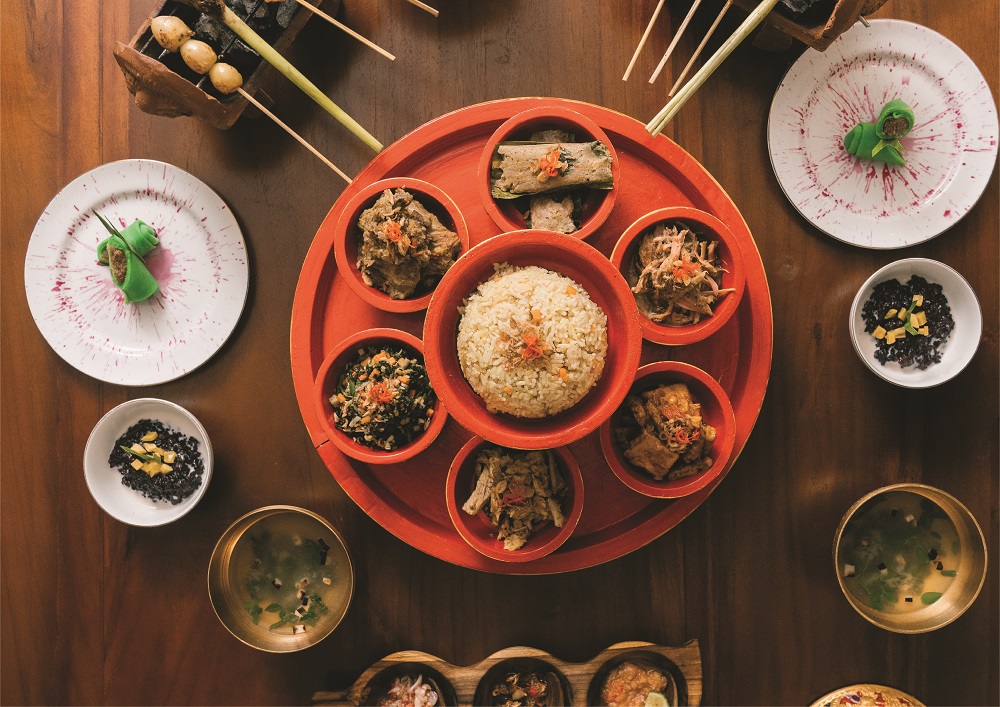 If you're on the hunt for an exquisite Balinese dining experience, then make your way to one of the best Indonesian restaurants in Bali, Dapur Raja Bali. This restaurant provides a great place to gather with friends and dine over food and drinks, cooking up traditional Balinese cuisine served Rijsttafel-style.
Nestled in central Ubud, Dapur Raja Bali, meaning the King's Kitchen, can be found on Jalan Goutama Street. The restaurant features elements of traditional Balinese design with a family-style dining concept, furnished with long communal tables and floor seating.
At Dapur Raja Bali, diners can savour the restaurant's signature Balinese Rijsttafel – their take on the traditional Indonesian rijsttafel. Rijsttafel is Dutch for 'rice table', originating during colonial times, where a smorgasbord of different dishes was presented around the rice to display the diversity of Indonesia's cuisine. A way to experience "a little bit of everything" in one sitting.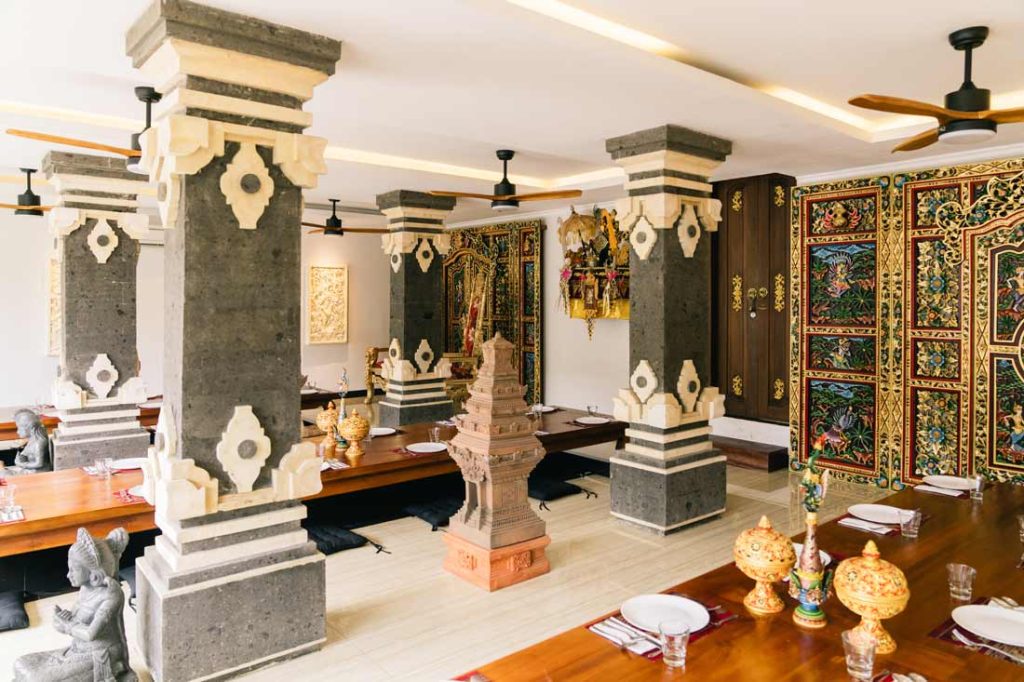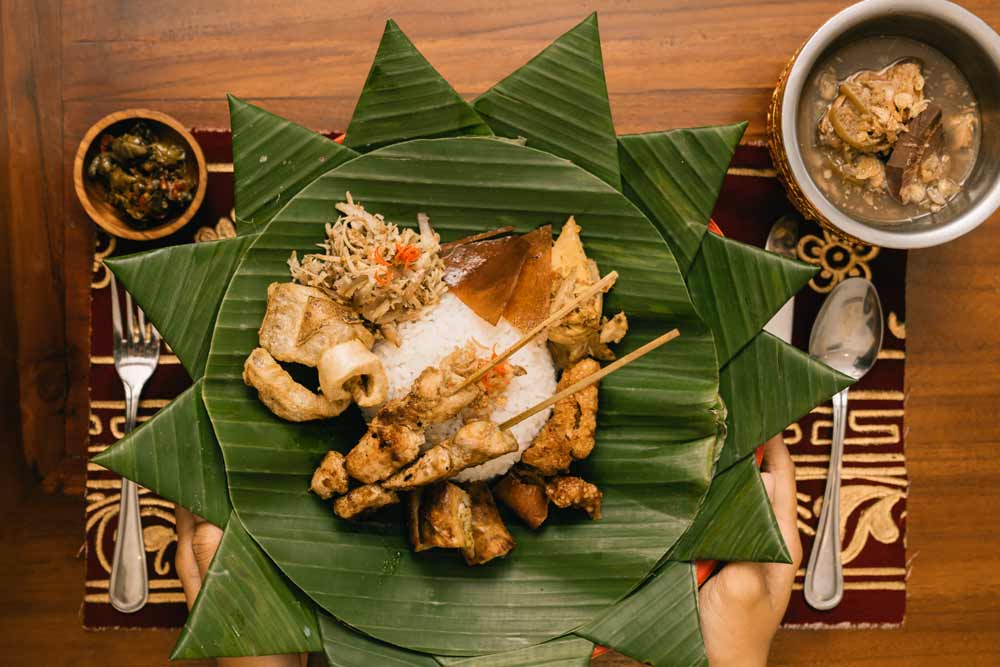 Dapur Raja's Balinese Rijsttafel follows the same philosophy: serving an array of traditional Balinese delicacies all at once, featuring age-old recipes passed down through the generations. The menu consists Sop Kelor, Satay Lilit & Ayam, Nasi Kuning, Tempe & Tahu Manis, Ikan Pepes, Iga Babi, Babi Guling, Bebek Betutu, Bubur Injin and Dadar Gulung.
Vegetarian diners can also taste these unique Balinese food offerings with the Vegetarian Rijsttafel option, where the different, rich variety of spices, curries and flavours can be savoured. Those who only want to dig into a favourite of all Balinese food, the babi guling, can also order this dish individually.
This royal meal is complemented by the extensive drinks menu available, which includes cocktails, premium spirits and an impressive wine list to really elevate the experience of Balinese dining!
Dapur Raja Bali is open Tuesday to Sunday from 11:30 AM to 10 PM.
+62 811 388 1181 | res@dapurraja.com | dapurraja.com
---
Makase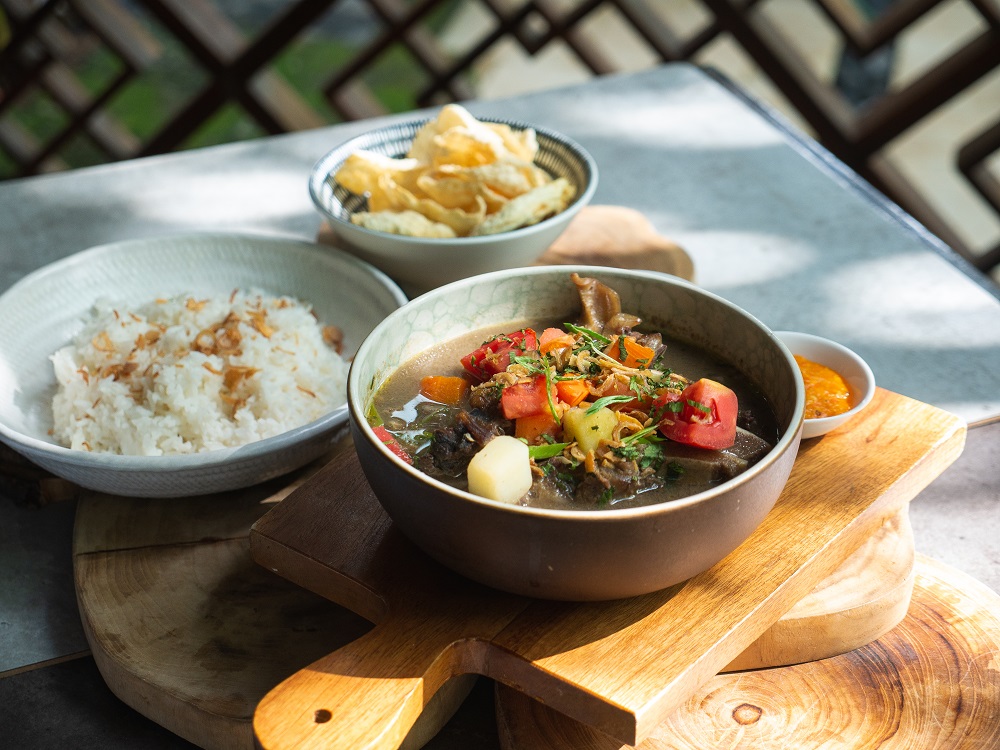 Located within Hotel Indigo Bali Seminyak Beach is a charming and friendly neighbourhood café: Makase. Welcoming you for breakfast, lunch and dinner, Makase is a homey take on casual, rustic all-day dining that serves not only an eclectic international menu but an exquisite Indonesian food variety.
For those craving a deliciously comforting Indonesian meal, Makase wide range of the archipelago's finest delicacies makes it one of the best Indonesian restaurants in Bali. From the Snacks selection, try out the crunchy Corn Fritters served with coriander and curry mayo, while the Vegan Corner offers Sate Maranggi with spicy soy sauce, shallot and chilli, and Vegan Rendang served Sumatran-style with coconut curry, broccolini and sambal embe. Both these vegan options are made with mushrooms.
From the Soups section, don't miss out on the hearty Sop Buntut, Indonesian oxtail soup served with potatoes, crispy garlic and fried shallot, best enjoyed with a side of rice. The Noodles & Wok menu presents Indonesian staple dishes including Bakmie Goreng Jawa, Javanese fried noodles served with chicken, tofu, beansprout and spring onion, egg noodles, traditional pickles and ayam bakar; and Nasi Goreng Kampung, Indonesian fried rice served with acar (traditional pickles), grilled chicken, egg, crackers and chilli.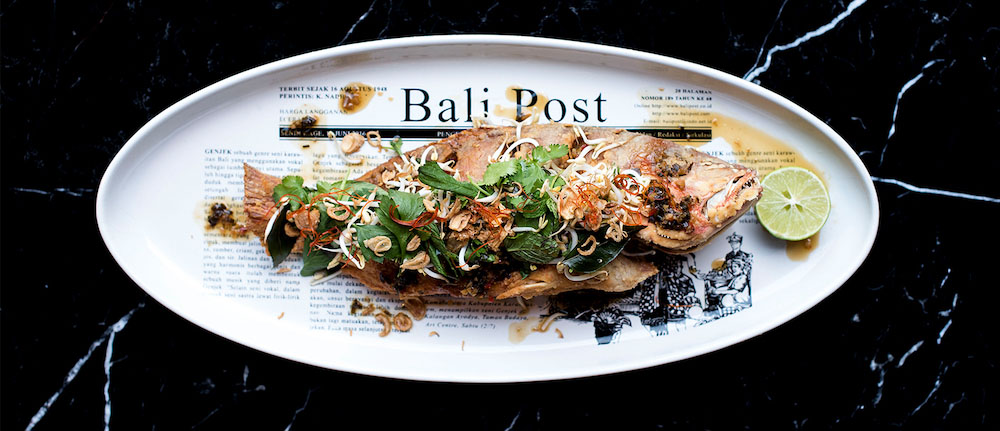 The Main Plates serves up meaty dishes including Rendang Sapi, wagyu beef shin served with Sumatran coconut curry sauce and green chilli; Tengkleng Kambing, Solo-style braise lamb served with sweet soya, shallot and chilli; and Tongseng Kambing, local lamb shoulder served with coconut gravy, cabbage, and steamed rice.
For your palate-cleansing Sweets, enjoy crowd-favourite Indonesian desserts such as Es Teler, an Indonesian fruit cocktail featuring pandan granite served with pearl sago, jackfruit, coconut, avocado and grass jelly; Pisang Garing Madu, a crispy banana fritter, served with brown sugar and honey; and Bubur Sumsum, Indonesian sweet coconut porridge made from rice flour served with palm sugar and jackfruit.
Makase is open daily from 6:30 AM to 11 PM.
+62 361 209 9999 | Seminyak.hotelindigo.com
---
Bejana
Presenting authentic Indonesian fine dining through an exploration of the flavours of the archipelago, Bejana rests on a dramatic clifftop perch, introducing a unique marriage of five-star flair and a relaxed ambience.
Tucked within The Ritz-Carlton, Bali, Bejana is the resort's signature Indonesian restaurant, which some might consider one of the best Indonesian restaurants in Bali. Graciously perched on the cliffside of the Nusa Dua coastline, Bejana not only spoils diners with its palate-teasing culinary offerings but the restaurant's unique setting provides guests with picturesque views overlooking the Indian Ocean.
Indonesian cuisine, much like the country itself, is far-reaching and wide-ranging! So how can one savour the flavours of the archipelago? The answer is through a rijstaffel. Bejana's own crowd-pleasing signature Indonesian Archipelago Rijsttafel presents diners with a curated selection of dishes from various Indonesian regions.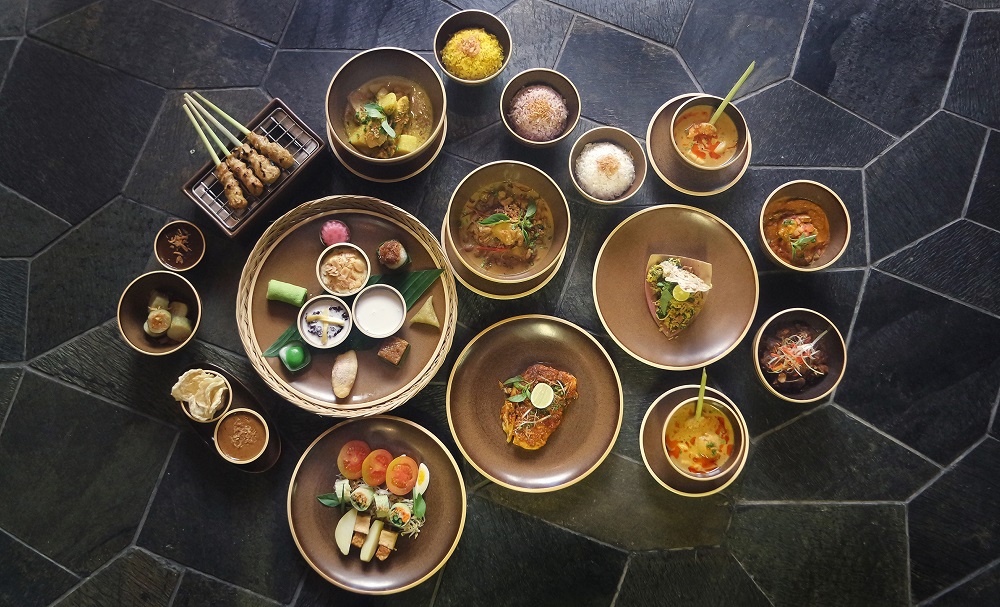 To warm up your palates, Appetisers include Ote-Ote Labu Kuning, Jukut Cantok Bumbu Kacang and Ikan Tuna Gohu Kacang Kenari. Following the appetisers, enjoy a comforting hot bowl of Soup with the Lodeh Jantung Pisang Klungah.
Now that your palate is warming up to the many spices, it's time for the Main Courses, which includes Kerang Tumis Bumbu Pedas, Ikan Menyat-Nyat, Ayam Goreng Kecombrang, Rendang Daging Sapi, Tumis Sayur and Nasi. End your sumptuous meal on a sweet note with the Klepon for Dessert.
The Indonesian Archipelago Rijsttafel is a multi-sensory journey from beginning to end, where you can taste the passion the culinary team have put into their creations. Each dish has been prepared so meticulously, an epicurean journey full of complex flavours and rich spices, it's no wonder this particular offering from Bejana is popular with diners, especially international visitors seeking a taste of Indonesia's exotic culinary offerings.
Bejana is open to both in-house and outside guests daily, from 6 PM to 11 PM.
+62 361 849 8988 | rc.dpssw.restaurant.reservation@ritzcarlton.com | bejanaindonesianrestaurant.com
---
Kaum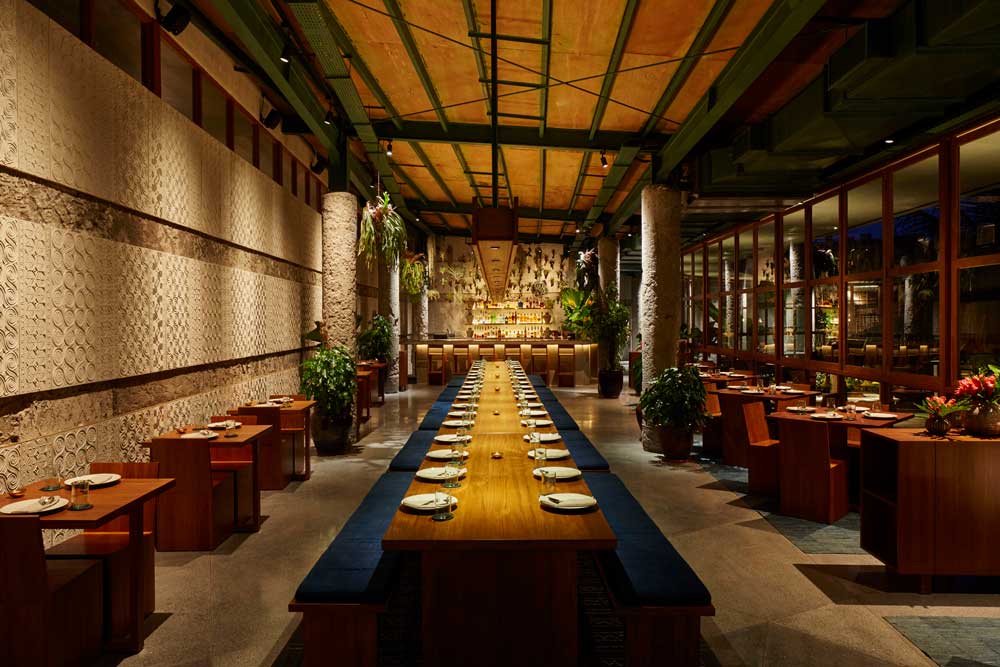 Found within Desa Potato Head, experience the undiscovered flavours of Indonesia at Kaum restaurant. Meaning "tribe" in Indonesian, Kaum is a true homage to the rich, exotic ingredients, ethnic cooking techniques and unique flavours found throughout the archipelago, presented with a contemporary spin.
As one of the best Indonesian restaurants in Bali, Kaum celebrates the age-old recipes passed down generations that were hardly shared from over 600 of Indonesia's islands, where the generational recipes showcased on the menu utilise traditional cooking methods. In addition to broadening your palate with new flavours, the menu also allows diners to expand their knowledge of the geographical origins of each dish, introducing Indonesia's lesser-known regions.
The spacious contemporary venue invites guests to dine in the relaxed ambience, where the culinary creations are best shared together on the communal tables out on the terrace with mesmerising sunset views.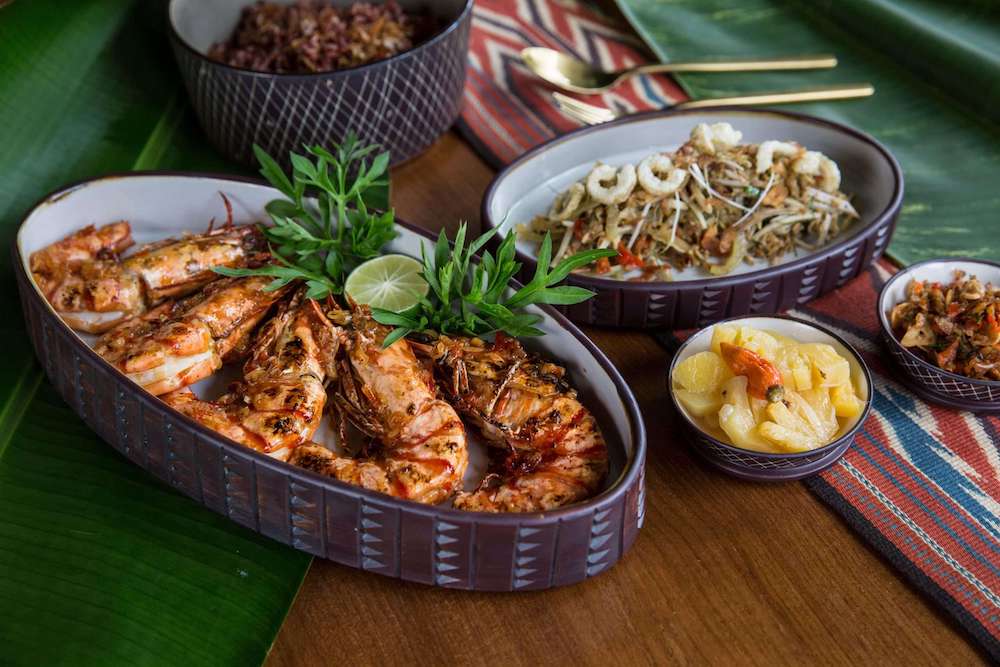 The Small Plates menu features dishes designed to be shared such as Cumi Suna Cekuh and Babi Genyol from Bali, Rendang from West Sumatra, Batagor from West Java, and Gohu Ikan Tuna from Maluku, Ambon. The Vegetable Dishes menu complements your main course, serving dishes such as Bobor Daun Kelor Kelapa Muda from Central Java, Terong Balado Teri from West Sumatra and Serombotan from Bali.
The Large Plates menu can be enjoyed with up to four guests, presenting the likes of Bebek Goreng Sambal Tanggal Muda from West Java, Papiong Ikan from Toraja, Udang Bakar Jimbaran and Sate Babi Kecap from Bali, and Tongseng Ayam and Sate Buntel from Central Java. Kaum also offers a variety of Noodles & Rice dishes such as Mie Gomak from North Sumatra and Nasi Goreng Babi from Bali. The Dessert selection takes inspiration from Indonesian classics such as Kacang Mete Karamel and Kue Kelapa Coklat Flores.
In line with their sustainability initiatives, Kaum works closely with small-scale and responsible food producers to source the finest ingredients, believing that cultural sustainability is just as crucial as environmental sustainability.
Kaum is open daily from 12 PM to 10 PM (last order at 9:30 PM).
+62 361 620 7979 | restaurants.seminyak@potatohead.co | seminyak.potatohead.co
---
Bali Asli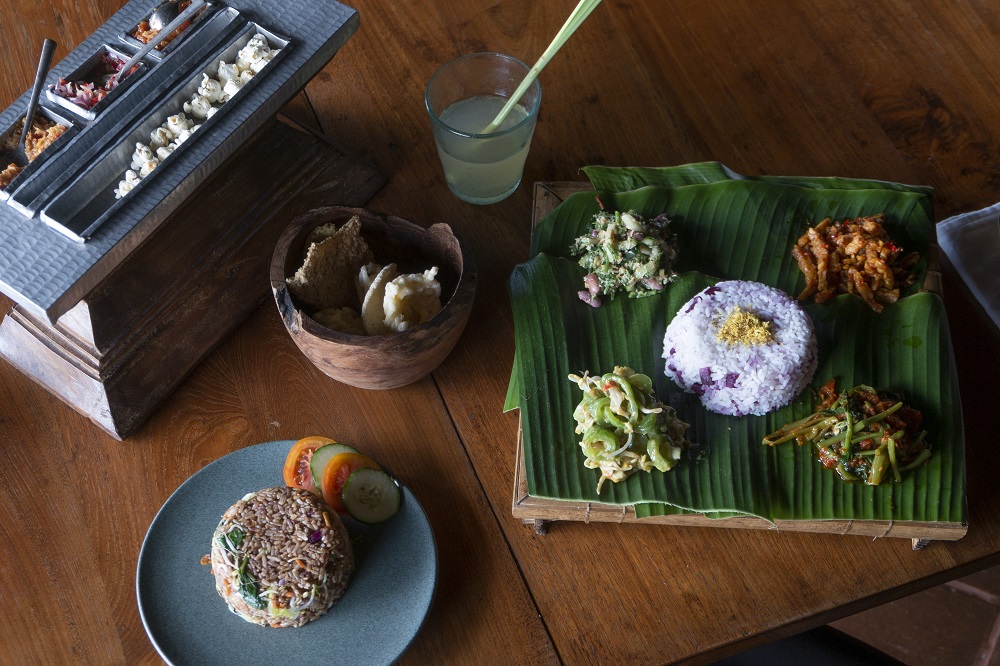 In the hillsides of east Bali lies a real culinary destination with not one building in sight. It's exclusivity and far-flung locale make it quite the venture, but for epicureans who want to go the extra mile, Bali Asli focuses on immersing you into Balinese cuisine, surrounded by nothing but countryside.
Bali Asli, meaning 'real Bali', celebrates Balinese cuisine and culture with conscious thought and care. Entering through the intricately carved Balinese doorway, guests are welcomed into a spacious, pavilion-style restaurant, opening up to a terrace that enjoys perhaps one of the best views of Mt. Agung one can find. With its polished wooden floors, farming tools and local crafts decorating the walls, and a traditional thatched roof, this dining destination presents a very homely, rustic feel that perfectly suits its natural surroundings.
Founded by Chef Penelope Williams, who has experienced a refined international career in five-star resorts, as well as a three-year post as Executive Chef at Alila Manggis, it was this time in east Bali that showed her the bounty and richness of the island, creating the 'dream' – now a reality – that is Bali Asli.
Inspired by tradition, the kitchen team embraces the community, including those who fish, farm, and forage in nearby fields, the ocean, and the forest. Bali Asli offers two set menus, Nasi Campur and Eastern Balinese Megibung, each a showcase of authentic local recipes, with every aspect of the dish made fresh from scratch and cooked in an authentic Balinese-style kitchen. Expect to taste nasi sele, jukut kelor meliklik, urab paku sayur jepang, plecing kangkung, sate lembat bepasih, besiap betutu, urab buah abian, brengkes tahu, different sambal relishes served with a bowl of favourite local kerupuk (crackers). The menu changes daily depending on what's fresh in their garden and the morning market.
Bali Asli also offers immersive programmes to guests with cooking classes, culinary encounters and culinary adventures.
Bali Asli is open daily from 11 AM to 5:30 PM with last orders for lunch at 3:30 PM, followed by afternoon tea, drinks and snacks available.
+62 822 3690 9215 | enquiries@baliasli.com.au | baliasli.com.au