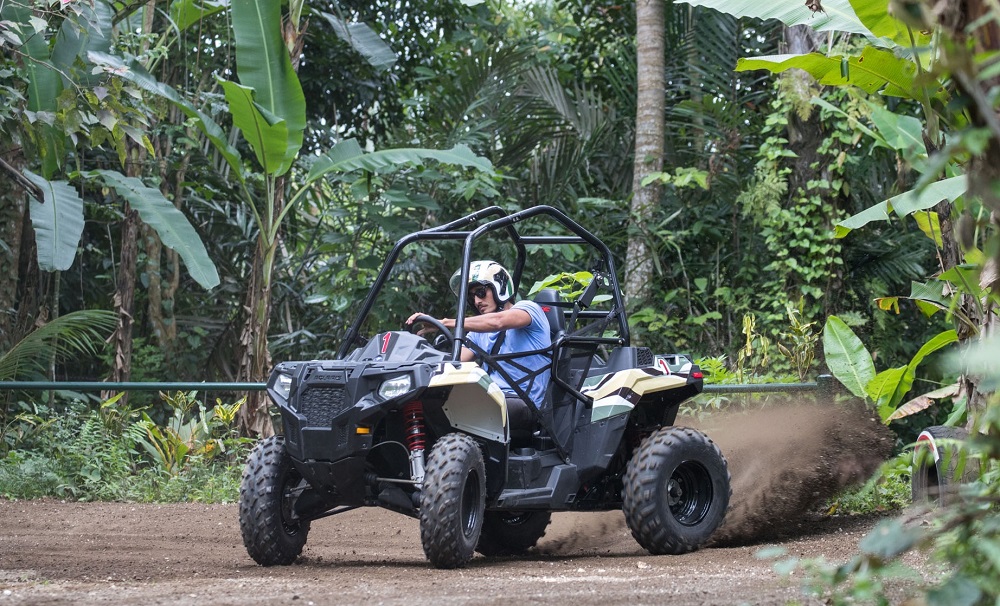 For those who have a need for speed, racing through the lush wilderness of Bali's highlands in an off-road buggy is just the ticket! Rev your engines with Mason Adventures' Jungle Buggies, an adrenaline-pumping outdoor experience in Taro, north of Ubud.
Located only 5 minutes away from Mason Elephant Park, get ready to feel the ultimate rush as you experience Bali's first and only purpose-built ATV track. Put your driving skills to the test and navigate through Ubud's verdant jungles. This exhilarating, 5 KM course was built with the toughest thrill seekers and daredevils in mind, providing a fun and extreme driving experience like no other ATV company in Bali.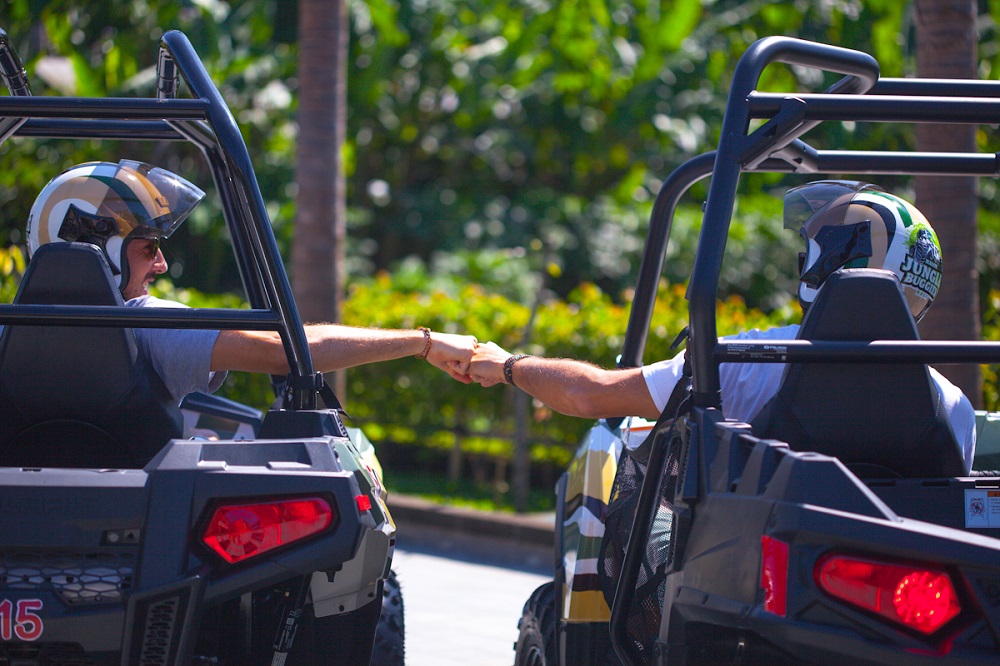 Deploying 30 fleets of their fully-protected Polaris Buggies, this motorised activity offers riders the option of choosing between single-seated models for those wanting to go solo or to ride tandem with a friend or guide in double-seated models and you can also determine the amount laps you want to complete. Get a taste of life as a rally driver for a day as your capabilities are tested with the challenging and diverse trail, the rush will definitely leave you wanting for more.
Your adventure in the jungle begins at Koko Bambu Restaurant, an eco-friendly and beautifully constructed natural structure made almost entirely out of bamboo, tucked amidst the rice fields of Ubud. Safety is of utmost importance when it comes to activities with motorised vehicles, hence, a safety video and demonstration will be shown, summarising the mandatory procedures involved with handling the buggies, after which helmets will be distributed.
Following this, you're all prepped and ready to get into your vehicle for a briefing session before you can put the pedal to the metal and whip around this jungle racetrack. Accelerate, navigate and drift around the meandering track under a canopy of palm trees and tropical foliage. Splash through puddles and mud, or kick up the dust as you swerve around corners, fast and furious!
All of the fully customised buggies are equipped with custom-mounted GoPro cameras so that guests have the choice of taking their action-packed experience home. The buggies are outfitted with certified roll cages, customised bumper bars all around, trail-tuned suspension, automatic transmission, 3-point seat belts, and side protection nets. Post-buggy adventure, you can enjoy a relaxing time and refuel with drinks and meals by the pool of Koko Bambu Restaurant, taking in the scenic rice paddies.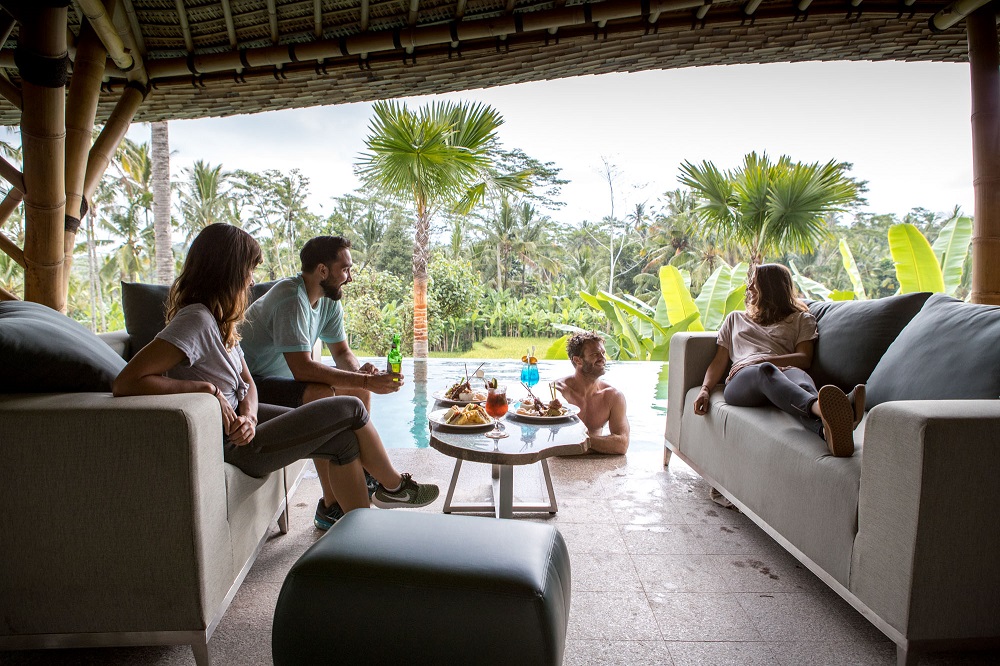 Having 30 years of adventure experience, Mason Adventures is celebrated as being a leading adventure tour in Bali, offering a host of superb recreational outdoor experiences such as white water rafting, their renowned elephant park, mountain cycling, tropical trekking, and, of course, the mud-splashing jungle buggies!
Open from 8 AM to 5 PM daily, the complete tour inclusions are fully safety equipment, 3 laps on the track, access to the Mason Gourmet Chocolate Factory Showroom, a delectable lunch, air-conditioned hotel transfers, accident insurance, and emergency aid medevac.
Keep in mind that drivers must be the age of 18 to 65 years old and must have a driver's license while tandem passengers must be 12 years above. Each lap is 5km on a purpose-built track, lap session times depend on driving ability and skills, closed footwear is recommended, and bring swimmers if you want to swim in the pool.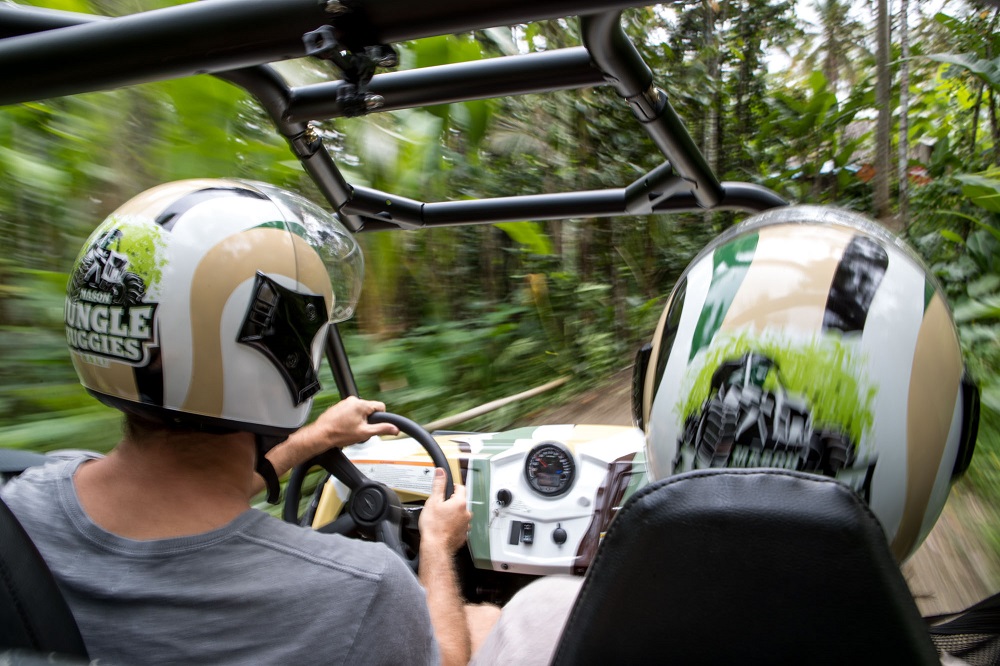 For a Complete Tour (3 laps), the Single Seater (1 guest) is priced at IDR 920,000; Double Seater (2 guests) is priced at IDR 1,285,000; and Tandem Passenger (1 guest) is priced at IDR 775,000.
Mason Jungle Buggies
Jl. Raya Taro, Banjar Tatag, Ubud
+62 361 721 480
info@masonadventures.com
masonjunglebuggies.com