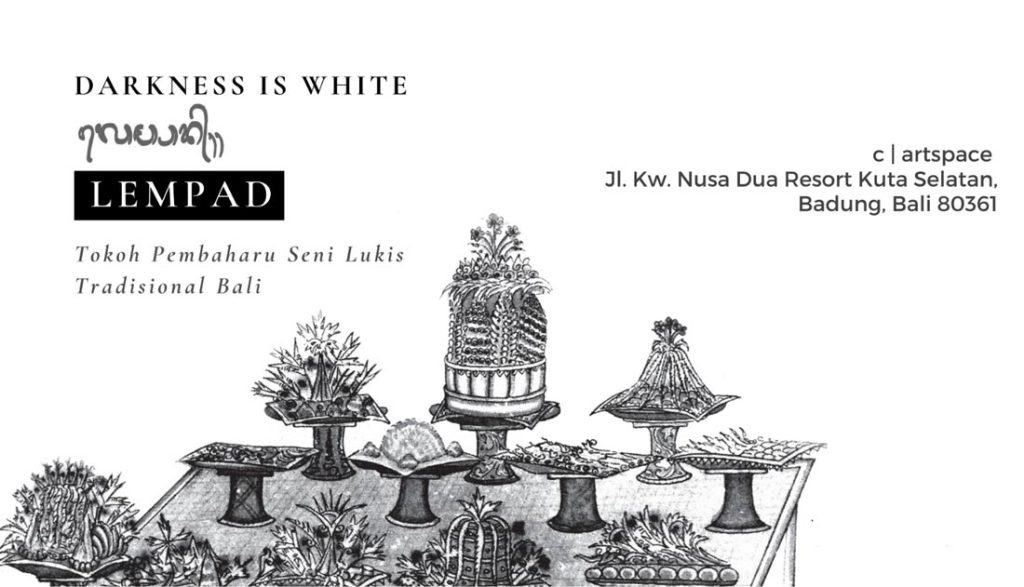 On display from 15 July to 9 August 2023, 'Darkness is White' is an immersive multimedia exhibition that celebrates the life and work of the great I Gusti Nyoman Lempad. Held at the newly launched c | artspace (previously the AB•BC Building) in Bali Collection, Nusa Dua, the exhibition is an opportunity to see a vast collection of his work under one roof.
• Who is I Gusti Nyoman Lempad?
•'Darkness Is White' Exhibition Experience
• Exhibition Information
---
Who is I Gusti Nyoman Lempad?
Entire books have been written and documentaries made about Lempad, so to summarise his role in Bali is indeed a challenge. In brief, I Gusti Nyoman Lempad is perhaps the most revered artistic figure in Balinese history: painter, sculptor and architect, his work defined a transformative period in Balinese art forms in the 20th century.
It was estimated that he was born in 1862, and lived to the age of 116, dying peacefully on 25 April 1978. His life's work has contributed immensely to the visual aspects of that we consider quintessentially Bali today.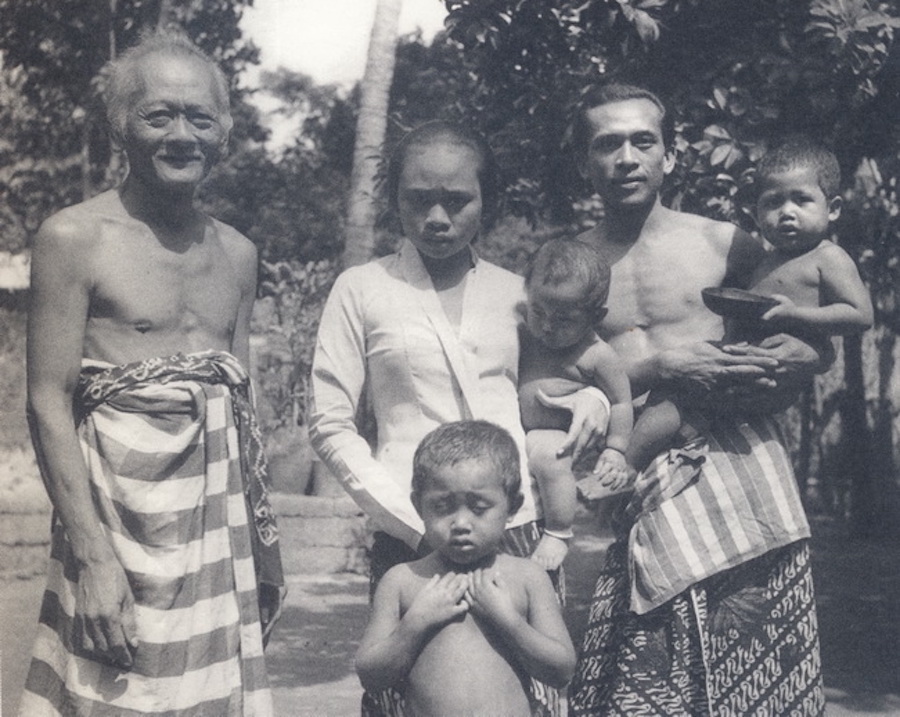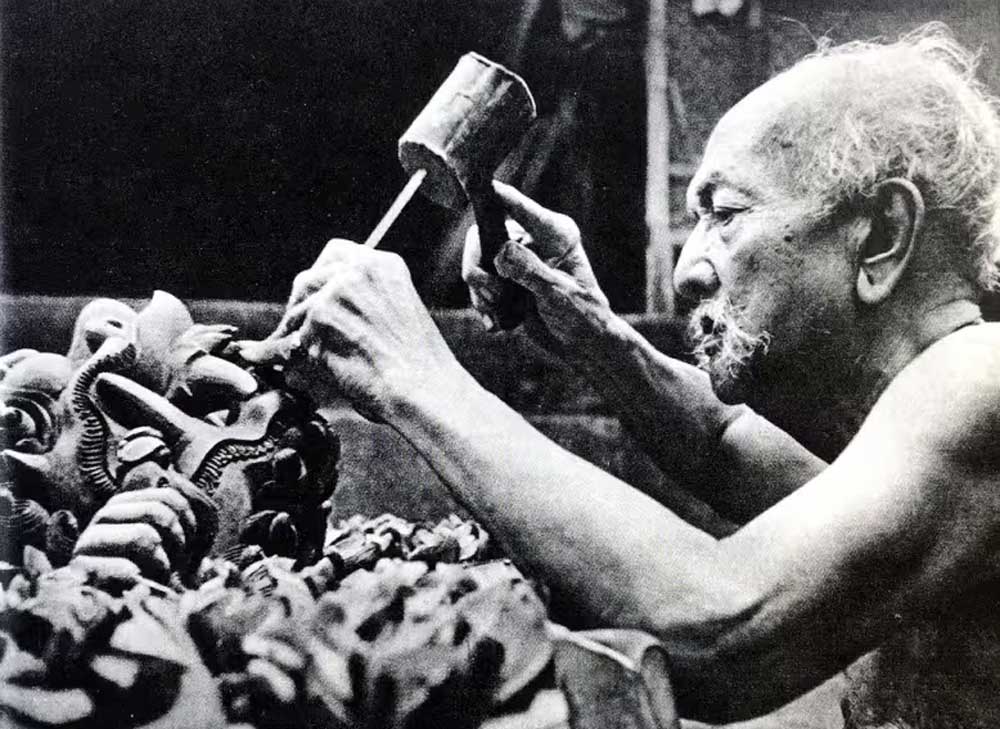 ---
As an artist, he is most famous for his 'black ink on white paper' paintings, distinguished by his masterful use of lines: clean and purposeful, creating stark contrasts between the drawn image and the surrounding white space. A deeply spiritual Balinese Hindu, many of his paintings depicted classical stories, evolving to scenes of daily, spiritual and even mystical life.
"The genius of Lempad is to have reinvented the drawing line. The "line" in his works is not only descriptive of a story or situation, it exists for its own sake. It is free," explains art historian, Jean Couteau, one of the conceptors of this remarkable exhibition.
Taken in by the Sukawati royal family in Ubud, Lempad became central to the creation of temples as an expert undagi, or Balinese architect, with his creative skill extending to stone sculpting, mask carving, leather puppet carving and creator of cremation towers (bade) and structures.
It was famed German artist, Walter Spies, who introduced the maestro to the medium of painting in the 1920s, and together they formed the first art group known as the Pita Maha, and later the Ubud School, which were both pivotal in the evolution of Balinese art. Lempad is seen as a 'reformer' of traditional Balinese painting.
---
'Darkness Is White' Exhibition Experience
Held at the newly launched c | artspace, Darkness Is White transcends a regular exhibition and takes visitors through an immersive multimedia journey that celebrates the life and work of the famed maestro.
Playing on Lempad's contrast of black and white, the entire exhibition is shrouded in darkness: visitors enter the near pitch-black hall where experimental music fusing ambient and traditional sounds sets a mystic atmosphere. Throughout the 40-minute journey, timed lights will guide visitors to the next display, literally 'lighting the way' through the venue area by area. 'Darkness is White' creates a temporary 'bubble' of reality inside of the art space, shrouded in a darkened dreamworld, as visitors move through the dynamic and experiential display .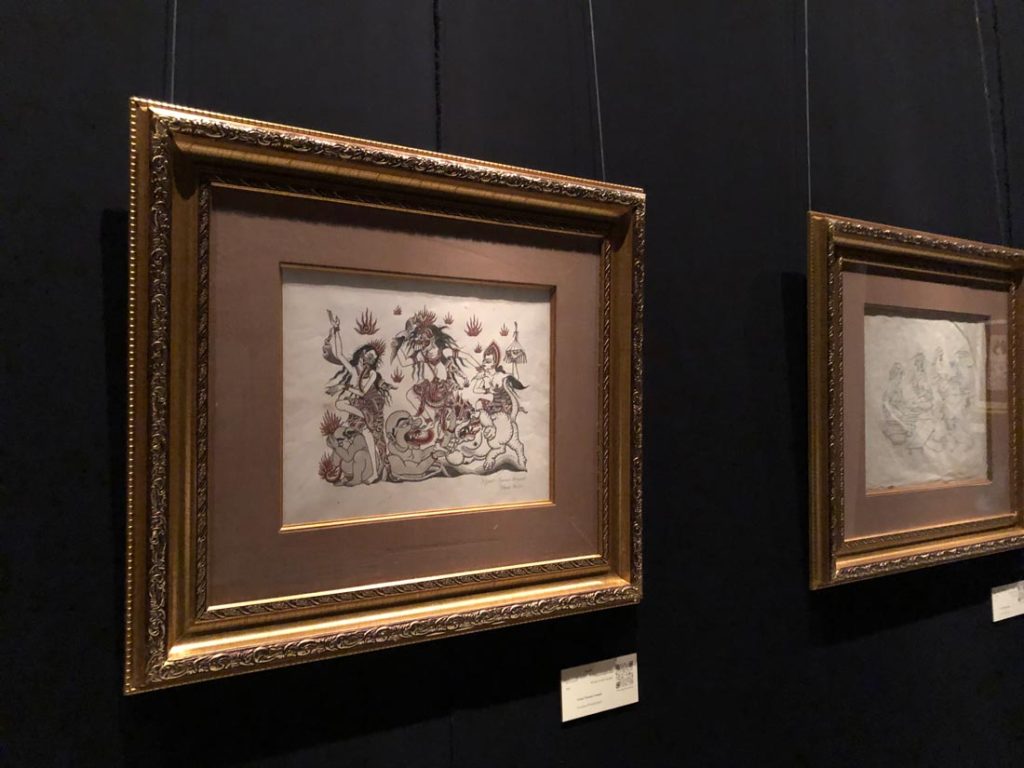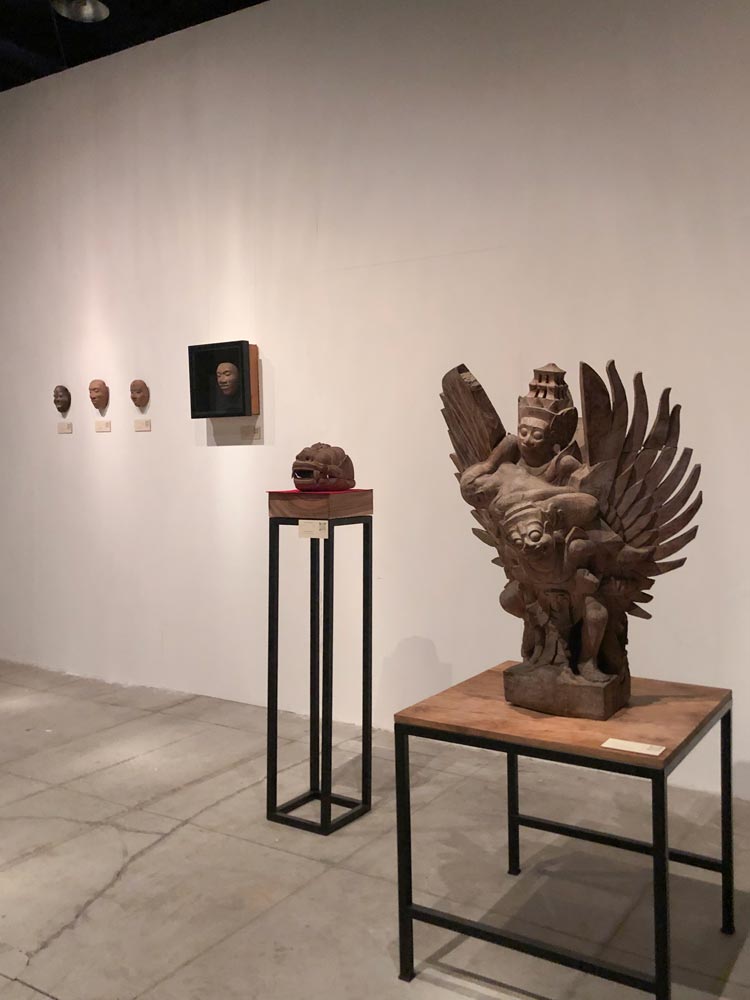 Other than his paintings, visitors will have an opportunity to see 'memorabilia' of his carvings, sculptures and tools. Including his scale-model sculptures of Balinese cremation towers (bade) and multi-tiered shrines (meru), which are more than 100 years old now. The eclectic exhibition also plays a presentation of his work that had been digitised, transposing his works into a new medium and bringing it to life.
More than 50 pieces of works are on display, including pieces from Museum Puri Lukisan, ARMA Museum, and also the personal collections of Daniel Jusuf, Ana Gaspar, Antonio Casanovas, Guntur Santoso, Ciputra family and of course the family of I Gusti Nyoman Lempad. It is a rare opportunity to see much of his work, both paintings and sculptures, under one roof. These are complemented by the works of his later kin, including I Gusti Nyoman Darta.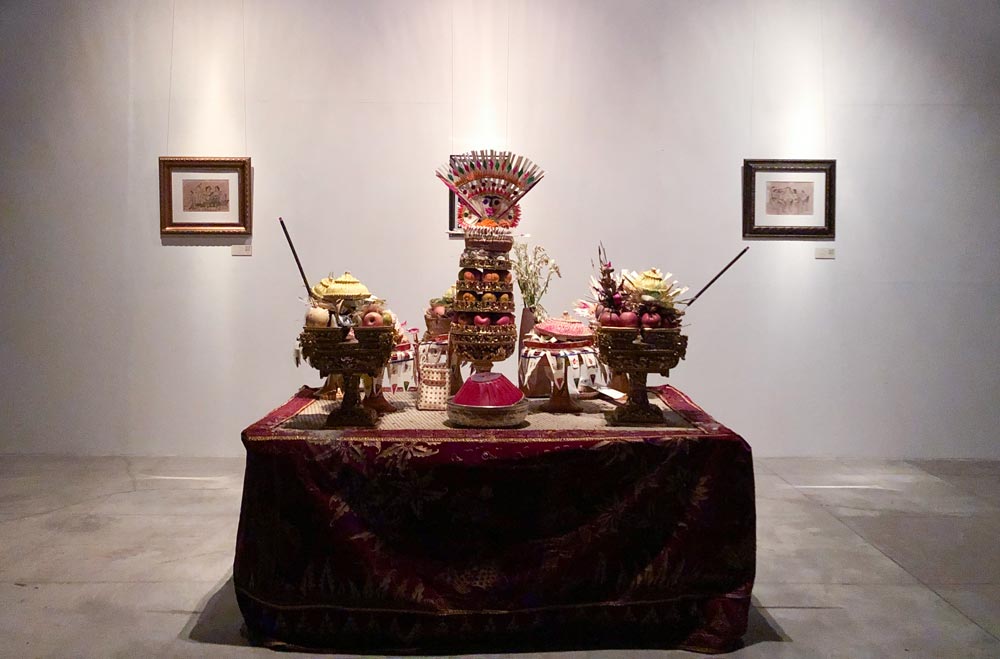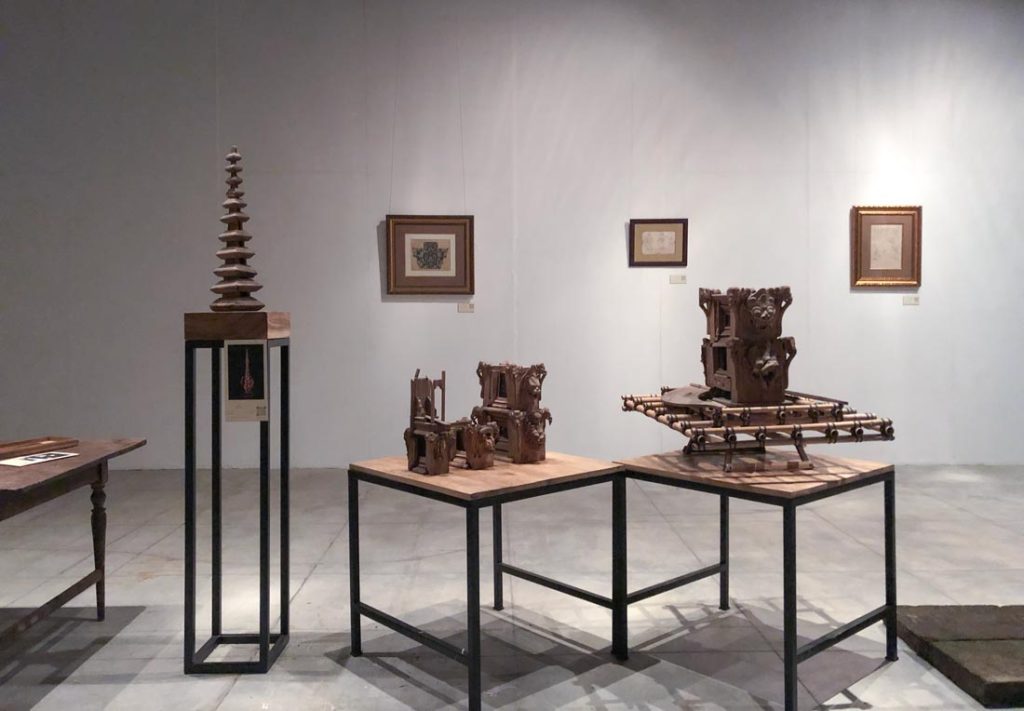 The exhibition explains: the big idea of the multimedia exhibition is to "get deeper into Lempad's mind" by stimulating the three main human senses (hearing, smell, and sight) which are poured into experimental music, and playing "digital" pictures of paintings from Lempad's documentation.
"Art for Lempad is a form of ngayah [worship or service], a concept that that has been abandoned in this day and age where art has merely become a means of livelihood. For Lempad, art was a spiritual path."
---
Exhibition Information
The exhibition runs from 15 July to 9 August, with daily opening hours from 10am to 8pm. The exhibition tour hours are: –
Morning: 10am and 10.45am
Afternoon: 2pm, 2.45pm, 3.30pm and 4.15pm
Evening: 5pm, 5.45pm and 6.30pm
Open Exhibition & 'Lempad of Bali' film screening (edited by John Darling) available at two slots per day: 12pm and 7pm.
Entrance fees are IDR 100.000, paid at the door.
c | artspace is located at Bali Collection, in the ITDC Complex of Nusa Dua: Google Maps.
Darkness Is White was conceived and conceptualised by Yoke Darmawan, Restu I. Kusumaningrum, e.a. Natanegara, Jean Couteau and Nirwan Dewanto. Curated by Andar Manik and Restu I. Kusumaningrum. The exhibition is presented by Taut Seni Foundation, Bumi Purnati Indonesia, Yayasan Bali Purnati and Puri Saren Ubud.