Hiking Mount Batur in pursuit of sunrise, jogging down Campuhan Ridge, or posing on a swing 78-metres above the ground – these are all de rigueur experiences for Bali first-timers. However, for those who feel like 'they've done it and seen it all', you're in luck. To spice up your Bali itinerary, we've curated a list of outdoor adventures that take you to distant destinations and off the beaten track, with a choice of travelling of foot, on two-wheels or four-wheels.
Mountain Trekking
If you have been to the northern part of Bali, you've most likely visited Bedugul, Kintamani, or perhaps even to Lovina on the northern coastline. Somewhere beyond the lake and mountains is a road far less travelled, so remote that even the Balinese themselves will rarely venture here.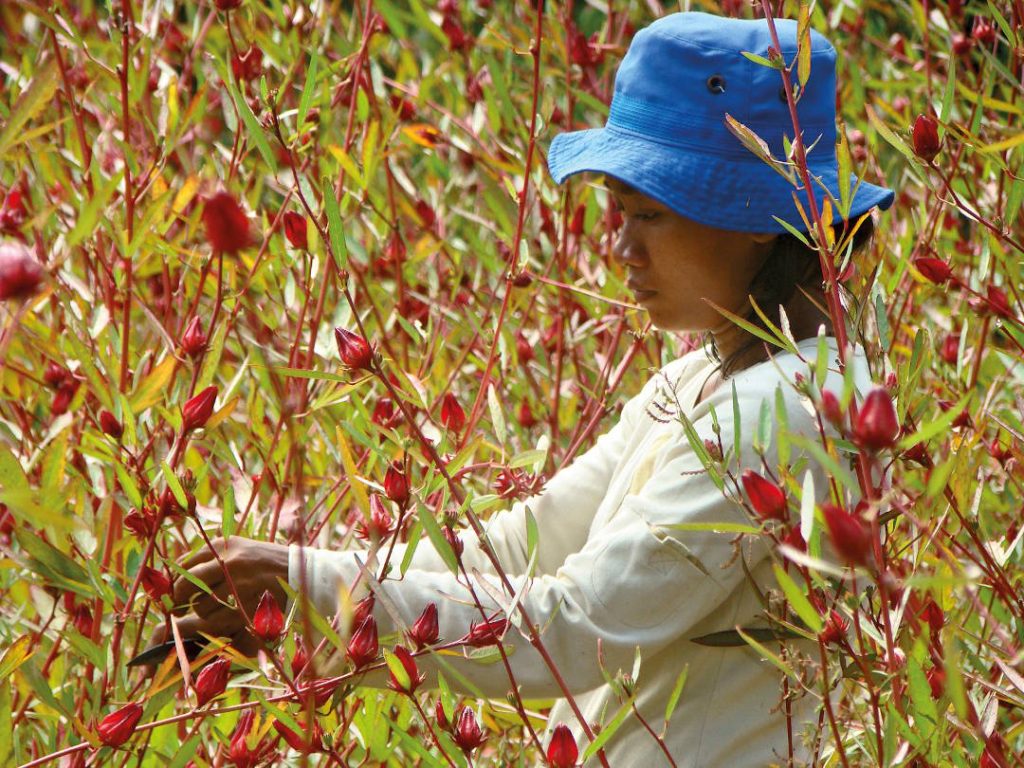 Muntigunung is known to be one of, if not the, most impoverished village in Bali, due to its arid climate and difficult terrain. The area is very dry for eight months of the year turning the soil into dust and making it difficult for villagers to grow anything. Even when it rains, there are no rivers or streams, so the land quickly absorbs the water. With a high scarcity of fresh water and food, the poor quality of life resulted in a high infant mortality rate of 9%! The women of Muntigunung were once forced to find their way to Ubud on foot (the nearest tourist destination and a 2-hour drive) and resort to begging.
A Swiss-Indonesian non-profit organisation 'Future for Children' have paved the way to support local families by generating income from a variety of programmes, including trekking. Mothers who had spent their time walking for days on end to beg in Ubud are now fully employed as trek guides and craftswomen.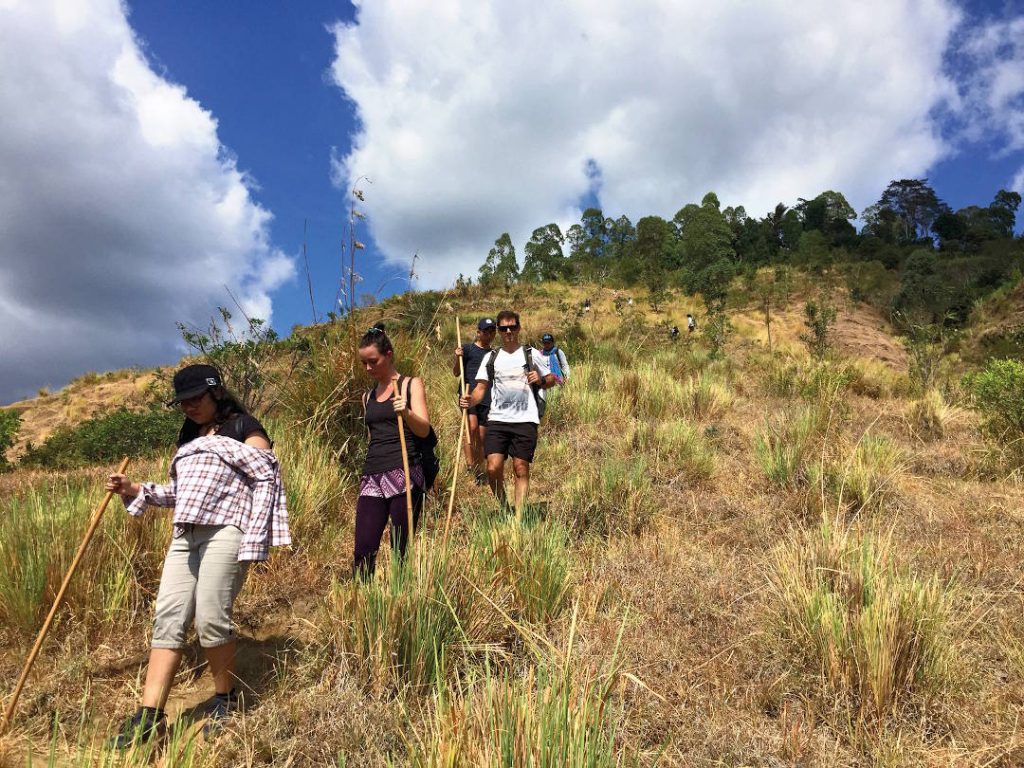 The Muntigunung Mountain Trekking can accommodate from two to ten people per tour and is fully private, meaning each group gets an exclusive experience and a private tour guide.
Prepare for an early start. Depending on where you are located, a driver and your private tour guide will pick you up at your chosen point at 5AM or 6AM. On your way, you will come across wonderful scenes along the way as you leave 'developed' Bali behind and rural landscapes take over. It's worth fighting off the temptation to sleep. Once you have reached high altitudes, birds-eye views of fish farms, chilli and tomato plants, Cajeput trees, shimmering blue waters, and teeming greenery or what welcome you.
The trek route has been designed to be moderately challenging, beginning at the lakeside village of Songan. From there, you will trek through wild vegetation to the hamlets nestled along the hillside. The programme is of course for travellers to immerse themselves into the Muntigunung environment, but also to showcase the daily life of local residents now that they have work and activities to support themselves. In Muntigunung, the social enterprises are presently producing food products like cashew nuts, rosella tea, rosella sweets, rosella salt, dried mango as well as high quality lontar palm sugar. In addition, customised hand-made lontar packaging boxes from bags and pouches out of traditional textiles as well as some of the most beautiful hammocks in Asia are being produced. Most of the raw material originates from Muntigunung, is processed manually with total care, and the products are of an exceptional quality. The products have a strong local and social touch and are helping the disadvantaged local population to get jobs and earn an income, creating self-esteem and results in the reduction and elimination of a key poverty cause in the area.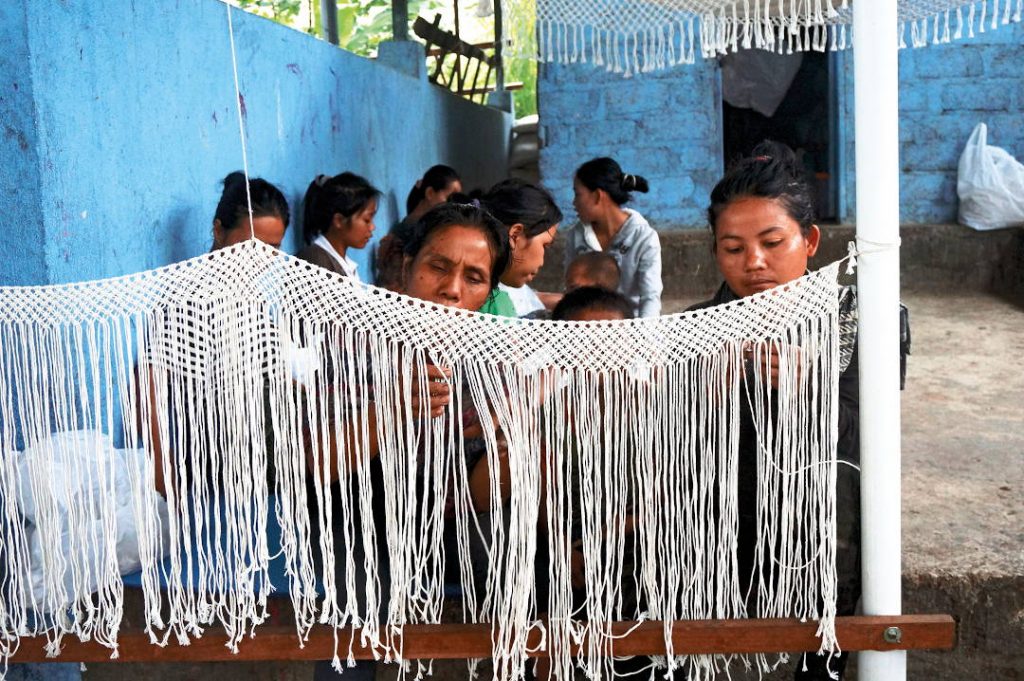 Additionally, you'll experience what the ladies had to endure everyday, carrying water through slippery slopes from the lake to their village. The population had to walk between three to five hours daily to collect their water from either Lake Batur or the north coast. As there was not enough water for irrigation most of the year, the villagers were not in a position to grow crops and to create income, so abject poverty in the area was the result.
The first 45-minute trek will be rewarded with a healthy breakfast and a view you're unlikely to find elsewhere in Bali. After a beautiful breakfast, your guide will then take you to a lontar tree haven. This first village you encounter is where lontar baskets are made, supplied to hotels for a sustainable and earth-friendly alternative to plastic or paper packaging. In the second village, you'll see how handmade hammocks and bags are made. Lastly, you'll be taken to the cashew, rosella, and dried fruit warehouse to immerse yourself in the whole making process. Around lunch time, you'll get to relax by the beach and enjoy a hearty meal before heading back.
Worth noting is that the guides and the tour itself take protecting the environment very seriously, striving to use minimal plastic throughout the journey – any plastic bottles or even food waste that comes as a result of a guest's visit is recycled and composted on-site.
The trekking tour through Muntigunung is more than just a great outdoor experience. Beyond visiting one of Bali's most remote, and therefore untouched, areas, it is a unique insight into the lives of local people in the area, whom you are directly benefiting through your experience.
Muntigunung Trekking Enterprise
+6281246970202 or WA: +6281239344931
muntigunungtrekking@gmail.com
Mountain Cycling
When in Ubud, it's hard not to conjure up scenes of Julia Roberts cycling through emerald fields and quaint villages, scenes which garnered a massive following and really put Ubud on the world map. On this unique Mountain Cycling tour, you'll see a different side of Bali from the comfort of a modern mountain bike and enjoy a rewarding workout whilst on vacation.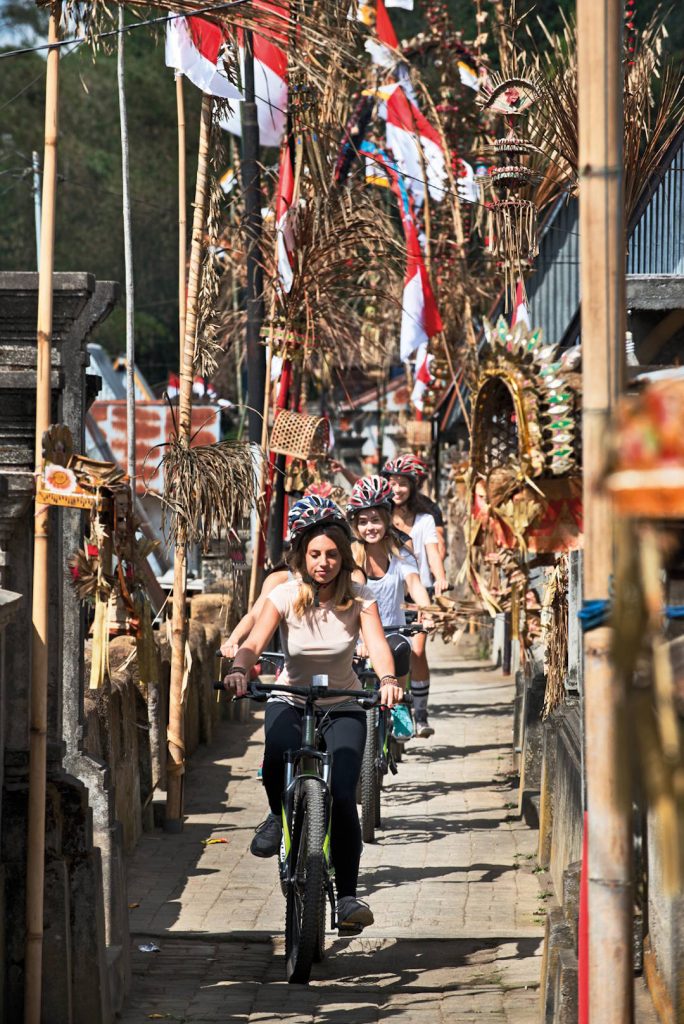 The thrilling bicycle tour organised by Mason Adventures Bali is really more of a cultural journey. It takes you through some of Bali's most scenic highland locales: a 30km route from Mount Batur to Kintamani that explore forest trails, ancient Hindu temples, villages, plantations to sampling exotic fruits in their most natural state. You'll witness the rural Balinese way of life all under the direction of experienced cycling guides. The guides are also there to share information on Balinese culture during the experience, helping guests come away with a better understanding of local customs.
Mason Adventures will provide you with bikes, helmets, mineral water, refreshing cold towels, hotel transfers, and emergency accident insurance. Available on request are a range of different riding levels of more adventurous off-road experiences, for those inclined to be more of a daredevil!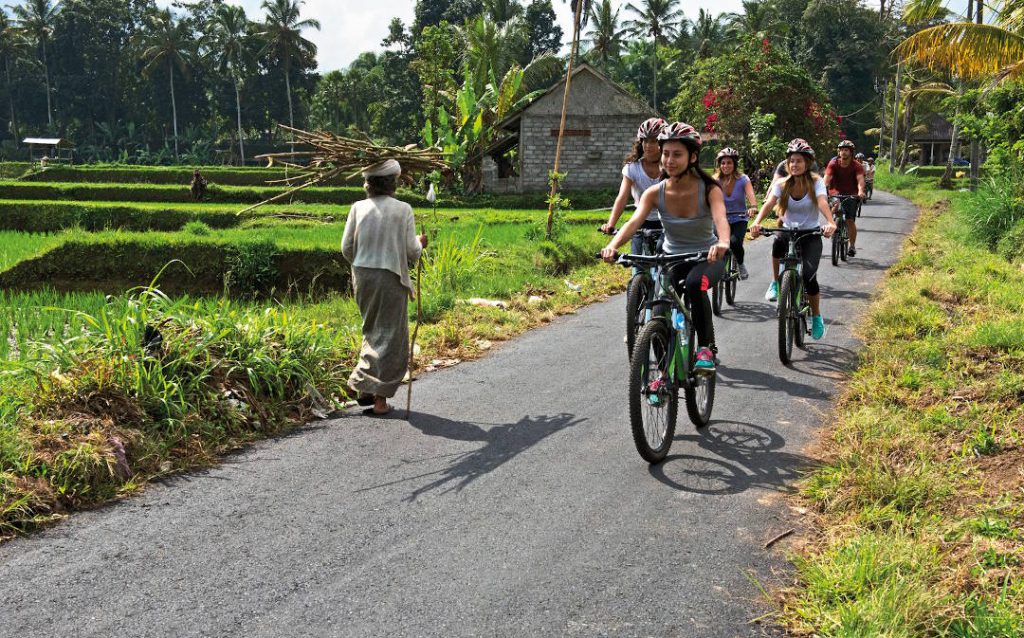 Mason Adventures is the longest established and best received tour operator in the adventure experience business, providing unmatched bike ride and mountain bike experience that can show you some of the very best of the island.
Mason Adventures Bali
Jalan Raya Kedewatan II, Ubud
+62 361 721480
www.masonadventures.com
4WD Adventure
Going on off-road adventures Lara Croft-style (sans arch nemesis) is a mere call away with Waka Hotels and Resorts. To embody the 'heart and soul of the mystical island of Bali', Waka Land Cruise designed a 'sacred' experience for guests to find the secret essence of Bali away from the conventional crowds. Proud pioneers of Bali Jeep adventures, the Waka Land Cruise will have you cruising around remote corners of the island in Land Rover Defenders and Land Cruisers, excellent to pass through country roads and dirt tracks. They have six itineraries on offer, including Jatiluwih, Sangeh, Kintamani, Tenganan, Ubud, and the Royal Palaces.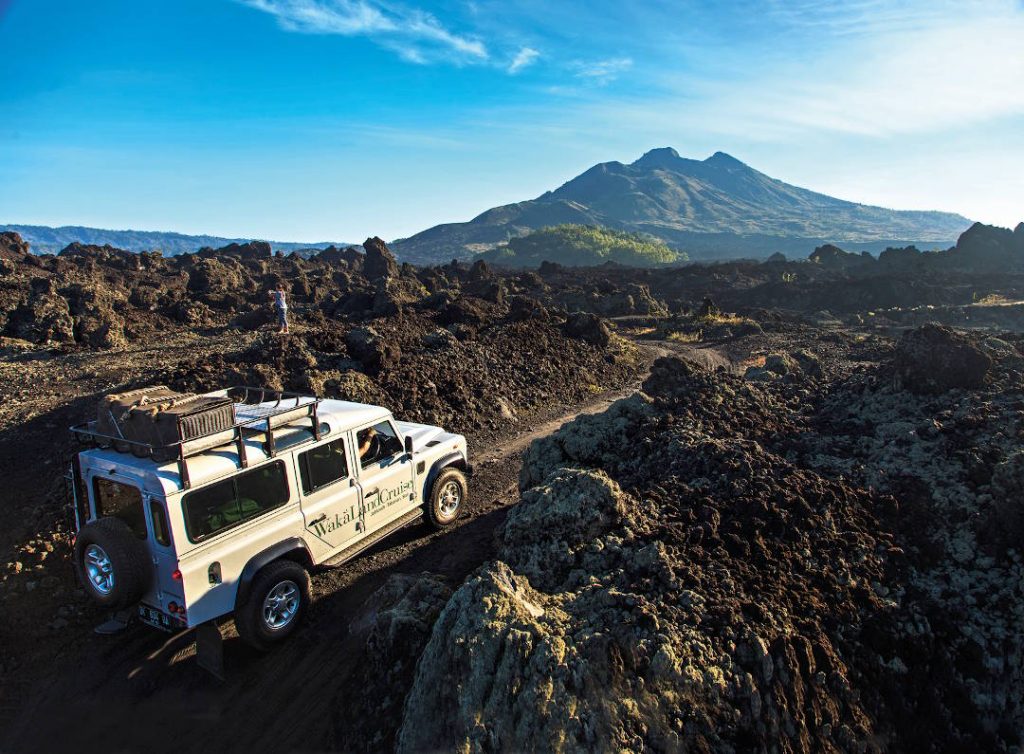 On this trip, you'll come across traditional farmhouses (agricultural villages), learn about fragrant spices in a tropical garden, observe ancestral methods of building temples and shrines, among other thrilling discoveries. Then, let your hair down in the resort's bamboo restaurant built by local craftsmen, where you'll have the opportunity to sample local Balinese cuisine. Next is a trip through the UNSECO-recognised rice terraces of Jatiluwih, followed by lunch served in a luxuriant rainforest setting. You can try out the Balinese musical instrument rindik or simply enjoy the musicians serenading you. After, you'll be taken to Batukaru Temple, a sacred mountain sanctuary that is the royal temple of the Tabanan regency. Discovered in the 11th century by Empu Kuturan, a great Hindu Sage who founded six main temples in Bali. Here you'll learn how to make canang offering to the Gods. It's a journey of discovery, both of Bali's nature and culture, complete with a sense of adventure.
WakaLandCruise
Jalan Imam Bonjol No.467, Denpasar
+62 361 484085
www.wakahotelsandresorts.com