The invitation on the 25 June 2016 to AlilaSeminyak promised an extraordinary Chapitre de Bailliage de Bali Gala Evening in the ballroom of a luxury beachside resort, with a unique seven-course menu and delightful selection of fine wines. Nothing though could have prepared us for the evening of superb food and service excellence that was to be enjoyed and appreciated by 80 Chaîne members and their guests.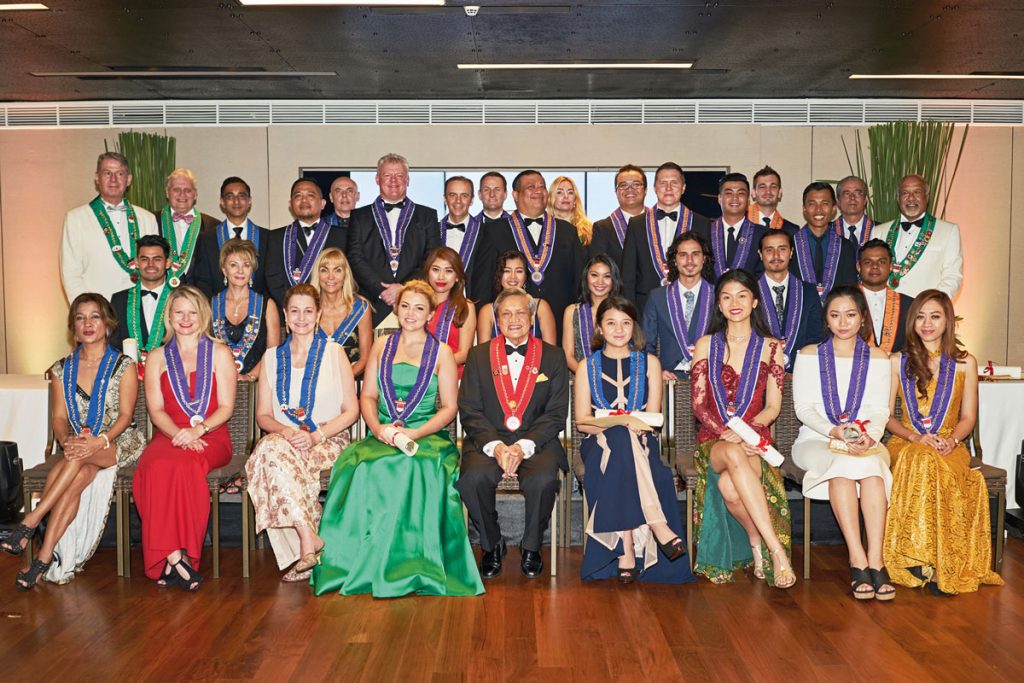 The evening commenced with the ceremonial inauguration of 29 new members of the Chaîne des RôtisseursBailliages of Indonesia, Jakarta, Bali and Jeunesse de Legian Bali. After the oath of allegiance had been recited by the inductees, champagne and canapés were served at the poolside lounge.
At 7.30 pm, a twenty metre dividing wall disappeared almost by magic to reveal the dramatic setting of the AlilaSeminyak ballroom, beautifully and creatively transformed and sensuously lit for the special Chapitre Gala Dinner. A brigade of 50 immaculately presented AlilaSeminyak team stood by to demonstrate their perfectly choreographed and obviously well-rehearsed table service.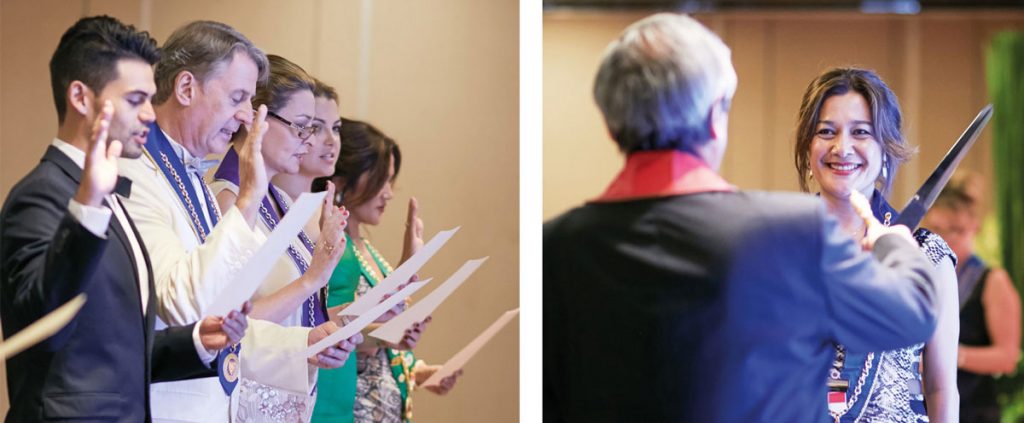 Against the backdrop of a dramatic video wall featuring Chaîne des Rotisseur images, including images of the inauguration ceremony, Pierre Lang, General Manager of Alila Seminyak, and Frits Henskes, Baillie of Bali, gave their very warm and proud welcome address with the introduction of Firdaus Siddik, who welcomed the party on behalf of Chaîne Indonesia. Executive Chef Stefan Zijta and Sommelier Harald Wiesmann then took diners through an explanation of the food and wine pairing for the first four courses.
Formalities over, the Gala dinner service began with perfectly coordinated style, flair and élan. The first delightful course was Tuna Belly Tartare, with Yuzu, Soy Sorbet and Candied Orange Peel. This was perfectly paired with M. Chapoutier La Petit Ruche, Crozes Hermitage Blanc, Côtes du Rhône France 2011. The brigade of waiting staff then presented us with a Spicy Bouillabaisse, accompanied by a delicious and perfectly chilled Cloudy Bay, Sauvignon Blanc, Blenheim, New Zealand 2015.
The next course, eagerly awaited by members and guests from The Netherlands, was Smoked Dutch Eel, served on a Potato Mousse base, with Green Pea, Wasabi and Caviar. A confident Perrin RéserveCôtes du Rhône Blanc – Grenache Blanc Marsanne, Roussanne, Viognier, AOC Cotesdu Rhone France 2013 completed a very tasty course. Hot on the heels of the Smoked Eel came the Foie Grass Terrine, attended by Onion Monegasque and Fig Bakpao. A delightful, bright and crisp J. P. Valckenberg, WeingutLiebfrauenstift, Riesling Auslese, Worms, Germany 2012 well complemented this course.
Half way through the Gala dinner was an excellent opportunity to sample a very pleasant Tamarind Sorbet. An intriguing dish, rarely seen on dining tables in Bali, then made an appearance – Guinea Fowl with Caper-Date Sauce, Cauliflower and Jicama. Delicious! An equally likeable pairing was the Santa Carolina Reserva de Familia Chardonnay, Casablanca Valley, Chile 2012.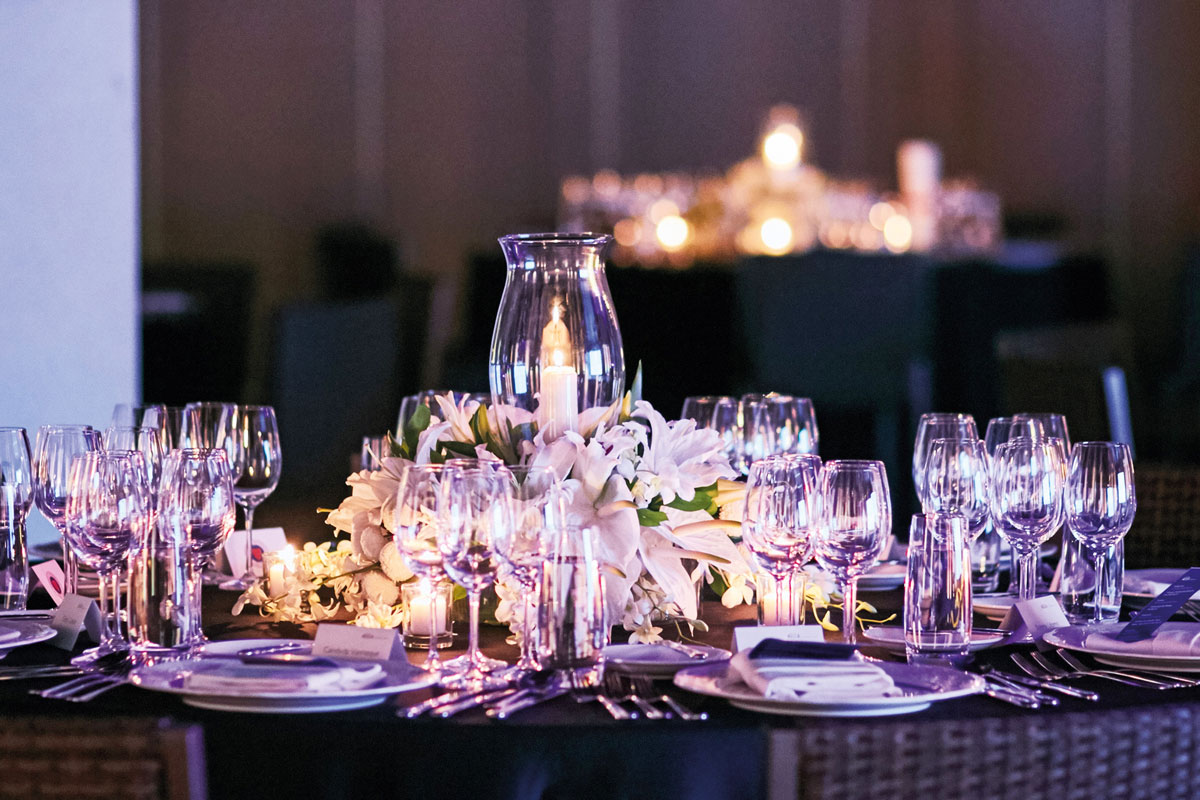 The final main course was a succulent Beef Short Ribs that had been slow cooked "sous vide" for 72 hours, enhanced with Ginger Miso Jus and Sesame-seeded Pommes Dauphine. A stunning Amarone Della Valpolicella, Zonin, Molinara, Rondinella & Corvina, Venetia, Italy 2011 was a well-received indulgence. The dessert course, a Valrhona Chocolate Mousse served with Coconut Cream and Passion Fruit, was made even more delicious by a very smooth and perfectly sweet Château du Prince, Semillon, Sauvignon Blanc & Muscadet, Loupiac, Bordeaux, France 2004. Finally, members and guests took coffee, tea or a fine XO Cognac.
Entertainment flowed through the evening almost as fluidly as the champagne and fine wines. Indonesian singers Telly and Murni delivered a number of hearty renditions of very popular Batak songs from North Sumatra. Alistair Speirs, Baillie of the Chaîne des Rôtisseurs Jakarta, also joined in the fun with three jazz numbers, while KinantiSiddik gave a very well-received, very beautiful and very sensitive version of "Moon River." With the meal over, guests moved out to the open-air decking area around the Alila beachside pool and danced until the small hours to the legendary beat of the wildly popular international DJ Marco Polo Cecerre.