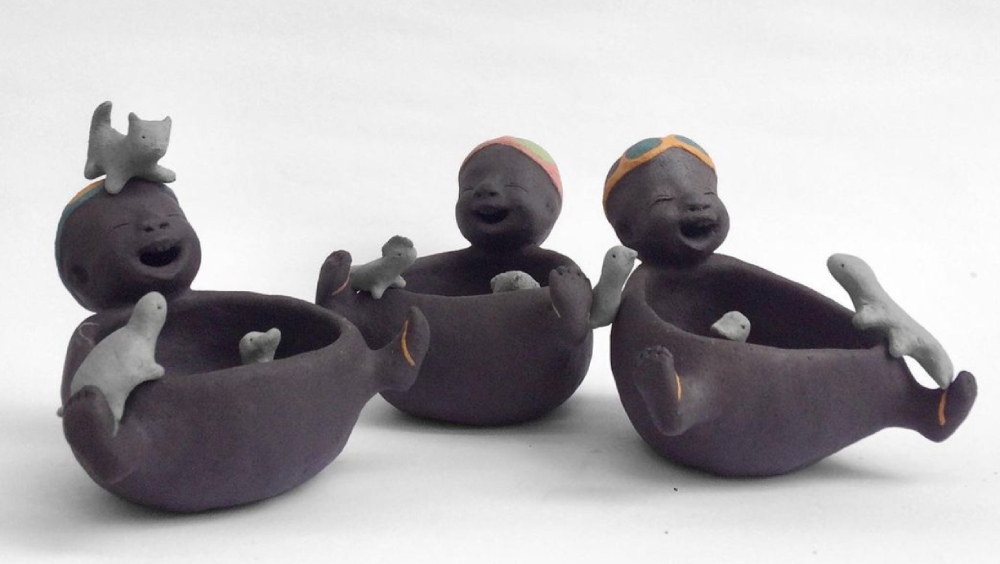 ---
Colourful, light-hearted and cute, I was immediately captured by the art of Venty Vergianti. Her delightful pint-sized clay figurines, distinguished by jubilant emotions and childlike faces with open mouths, either smiling or bursting with laughter while sporting radiantly glazed caps, encapsulate an undeniably scrumptious art recipe. Their rotund bellies are often exaggerated, forming copious receptacles perfect for potting indoor or outdoor plants. Venty's figures, which she labels "cadets" are also transformed into expressive vehicles for meaningful ideas.
Go to @prett_art on Instagram, and you will understand what I denote. The vital components of her innovative formula merge tactile with visual stimuli. The fusion of the raw-fired surfaces with the colourful glazes makes for a stunning contrast, igniting our curiosity and beckoning us to caress the piece within our hands. Hyper-tactile perception guides our awareness as we explore the earthy textures and the silky-smooth glazed surfaces.
There is a distinct sensation we experience when handling clay. The dense weight and earthy qualities instantly ground us and resonate with an organic feeling inherent within our bodies. Shifting our being into a playful mode, we become child-like while entertaining fresh and imaginative realms. Venty recreates a likeness of ourselves that is free of all concerns that we may not be able to express in the present moment yet lurks under the surface, waiting to be unleashed. Fun, with an underlying therapeutic force, Prett Art engages a range of positive emotions, especially humour, an essential communicative tool underutilised within contemporary art.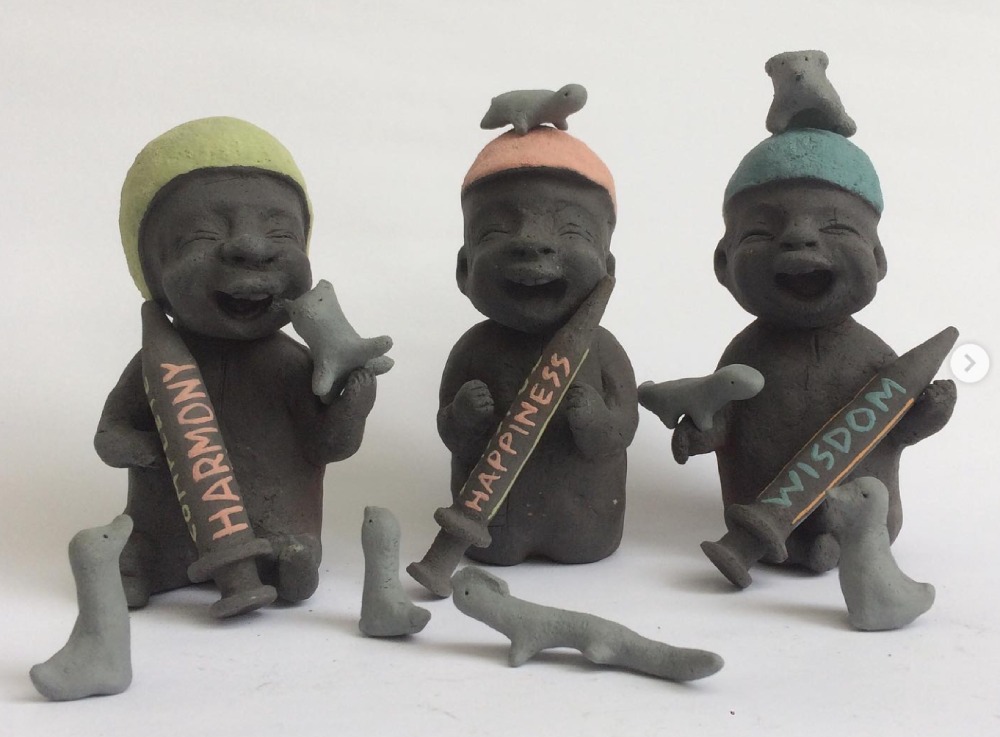 ---
Primarily light-hearted in her intentions, on occasions, Venty's messages are sharp and direct. 'Immune Booster' is part of 'Life and All Its Friends Installation', which was exhibited at Uma Seminyak Gallery between February and March 2022. Three figurines surrounded by birds and animals hold large syringes emblazoned with the words harmony, happiness, and wisdom. Venty's response to the pandemic, these three essential traits serve as antidotes for our modern cultural psychosis; if we find harmony in our lives, we may discover happiness, a potent state that encourages self-reflection and can lead us to wisdom.
'Mind Your Head', Venty's 2022 solo exhibition was a personal highlight of the year. Entering a comfortable room with an open vista towards the garden, Venty invites us to sit around a table decorated with artwork and engage in conversation. In an interactive encounter in her specially orchestrated room, she intends to shift participants up and beyond their experience into intimate and imaginative realms.
"The body of work exhibited in 'Mind Your Head' is based on identity and personal and collective observations. This led me to the current mental health crisis that is occurring globally," Venty told NOW! Bali Magazine. "'Mind Your Head' is a playground aimed to bring about awareness of mental health issues and prompts us to be aware. I like using comedy to talk about something quite heavy."
"That was the initial objective, but when I started the display, the objective evolved. For me, the works were my way to share my stories. While the exhibition was a medium to listen to other's stories, it was a playground for others to share and express their thoughts. The exhibition was a canvas filled with works of an individual, myself, and the audiences."
"The audience's responses were the most interesting and positive outcome of 'Mind Your Head'. People reacted to different works that hit them emotionally and related to their personal tales. The title raised questions that opened conversations and triggered stories. Some became AHA moments. I was moved by how my works speak a different language to others. They are alive as the people themselves and the stories that emerge around them."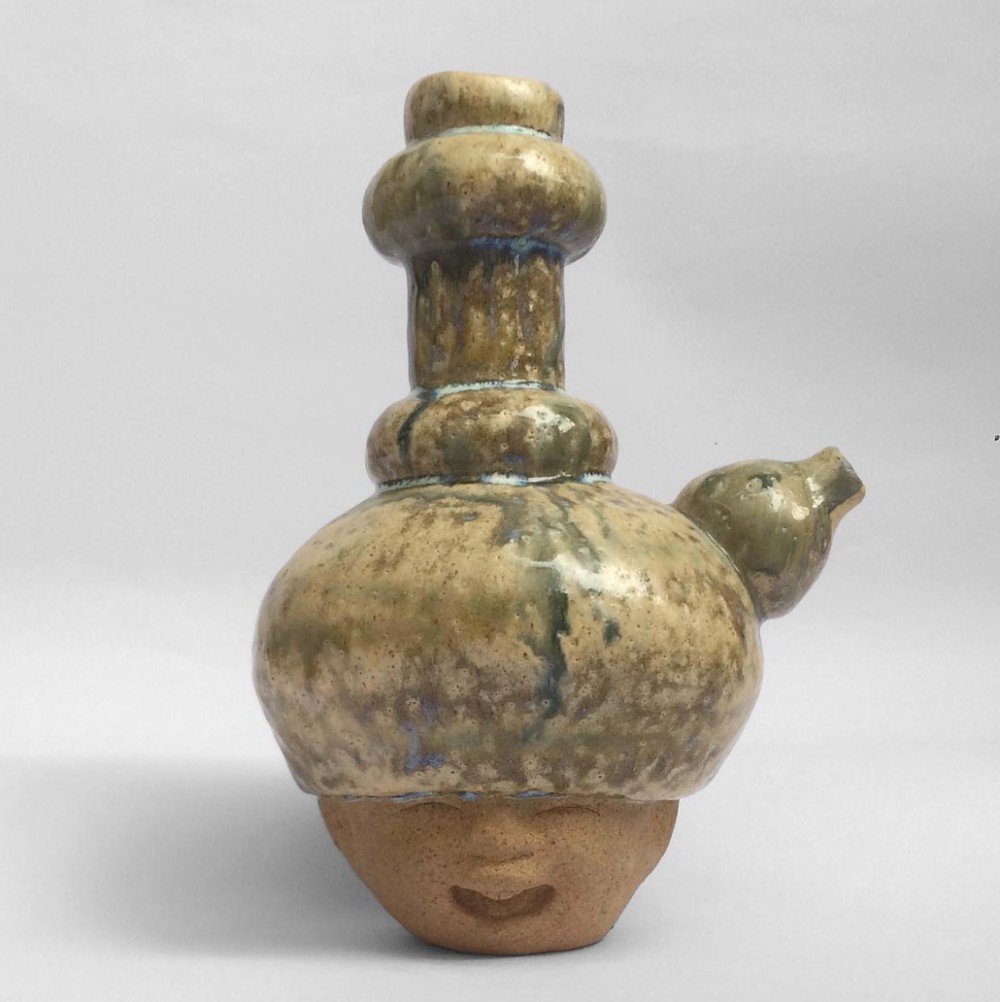 ---
Born in Jakarta in 1978, Venty is a multidisciplinary architect engaged in design, art and education. A graduate of the Bandung Institute of Technology (ITB) in 2003, Venty then completed a master's degree in Design for Interaction from TU Delft, the Netherlands, in 2009, where she explored the world of user and product experience.
Venty's investigation into the creative possibilities of clay began in 2010, integrating her knowledge in design thinking and hands-on experiments in art. She then developed her artistic voice, reflected through her works and design philosophy. The concept of Play, Serendipity and Tactual Exploration represents the DNA of her creative methodology. Venty has exhibited her art in Bali and Jakarta in group exhibitions since 2012. In 2017 she established PRETTART Creative Studio, where art and design meet. Since 2019 Venty has participated as a consultant and art educator in community-based projects and private business initiatives such as the Kevala Studio Ceramic Workshop, facilitating workshop design and teacher training.
"Functional art opens us to new possibilities, for engaging and interacting. Evolving art triggers people to play, make new compositions and create new stories. I like to play with symbols and metaphors. Apart from the physical attributes, my objects often function as vessels; the form is a metaphor for the head as a container of stories. The figurine is like an individual with a story to tell, ready to empty their vessel and receive from others. Like life, it is a continuous flow," Venty said.
What I love about Venty's art is it allows me to check my head and my own state of being. Am I stressed out or grounded in the present moment and aligned with my purpose? PRETT ART is vital, intelligent art that remains as fresh as the day it was made.