If you're looking to explore your creativity, these Bali art classes and cultural classes of many types are sure to quench your creative curiosity:
Not everyone you meet in Bali is in pursuit of golden hours and sandy beaches. With a compelling cultural core that Ubud and greater Gianyar have to offer, Bali has become a place where artists, both professional and aspiring, are shaped and moulded.
The best of the best come here to learn from generations of shared talent. Whether you are looking for a hobby or have arrived in Bali to hone your craft, these traditional Bali art classes will help to sharpen your skills.
Ceramic Making / Pottery Class
When Suzan Kohlik first stepped foot in Bali, little did she know she would become one of the pioneers of ceramic art on the island.
Upon finding a gap in Ubud's arts and culture scene, she thought she'd bring her skills and talent into the melting pot. In 1996, the Swiss ceramic art school graduate founded Sari Api Ceramics Studio, a beautiful open-air ceramics studio just a few kilometres north of Ubud's main road.
Her studio sits at the edge of a lush jungle, giving it a relaxed, casual ambiance for learners. Suzan is known by her students to be very practical and articulate – she'll guide your every step in a relaxed setting. Sari Api's most popular classes are the half-day course (recommended for tourists with limited time on their hands), and the full course (for those who have more time and want to dive deeper into ceramics).
Sari Api also offers an open studio package for anyone who wants to create with no instructions and guidance from the team. Every Saturday, you will see the space beaming with smiles and excitement from children, as Sari Api's kids class is in-demand among residents and families.
There is a Sari Api Gallery in Central Ubud, if you are looking to purchase some one-of-a-kind mugs, pots, plates, and other ceramic-ware.
Note that the ceramics you create takes three weeks off to finish, meaning you will only be able to take it home then. If you are based outside Bali, Sari Api provides shipping services outside of their workshop fee.
Sari Api Ceramics Studio
Jalan Suweta, Ubud
+62 813 3881 4973
www.sariapi.com
Traditional Painting Classes
If you have done many painting classes in your time and are now looking for a challenge, Five Art Studio will put you to the test.
Located in a traditional Balinese house compound within Keliki Village, Five Art Studio offers a variety of art classes from batik class, wood carving, t-shirt and egg painting but what deserves more spotlight is their traditional Keliki style painting.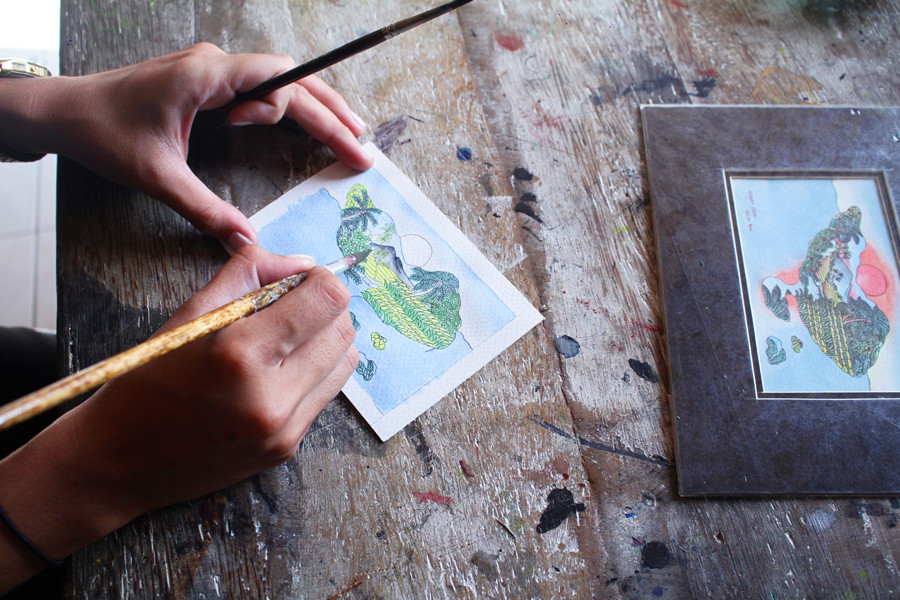 The local painting style of Keliki artists is distinctive. They are known for their wonderful intricacy, sophistication and beauty, all of which requires a high level of concentration (and even higher level of patience!) The paintings are typically done on paper, using a pencil to sketch then a pen to outline.
The 3-hour class will fly by but the staff are flexible with time, as they remind you that art cannot be rushed. With the intricacy of the Keliki painting style and the playful characters of the local artists-slash-teachers, you'll easily spend a whole day in the studio. Many visitors find it therapeutic, if not meditative. Apart from taking home a new set of traditional Balinese art techniques and skills, you'll learn a new form of relaxation too. Your session is accompanied by homemade light bites and a beverage, as well as the brisk Keliki air. The perfect activity for those looking to try Bali art classes.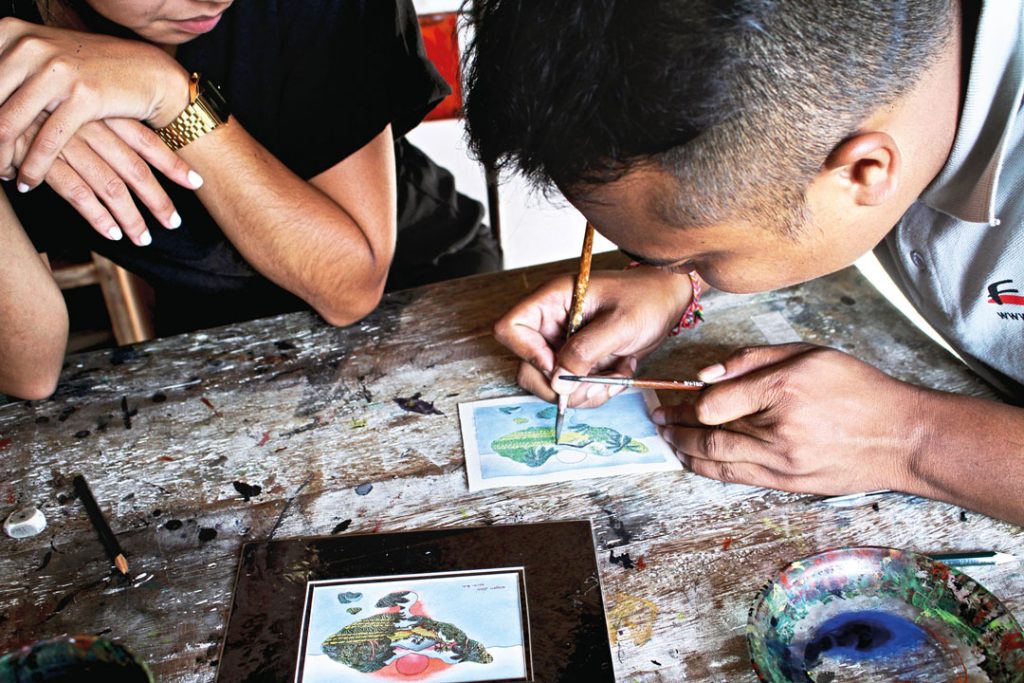 Five Art Studio
Jalan Raya Keliki, Tegallalang
+62 878 6198 4083
www.fiveartubud.com
Jewellery Making
Sparked by an idea of showcasing her mother's diverse textile collection, Brina Paska created Galeri Wastraku to spread the word about Indonesia's craftsmanship of textiles and accessories originating from cultures in the archipelago.
The exhibition aims to educate the younger generation of Indonesia about their own culture that is vast and valuable, whilst giving appreciation and exposure to artisans of Sumba and surrounding areas, especially for the unique ikat fabric.
In collaboration with Irma Wandari, a fashion designer in clothing, print, and accessories, Galeri Wastraku has a Jewellery Making workshop on offer. The workshop combines Irma's unique styles of different hand-technique practices on jewellery, as well as her explorations on painting and embroidery.
Her work is a cross road between fashion, hand artistry, and design through her lens of uniting cultural diversity. Divided into two sessions, you will firstly create an accessory similar to Irma's pieces for the Hilu Ngara (Sumbanese for interpretation) exhibition where participants will paint or put embroideries on a cloth ribbon and create visuals inspired by the gallery's installations.
The second session will demonstrate how to create a Sumbanese pendant (mamuli, taka, or jaipa) where you will also learn the meaning and details about each of these traditional pendants. The accessory that is created in this workshop will also reflect the integration between contemporary arts and Indonesian culture, and demonstrate the participant's own interpretations of the Sumbanese culture.
Galeri Wastraku revolves around a theme that they change periodically. The current theme is 'La Tana Humba' where you can expect a union of young and creative minds feature their artworks and personal interpretations of the East Sumba culture.
Galeri Wastraku
Jalan Babakan Kubu No. 26, Canggu
+62 361 844 5449
www.instagram.com/galeriwastraku
This jewellery class in Celuk, Sukawati, the home of Balinese gold and silver industry, encourages you to amplify your personality through jewellery creation.
Dewi Sitha Jewelry has been in Bali's jewellery scene since the 1970's; with objectives to raise the standard of living of the silver and gold artisans in villages by giving them the opportunities to create; to work and sell fairly their products to the local, national and the world markets. They are also passionate in preserving and protecting Balinese gold and silver art heritage by having traditional family designs copyrighted officially.
The jewellery class is divided into two options: half day course (3 hours) and full day course (7 hours including 1 hour lunch break). A class typically consists of one up to three people, however you can arrange a group class up to 20 people. The class covers techniques of basic silver jewellery making, including utilising tools, sawing, stamping, hammering, soldering, sanding, polishing, working with silver, operating safely, all under guidance of expert tutors.
Take advantage of your creative freedom to personalise your piece as much as you desire, perhaps based on your own jewellery collection or a gemstone that resonates with you. You can choose the most suitable design for you via the examples provided or you may have a stroll around the store and their immense jewellery display for inspiration! If your chosen stone isn't available, they are able to take you to a store nearby for you to find. Whether it's a ring, pendant, or a bracelet, you'll leave with a piece of yourself in jewellery form! Dewi Sitha Jewelry can also link you to wood carving and stone carving classes after.
Dewi Sitha Jewelry
Jalan Raya Celuk No. 45x, Sukawati
+62 361 298 093
www.dewisithajewelry.com
Balinese Dance Class
Ever wondered what a day in the life of a traditional Balinese village looks like? What Desa Visesa has on offer is a unique experience that stays true to the authentic village life in Bali whilst keeping a world-class standard. Ancient traditions and practices that nurture peace and goodwill in every Balinese community form the day-to-day at Desa Visesa.
Guests will be pleased by the many cultural activities that allow them to fully immerse in the true village experience. Popular among the crowd is the resort's Balinese Dance lesson that teaches you graceful movements synchronised to the gentle sound of gamelan – a tradition passed from generations upon generations. The class is taught by a talented dancer who will teach you the basic movements whilst taking you through a cultural yet educational journey behind the arts. You'll also learn how to create palm leaf offerings using fresh flower petals that the Balinese present daily to the Gods. Not exclusive to in-house guests, Desa Visesa invites local nearby kids to learn Balinese dance and gamelan every afternoon as part of their art and culture preservation mission.
Desa Visesa Ubud
Jalan Suweta, Ubud
+62 361 209 1788
www.visesaubud.com
Natural Dyes and Batik Class
With a focus on local materials, natural dye, and fair trade principles, The Threads of Life Gallery in Ubud has been around since 1998 showcasing and selling high-value heirloom-quality textiles and baskets usually seen in museums.
Each piece is made to an exquisite standard, bought directly from over 1000 weavers on 12 islands across Indonesia. Their natural dye studio and botanical garden hosts small-group workshops led by senior research dyers and staff botanist, sharing their field research experience studying, documenting, testing, and teaching the archipelago's natural dye tradition. These workshops employ surface design techniques including batik, ikat, and shibori.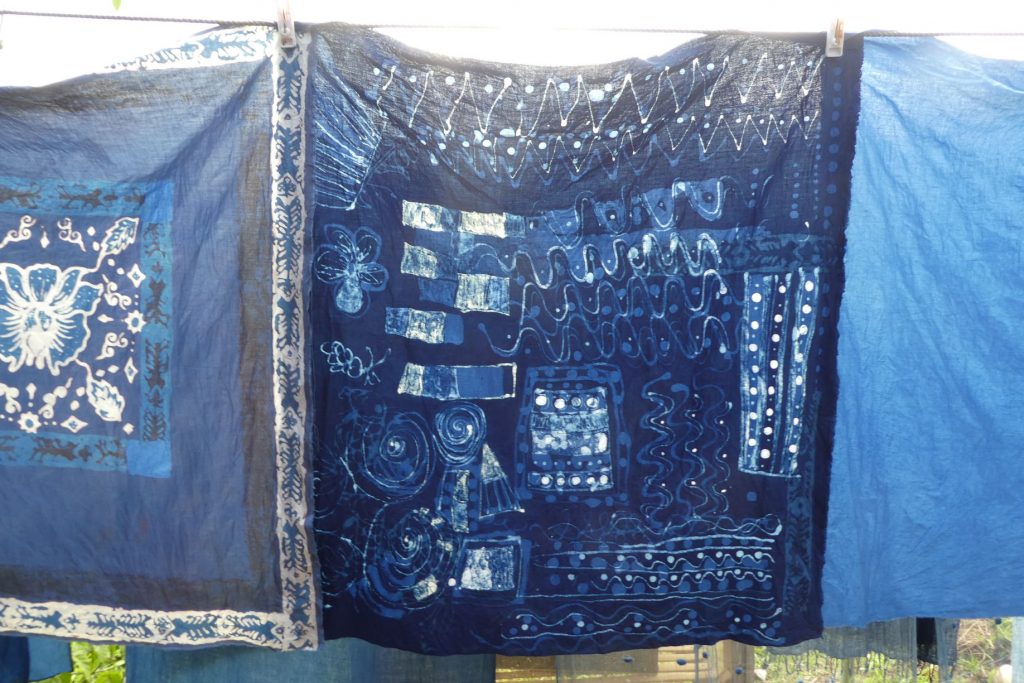 The natural dye batik class, hosted in Bebali Natural Dye Garden, is a unique insight into the botany, dye processes, and practice of Indonesia's textile traditions. It starts with a walk through of the Bebali Foundation and the Bebali natural dye plant garden in which you will learn about some hundreds of plants used by traditional weavers across Indonesia to make natural dyes for cotton, silk, and other fibres.
If you have more time and interest exploring more about the processes of natural dye batik and the culture behind batik itself, opt for the 7-day Soul of Batik workshop with fine batik artists Agus Ismoyo and Nia Fliam (selected dates available).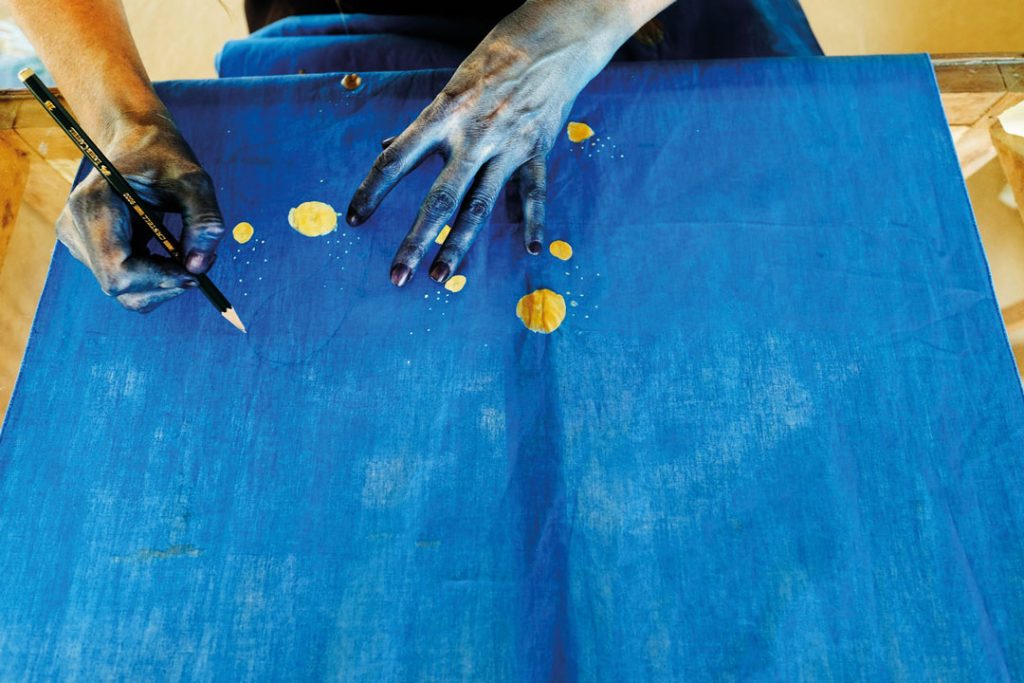 Threads of Life Gallery
Jalan Kajeng No.24, Ubud
+62 361 972 112
www.threadsoflife.com
Wayang Shadow Puppet Making Class
From running mini workshops in the '80s, Oka Kartini Arts Centre bloomed into a hub for art classes, an exquisite gallery, and a bed and breakfast.
The classes on offer are run and taught by a family of multi-talented artists. Anything music related, such as the gamelan class, is taught by 12-year-old Surya, who has the passion and skill of a fully-fledged musician. Make sure to greet him when he performs a welcome song for you at the start of a class! Ibu Cokin is a retired dancer who has travelled the globe in her early days, bringing the Balinese arts to an international spectacle. Pak Putra, her husband, is a man of many talents but all in all is a professional dalang (puppeteer). His shadow puppet class is informative and insightful.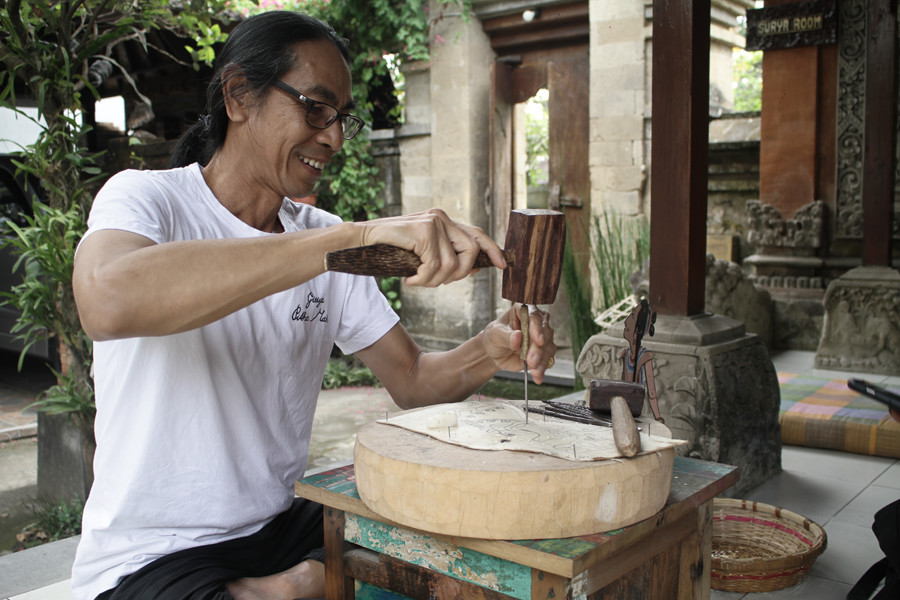 Not only will you learn how to craft a wayang kulit but you will also learn about the intricate world of puppet theatre art in Indonesia. The class is intimate, usually hosting 1 to 2 people but welcomes groups up to 8 guests. Wayang-making takes half, if not more, of your day (up to 8 hours), as it involves very careful sketching, carving, chiseling, and colouring. You'll choose a character in a folklore to make but you also have the liberty to sketch your own drawing – people have opted for animals and nature.
You'll learn how to work with different chisels and tools to shape the character – Pak Putra will help you get the hang of it. If you feel stuck or tired, you can take a breather from the Wayang workshop and de-stress in a fun group activity. The popular Balinese dance, tari kecak is one you could go for; or take lessons from Surya and master the bamboo xylophone. Oka Kartini Arts Centre also hosts a Shadow Puppet Performance in their backyard.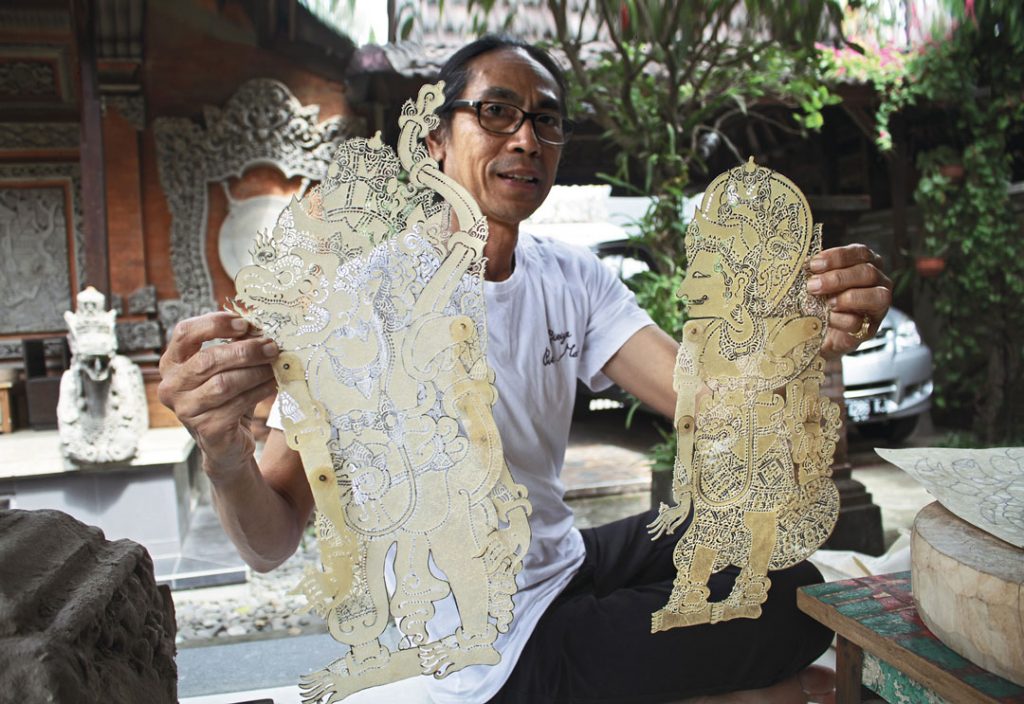 Oka Kartini Arts Centre
(Oka Kartini BnB on Google Maps)
Jalan Raya Ubud, Ubud
+62 878 6057 5571
www.balicultureworkshop.com