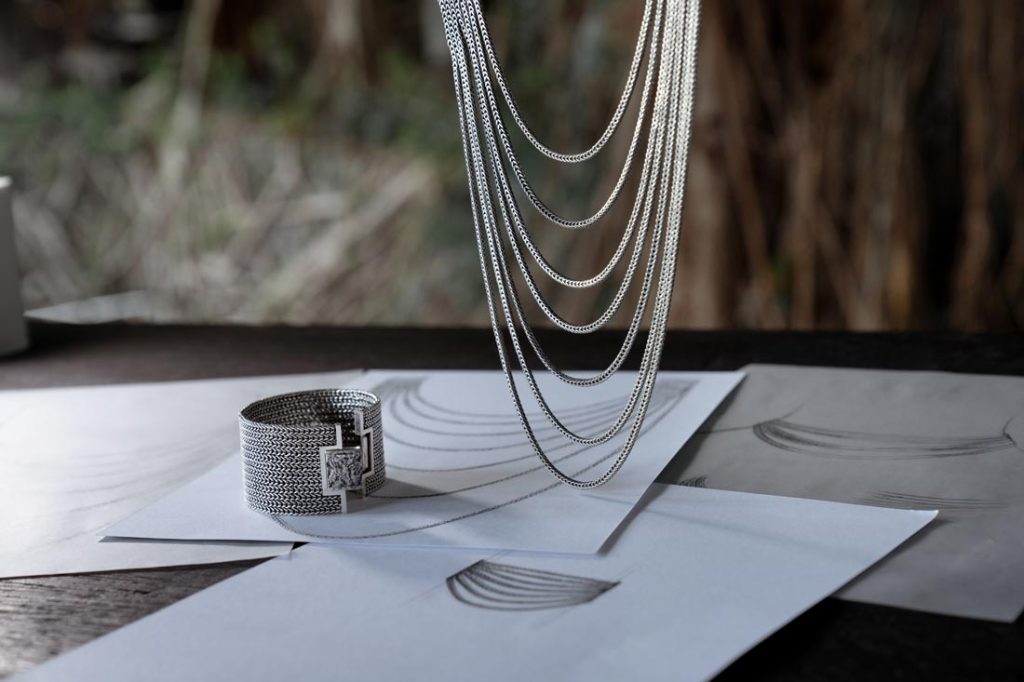 One of Bali's biggest success stories is John Hardy, a homegrown artisanal tradition gone international. The global appreciation of the brand's handcrafted jewellery has not only fuelled the continuation of a craft, it has helped to shape the island's reputation as more than just a holiday destination — that it is an island populated by masterful artisans.
Starting in 1975 with a silver artisan collective, the John Hardy brought new enthusiasm and attention to time-honoured jewellery-making traditions. Decades later, the brand continues their commitment to handmade jewellery, with 500 multi-generational craftspeople — from watercolour artists to metalsmiths — working at the John Hardy Workshop & Kapal Bamboo Boutique just south of Ubud.
The Balinese artistry of communal chain-weaving, hand-hammering and carving skills continue to this day and are the foundation of the jewellery's creation. Through innovative and conscious design these processes are able to elevate the elements, transforming something raw into something delicate, intricate and fine.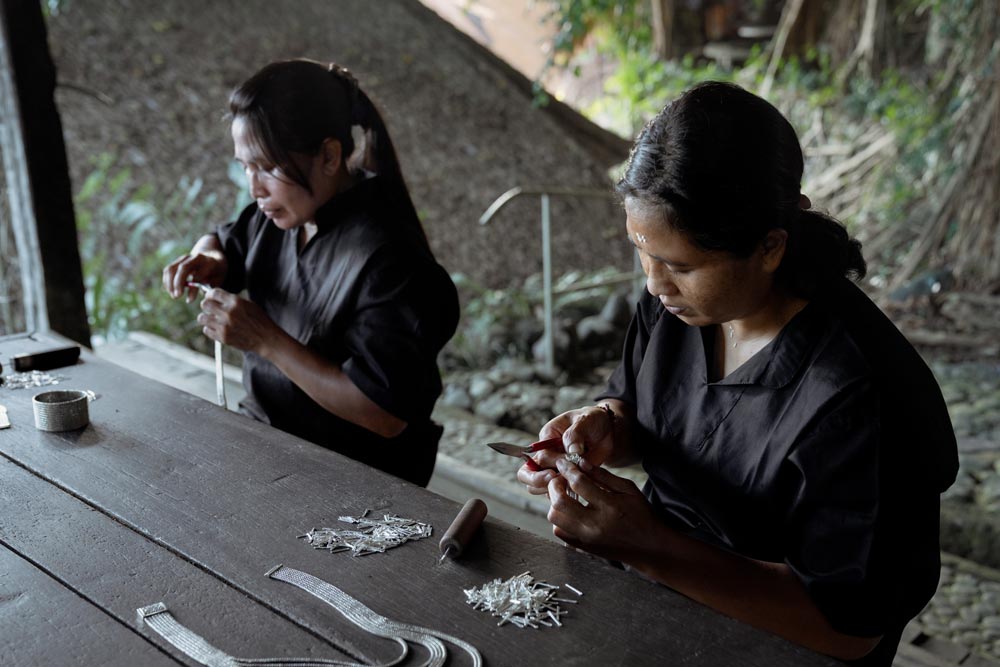 The latest example of this can be seen in John Hardy's Spring 2023 Rata Chain collection. Showcasing how a time-honoured craft can be renewed, the collection amplifies forms of self-expression through bold, contemporary design, amplified with circular motifs and mixed materials paired with its signature chain weaving techniques.
Classic Chain Rata Collection
A must-have in John Hardy's collection, the iconic Classic Chain Rata collection showcases a special weaving craft producing a wide yet slim chain that is then stretched and hammered for softness and comfort. Translating to "flat" "flat" or "smooth" in Balinese, Rata is presented as sleek and supple ribbon-like chains that have been constant bestsellers. Taking centre-stage this season are loud circle motifs, V silhouettes and the cross of fluidity and sharpness.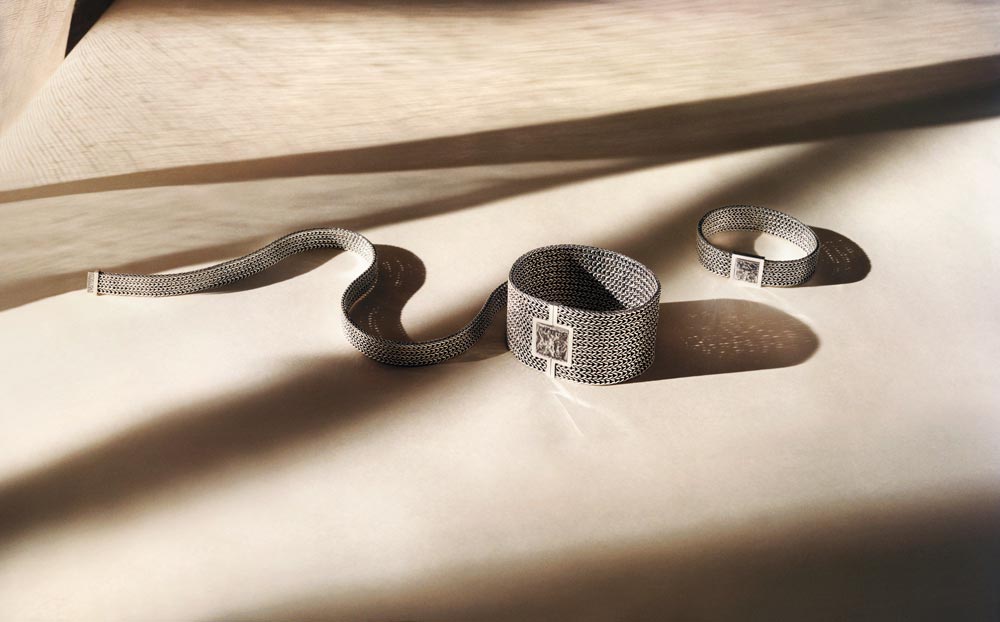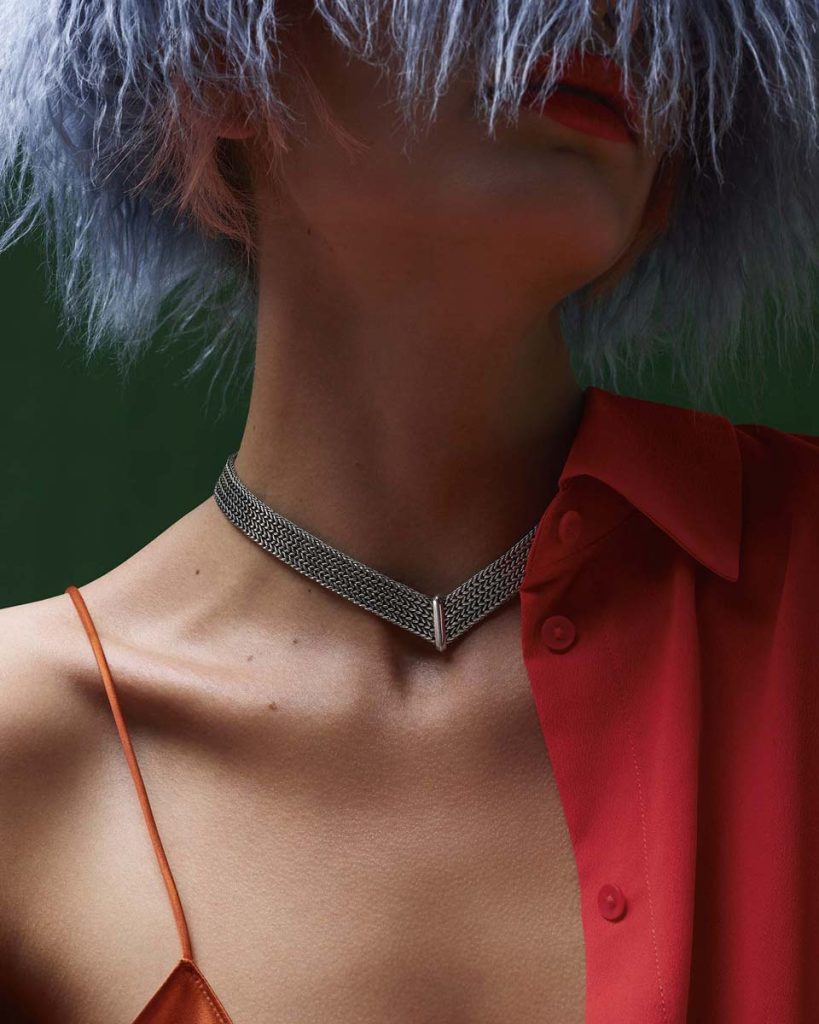 Featuring powerfully tactile ribbons of chain, the Rata collection is punctuated by subtle twists and understated braided details. The design language is integrated and seamless, with forking, multi-row forms that fluidly diverge and converge again. Sleek, supple necklaces and bracelets mold to the contours of the wearer's body, featuring seamless clasps that sustain the streamlined integrity of each piece's profile.
Touches of reticulated texture add raw, rough-hewn contrast, showcasing the wide, virtuoso range of sterling silver under the hand of the Master Artisan. Offered in both men's and women's interpretations, it is a collection that plays up its own dramatic potentials; a capacity to be at once minimal and monumental, quiet and loud.
The Making-of
As a heritage revival collection, the Rata collection takes a traditional concept of showpiece jewellery into new, avant-garde territory, with an emphasis on sustainable precious metals matched by an attention to clean lines and pure, unified silhouettes.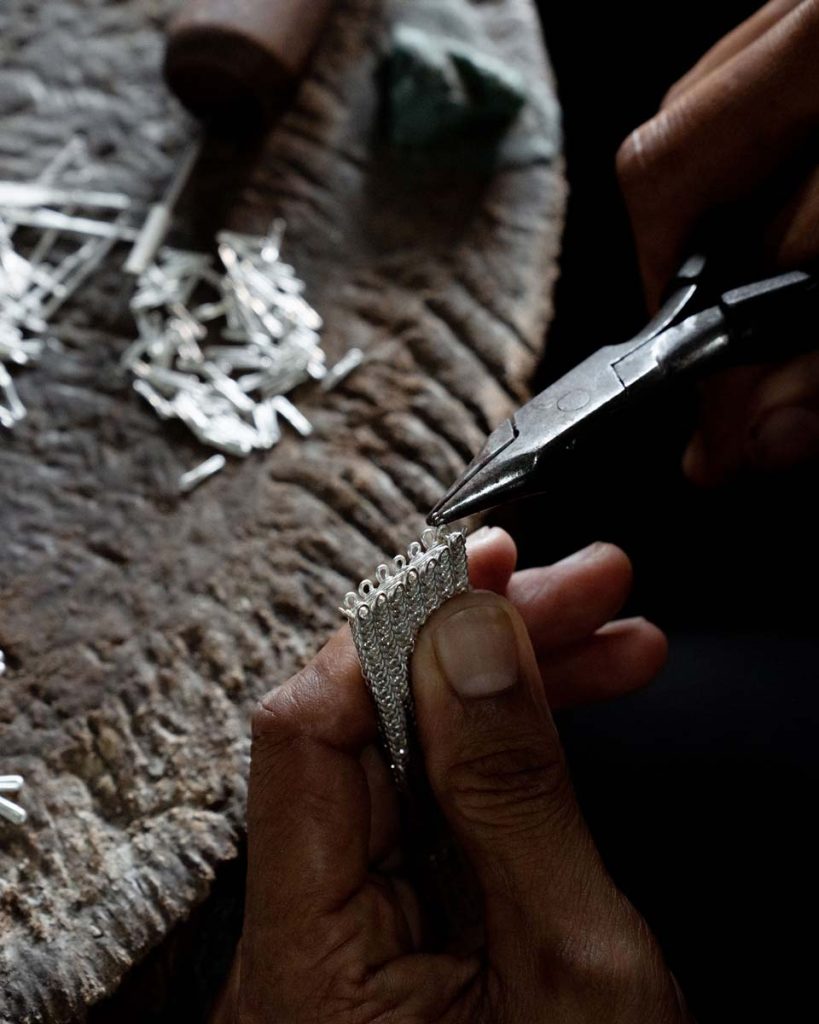 Their artisans trained for a month to technically master the technique to make the Rata's flat, smooth result, which involves working with more and smaller links than John Hardy's Classic Chain weave. It takes 3 days to weave a single Rata Chain Bracelet, and 4 days to weave just 14 inches of necklace.
The process begins with hundreds of reclaimed metal links, which the artisan weaves simultaneously across into stacked horizontal rows. Working across as opposed to vertically produces a whole, unbroken silhouette with a structure that echoes that of a hand-knit textile. Next, the Artisan hammers and stretches the piece by hand on a traditional manual rolling mill. It is during this stage that the chain is worked into a flat, ribbon-like form with a surface area that is wider and slimmer than other classic weaves.
The collection features seamless clasps with raw, flame-forged texture, showcasing the virtuoso range of sterling silver under the hand of the Master Artisan.
Follow @johnhardybali or visit johnhardy.com to find out more. Discover the Rata Chain and other collections at two John Hardy boutiques available Bali:
John Hardy Workshop & Kapal Bamboo Boutique
Jl. Raya Mambal Br. Baturning No.1, Abiansemal
(0361) 469888 
John Hardy Boutique & Gallery Seminyak
Jl. Petitenget, Seminyak
0811 3811 8003