As if Bali did not provide enough natural environments to explore, this rich and fertile island is home to many forests, rainforests and parks, many of which are quite distinct from one another. Thanks to the varying climates you'll find from west to east, or from coastal to central Bali, this has resulted in an interesting variety of forests, including pine forests, a monsoon forest and even a nutmeg forest!
In any forest, there is a different kind of peace, one that invokes a deep sense of contentment, as if these blankets of nature act as a buffer from the complications of life, found 'out there', in the normal world. It is just as 'Father of National Parks', John Muir, once said: "And into the forest I go, to lose my mind and find my soul." Here we share four unique parks, forests and rainforests in Bali for you to go and find your soul!
• Sangeh Monkey Forest
• West Bali National Park
• Kintamani Pine Forest
• Bali Botanical Gardens
Of course you'll also find plenty of forest experiences hiking up one of Bali's mountains. You can read our Guide to Bali Mountains here.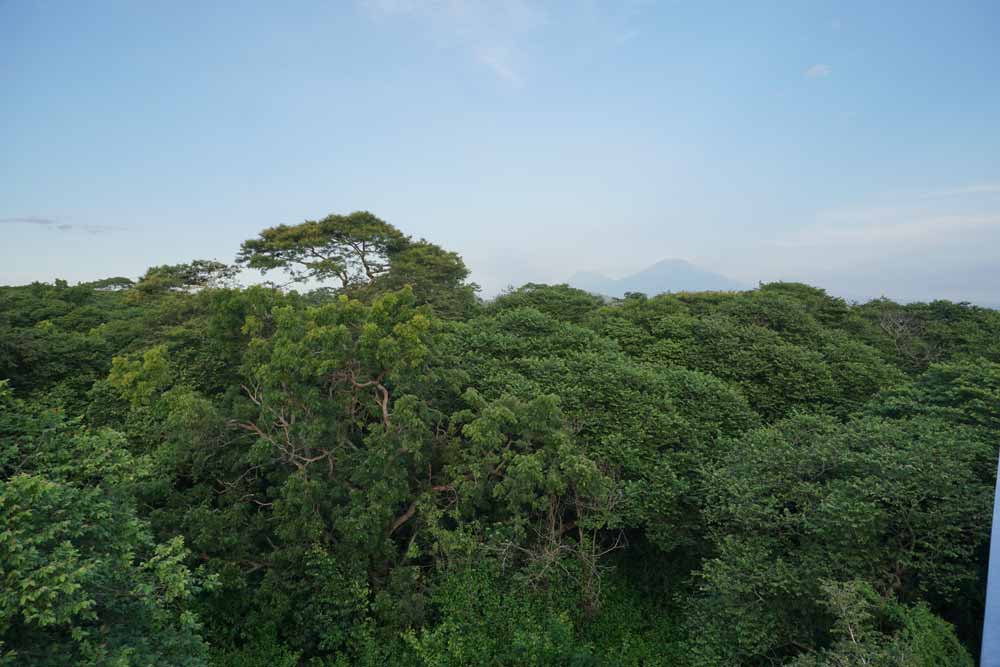 ---
Sangeh Monkey Forest
Yes that's right, there's more than one monkey forest in Bali – not just the popular Ubud Monkey Forest. This one exudes an almost mystical atmosphere and history.
Sangeh Monkey Forest is also called Alas Pala, or nutmeg forest, but the trees differ from the nutmeg plants you might find in Indonesia's 'Spice Islands'. Instead what you get are these soaring, girthy trees that can climb up to 40m high and are hundreds of years old. Within the 10-hectare area, monkeys roam freely – around 700 or so live in the Sangeh Monkey Forest. Other wildlife said to be seen here are falcons, eagles, owls and musang, to name a few.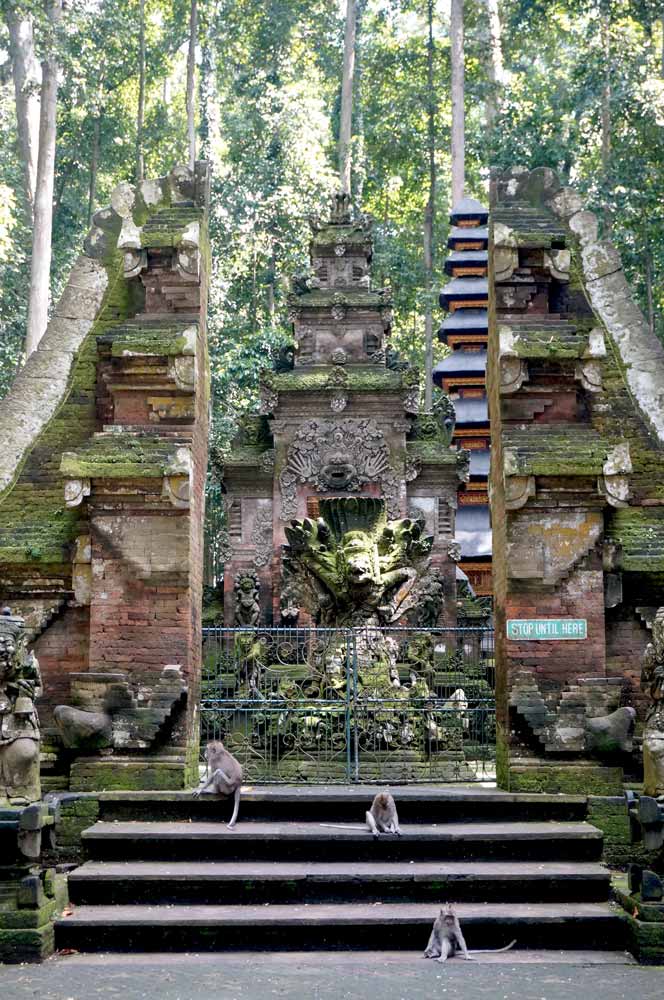 At its centre, the most important part of the forest is a temple called Pura Bukit Sari. Now, many legends surround not only this temple, but the forest as a whole. One of the legends – written in a Historical Lontar of Mengwi – speaks of how the daughter of the deity Ida Batara, found on Mount Agung, wanted to be moved to the Kingdom of Mengwi. Ida Batara thus made the nutmeg forest on Mt.Agung (where his daughter was residing) walk down towards Mengwi in the dead of night. On its way, the forest was spotted moving through the village of Sangeh, once it was spotted by mortals, it stopped, and thus Sangeh became the new home of the forest.
Another legend says that in the 17th Century, the adopted son of the King of Mengwi was given a divine vision to build a temple on Bukit Sari (Sari Hill) at Sangeh. It was said that this was a barren land. Upon building the temple, Pura Bukit Sari, dedicated to Ida Batara of Mt Agung, the God rewarded him by transporting a full forest to give the area life… a horde of monkeys were sent down with it to be the forest's protectors. With the cool air of north Badung, the towering trees above and the quiet of the forest around all come together to sing a deep and mystical song.
You'll find Sangeh Monkey Forest, or Alas Kedaton, in the Abiansemal area, mid-way to Ubud if you're coming from the south. It's open 8am-4pm daily.
---
West Bali National Park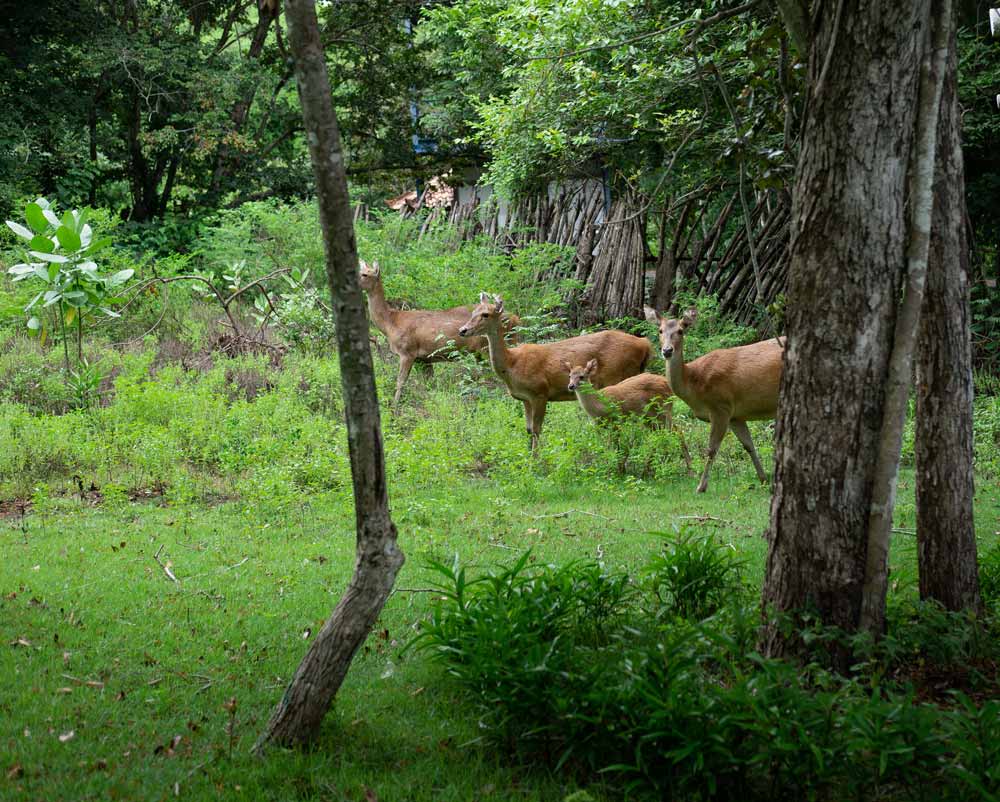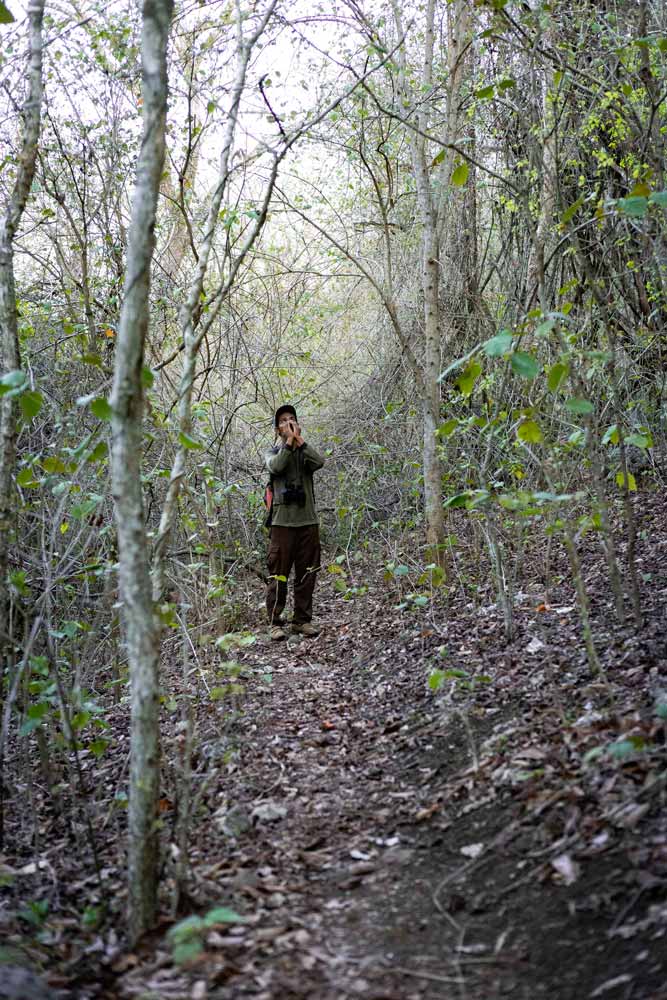 On the far-flung northwestern corner of Bali, the West Bali National Park remains veiled in forested obscurity. Occupying a substantial 190-square kilometres of land and sea, the West Bali National Park should certainly get more attention than it does. Within this sprawling garden of wilderness live 175 species of plants and 167 species of animals, all finding a home in the patchwork of habitats, spanning mangrove, coral reef, savannah and monsoon forest.
The West Bali National Park is comprised of a monsoon-forest, meaning that the flora changes dramatically between the wet and dry season. Many of the trees are deciduous and in the dry season lose all of their leaves to conserve water. The dry season is best to spot animals, as you can see clear through the trees and see them from far away. Bali Barat National Park is a paradise for bird watchers too, with more than 160 species of bird living in the park. If you aren't a bird lover, you'll likely become one after the thrill of spotting the Javan Kingfisher with its dazzling sapphire coat, or the glowing radiance of the Green Pigeons and of course the critically endangered Bali myna (or Bali Starling, or Jalak Bali), endemic to the park. Common sightings of animals you'll find are deer, wild long-tail macaques or black giant tree squirrels; though other mammals can be found, such as wild boar, Javan lutung (monkey species), Indian muntjac (small deer) and the leopard cat, to name a few.
---
Kintamani Pine Forest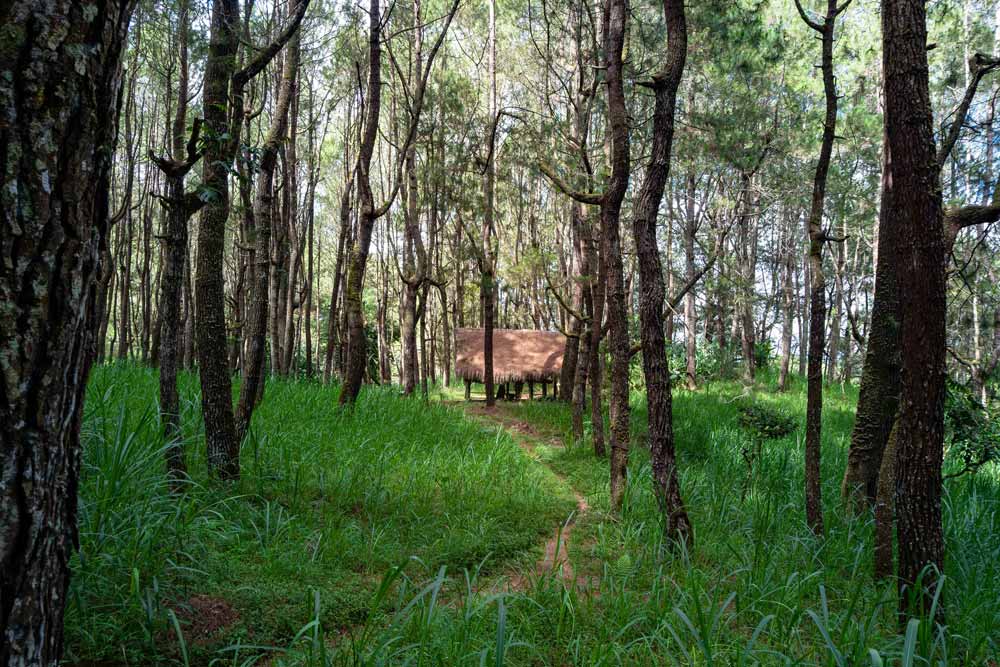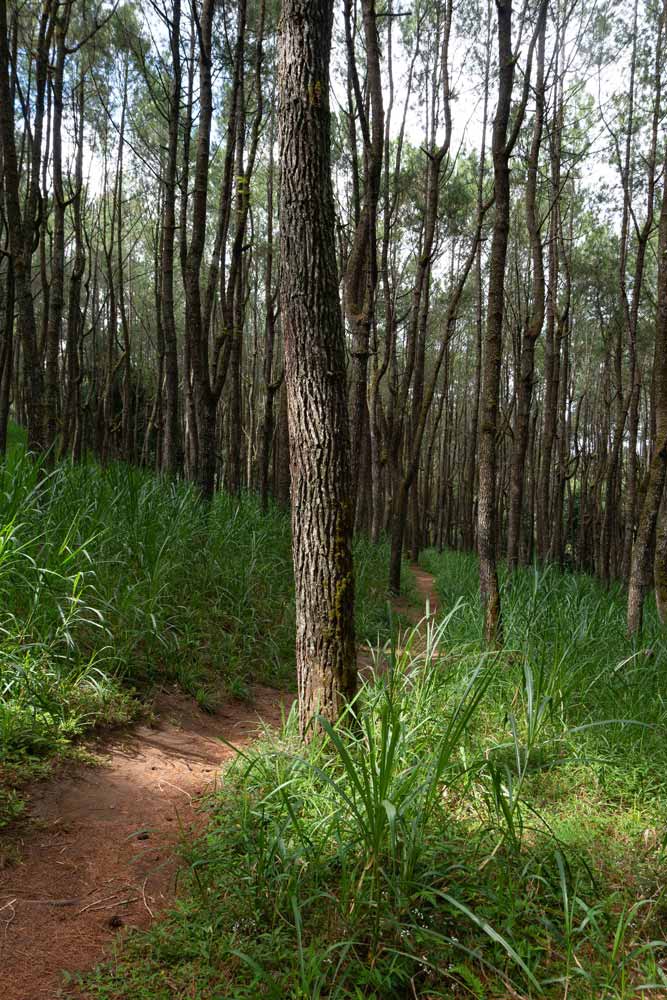 It's not exactly what you expect when you think of Bali, but did you know that the island is home to some pine forests? That's right, up in the more mountainous regions like Kintamani, Bangli Regency, you'll find pockets of pine forests in Bali thanks to the cooler climates and higher altitude. It does get quite cold, at least for tropical standards.
You may see a few pines lining the lake banks, in the Bedugul Botanical Gardens or pine trees intermingled in the jungle terrains going up mountains like Gunung Abang, but a whole pine forest? You'll find this very interesting alpine-like area in Manikliyu Village dense with pine trees, with the a bed of fallen pine needles cushioning the forest floor. There are some paths through the forest, but unfortunately they don't necessarily lead to anywhere, they loop around back to where you began, but you can certainly take a cool stroll through this very different setting. Not the Bali you would imagine! This photogenic destination is popular for campers, walkers and, of course, wedding photography. You can find the spot by searching 'Hutan Pinus Glagalinggah Lestari' on Google Maps.
---
Bali Botanical Gardens (Kebun Raya Bali)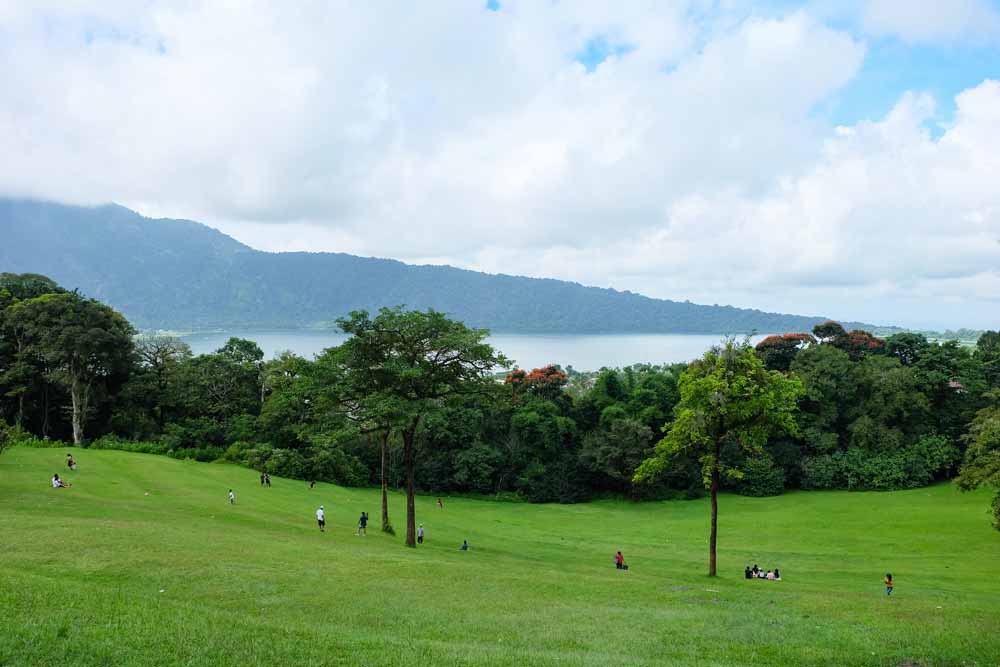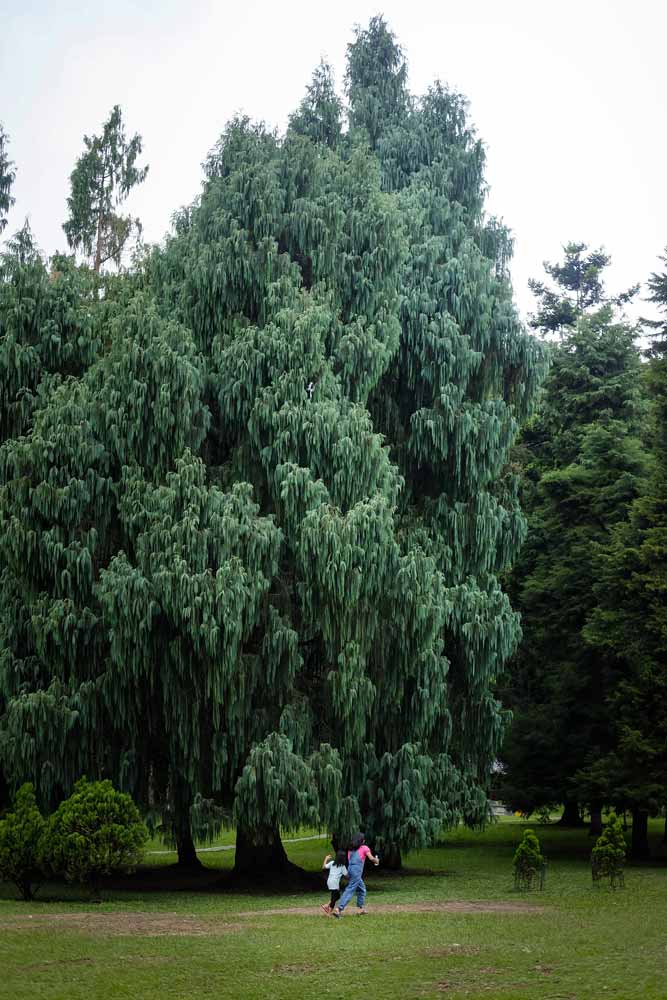 Otherwise known as Kebun Raya Eka Karya Bali, the botanical gardens are found in the cool highlands of Bedugul, the island's central highlands. Vast park-like open spaces, with a mixture of remnant tropical forest and pines filling the spaces, making it great for picnics and a brisk walk in the crisp, cool air.
An expansive area of 157-hectares (making it the largest botanical garden in Indonesia), the garden's aren't exactly 'natural'. in other words, this is really a manicured, curated and created destination, it is still one of the most verdant areas to walk and wander in nature. The park has been sectioned off into different areas, with flower displays and a cactus greenhouse (though these are a little worse for wear these days). Towards the back of the gardens is a view down to the twin lakes of Buyan and Tamblingan which is a favourite spot for families to set up a picnic.