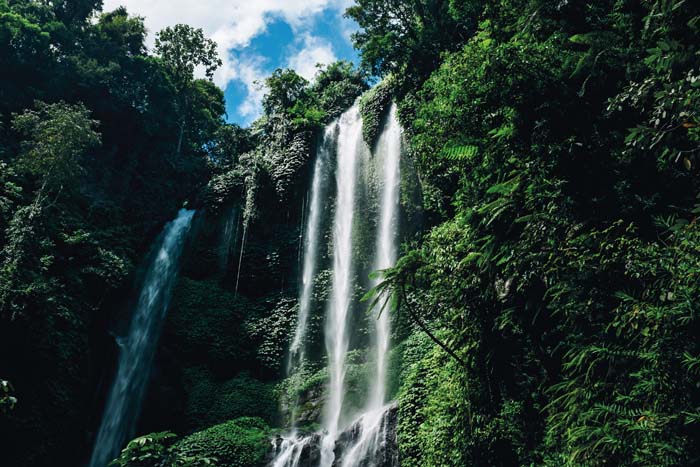 Watching the sun rise over mountains, being immersed in the verdant greens of Bali's rice fields and plunging into secret waterfalls; my adventure with NEWbali reintroduced that feeling of wonder that the island's beauty has on newcomers, a feeling I had forgotten for a while.
Too many times have I heard people say "I'm bored of Bali, I need a new holiday destination," well if all I did was go to the beach then eat or party at night I'd be pretty bored of Bali too. The problem is, many of us come to Bali and do just that – this is why our theme 'Bali Bound' is so important, people need to (re)discover the Bali beyond the beaches!
For this, I contacted NEWbali – NEW standing for North-East-West – a startup adventure company who ironically represent everything that isn't 'new' on the island and strive to showcase the old and real Bali at its very best.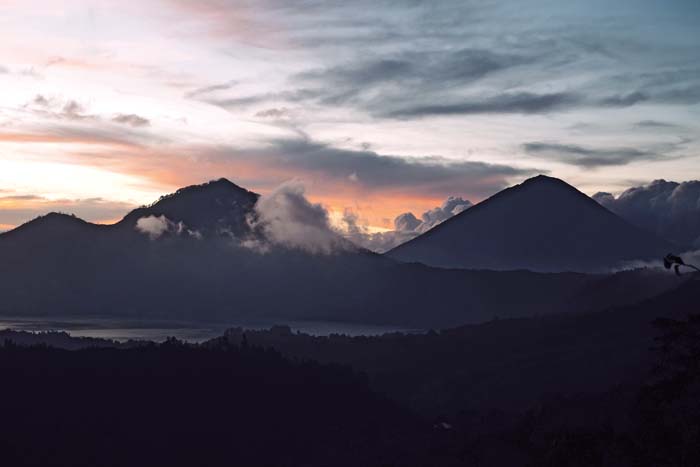 I joined NEWbali for their 'Journey to Sunrise, Rice Field and Waterfall' full-day trip. I was picked up from home at quarter-past four in the morning to start a two-hour journey to Kintamani.
We travelled quickly up past Ubud and Tegalalang, watching as the buildings got smaller and more sparse, the scenery more rural. We were headed north and the air cooled as we ascended the slopes to Kintamani.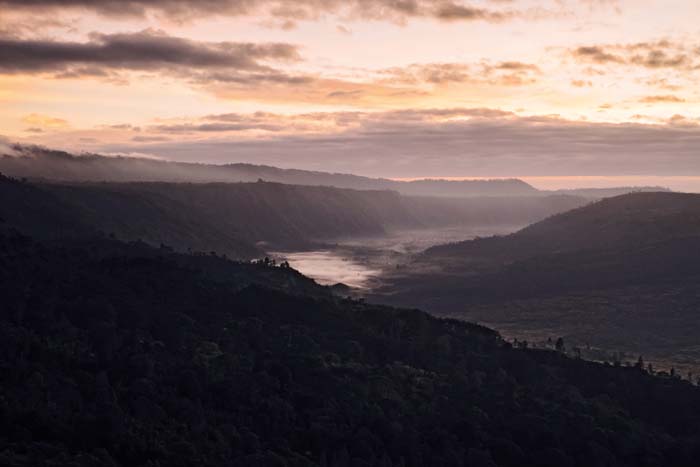 Finally the car stopped upon a ridge and the doors opened: it was still dark but we could see the mists of our breath, visible in the fresh mountain air. There we waited with Indonesian snacks and tea or coffee being served, not quite sure where we were.
Then, as the sky lightened into a dark blue, figures over the horizon appeared; we were on the north-western ridge of the Kintamani caldera, with views over Mt. Batur, Mt.Abang and Mt.Agung.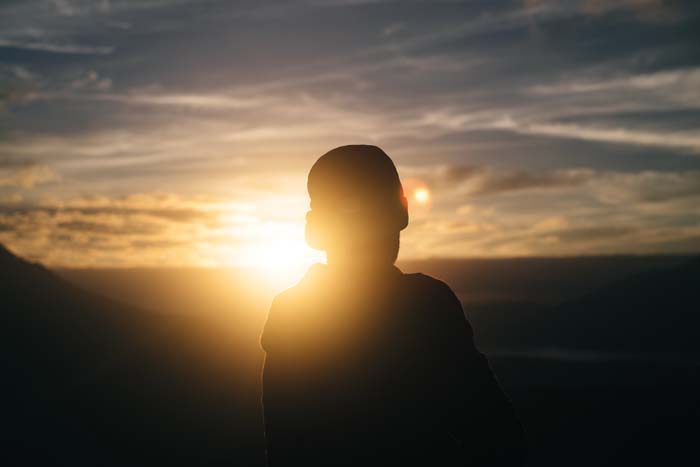 The three 'eastern' mountains were bathed in that golden morning light, Lake Batur now sparkling. As this giant caldera spanned out before us, the rising sun revealing more and more, we simply stood and gazed out in silence. A wave of contentment flowed through me, thinking to myself that there really was no better way to start my day.
Suddenly a wave of clouds passed between us and our magnificent view, like the curtains closing to finish a show. We jumped back into the car to continue our journey further north to the Buleleng Regency.
After an hour or so of driving through village roads we reached a drop off point from where we began our trek to the waterfall. My phone was completely out of signal and I felt a huge weight lift off my shoulders: disconnect to reconnect, as they say.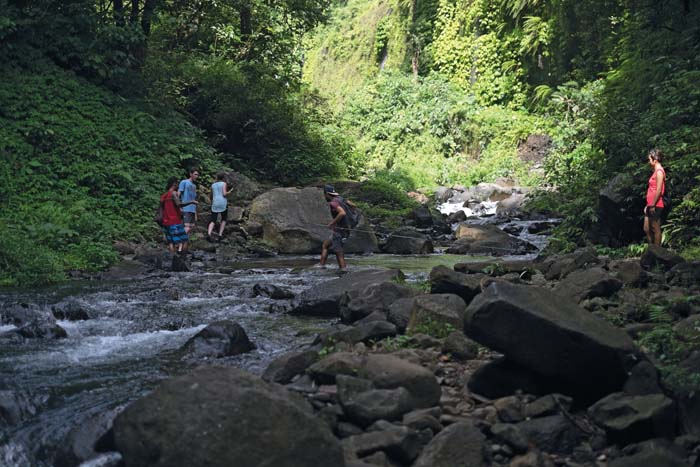 The walk began down a narrow farmer's path lined with ferns and bush. Although Patricia from NEWbali was hosting us, we also had a local guide to show us around. He pointed out cacao and coffee trees, and different fruits along the way.
Suddenly, the vegetation opened up and revealed a whole vista of terraced rice paddy; as we were at the top of the valley, the paddy fields stretched down far below us, browns and green jade shining bright under the sun now high in the sky.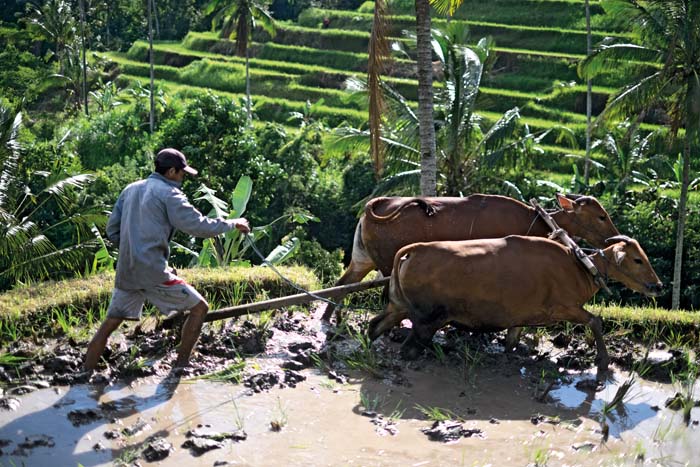 We zig-zagged our way down, balancing between the terraces, passing happy farmers ploughing with their cows.
When we reached the bottom of the paddy, one farmer, Made, was kind enough to climb up a palm tree and collect some young coconut. Using his scythe, he opened them up and handed them to us to drink – nature's ultimate refreshment!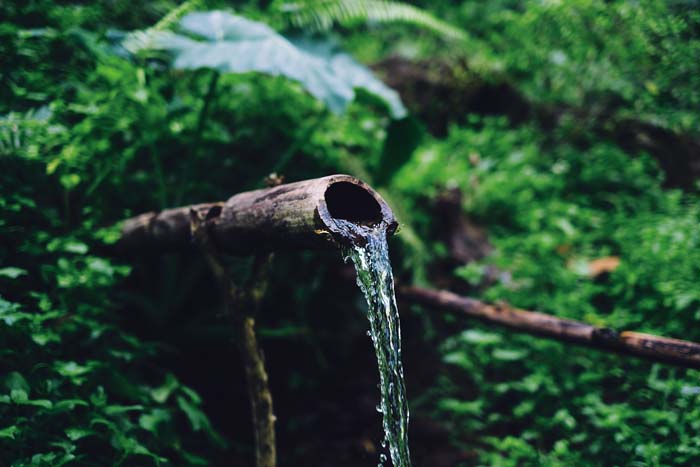 The trek continued, but now further down the valley the paddy surroundings were replaced with thick jungle, the air thickened. We were headed for Sekumpul Waterfall, but really sekumpul means a 'group' as the area is host to 7 waterfalls,
Sekumpul being the main one. We traversed through rivers, down steep steps and up muddy paths, the trek is by no means difficult but it really does plunge you headfirst into nature.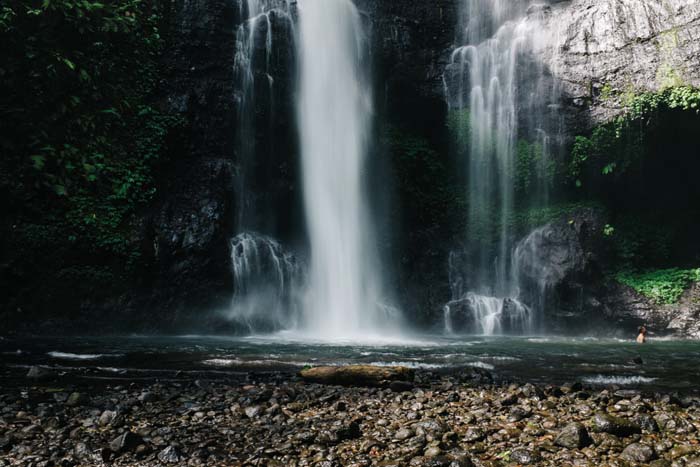 Finally, after an hour and half or so, we reached the main river. Here, an elderly man welcomed us by playing a bamboo xylophone, or Balinese tingklik, reminding us again what island we were on.
We scrambled up the river and reached a serene little alcove where 2 gorgeous waterfalls poured out from the gorge.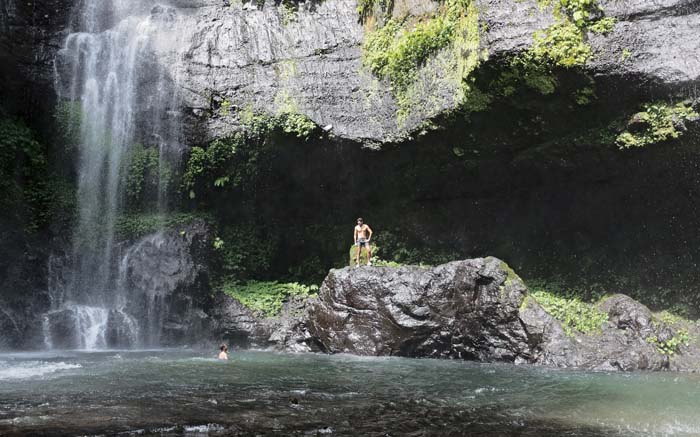 Here, in the plunge pool of the waterfalls, we got our bathers on and dived in! The water was clean and fresh, the swim was perfect for cooling down from our morning walk and you can even jump from the surrounding rock platforms into the pools!
After our refreshing plunge, we travelled back down river. As I walked I took in my surroundings: vines hung from trees, huge ferns clung to the gorge wall, light shone through the leaves reflecting off the clear river waters; it was like we were exploring an ancient, verdurous jurassic world.
I then realised a thunderous roar coming from up ahead and there in front of me was Sekumpul: waters cascaded from 80m high, its massive force sending sprays and mists into the surrounding air. It was of course a picture perfect moment, our souvenir from this amazing outdoor experience.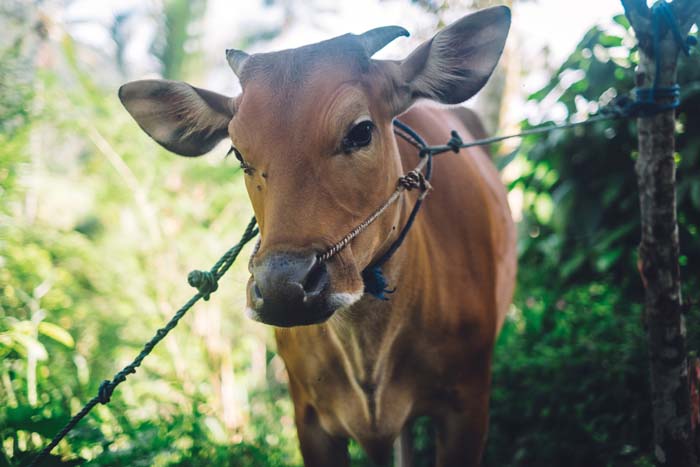 Now satisfied having witnessed the waterfalls we headed back up the gorge, though up a different path. The steps were steep and tiring, but we stopped for a coffee at a little kiosk run by local farmers around half way.
After about an hour we finally arrived at our pick up point, a cozy guesthouse that stood above the Buleleng valleys. It was an ideal place to look out and reflect on the day's activities.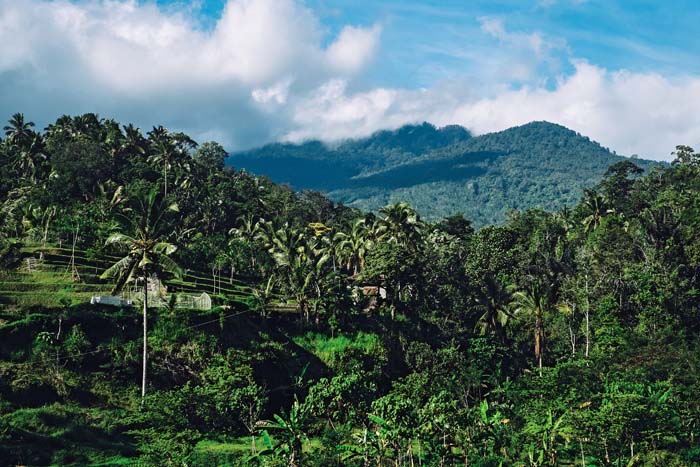 On our way back, NEWbali treated us to lunch. We stopped at a restaurant with stretching vistas of Mt. Batur and beyond, looking different in the day light; our day had come full circle.
It was only around 2pm but my day felt complete, I had fresh air in my lungs and my mind had been refreshed.
That one day reminded me that there are so many things to do in Bali, that the beaches and the parties are only a fraction of the experience. Then with this rekindled love and appreciation for the island, we travelled south again, forwards in time to civilization.
Website: www.newbali.info
Instagram: @newbalidotinfo
Fan facebook page: www.facebook.com/newbalidotinfo
Written By Edward Speirs | Photos By Fredrik Lundqvist