Pushing off shore into the waves and a warm ocean breeze whilst slowly losing sight of land is a liberating feeling, as if you're literally sailing away from life's problems.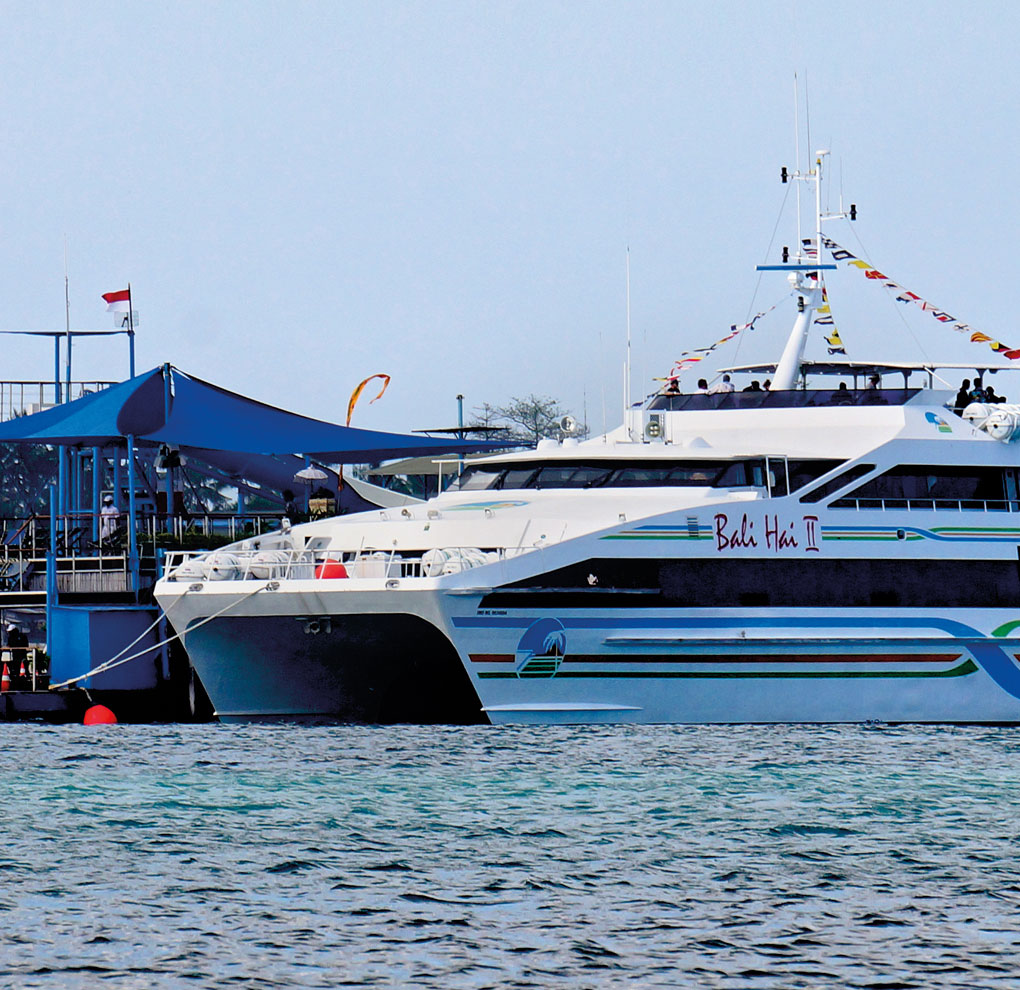 With the help of enticing backdrops, like the towering Mt.Agung, setting sail in Bali is an experience that exudes a tropical charm, great for couples or even as a family getaway. Coastal life in Bali is definitely elevated with an indulgent day cruise.
One of the classic Bali cruise experiences is run by Bali Hai, who have been operating their legendary trips to Nusa Lembongan for decades now, making them one of the leading day cruises of Indonesia's marine tourism. Step aboard their state-of-the-art vessel for a unique, fun-filled day trip made for both chill and thrill-seekers alike. The experience starts on board Bali Hai II, their 3-deck, fully motorised and modern catamaran: choose from a fully air-conditioned indoor area with bar, buffet and television; the al fresco bridge with bar and live band; or bask in the sun on their promenade deck enjoying wide open views.
Bali Hai II takes you to their purpose-built pontoon just off-shore Nusa Lembongan, which serves up a smorgasbord of fully inclusive activities. Slide straight into the sea with their 35m waterslide, explore the nearby corals by snorkelling the reef, enjoy banana boat rides, learn to dive or simply sit on the top deck and enjoy the rays. For those looking to explore Nusa Lembongan, Bali Hai also offers a village tour. Bali Hai Cruises' popular Beach Club Cruise package gives you the additional benefit of stepping ashore, sitting back and relaxing in at their Bali Hai Beach Club complete with swimming pool, bar, restaurant and more water sports.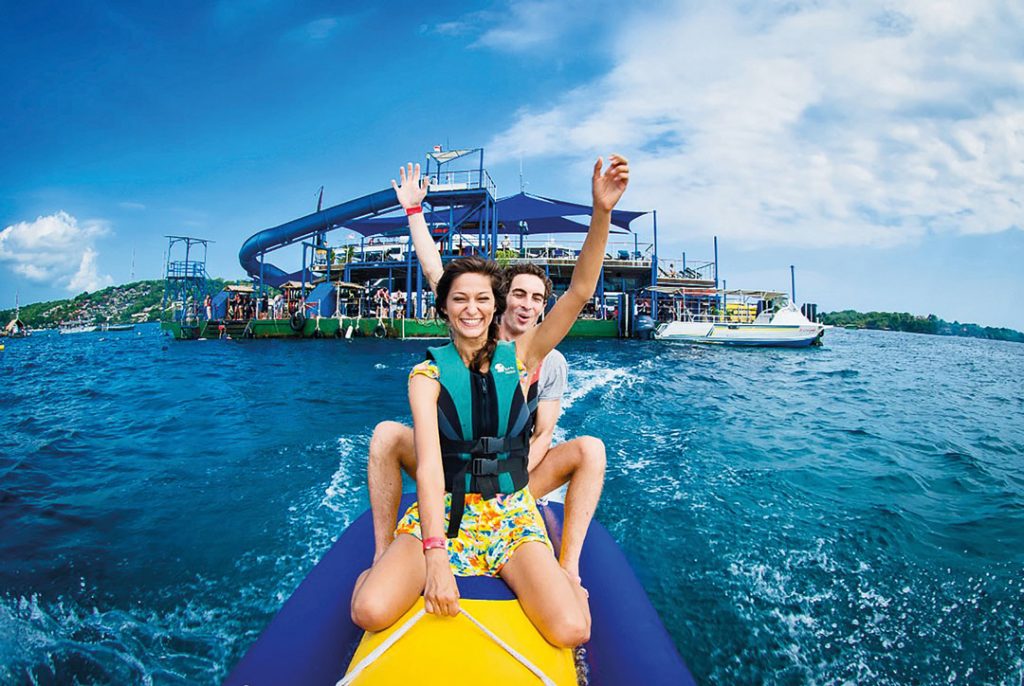 For a more exclusive experience, hop on the luxurious Aristocat, a sophisticated 64ft sailing catamaran, operating daily to two tropical locations, including the pristine Crystal Bay on Nusa Penida island. Bali Hai also offers the Three Island Cruise and Dolphin Cruise day-trips to other locations. For those looking to extend their Lembongan experience, you can book a night in of the beachfront 'Lumbung' or villas at their Hai Tide Resort.
Bali Hai Cruises
Jalan Wahana Tirta No.1, Benoa
+62 361 720 331
www.balihaicruises.com
The Uluwatu Sunset Cruise is a private cruise experience by Belmond Jimbaran Puri that lets you explore the remarkable beauty of the Indian Ocean during Jimbaran Bay's golden hours. Climb aboard Dedari or the Sea Angel, a fibreglass speedboat inspired by the traditional jukung fisherman boats you see lining the Bali beaches and embark on a two-hour cruise towards the notable Uluwatu Temple. Your journey will begin on the white sands of Jimbaran Beach, just a few steps away from the tropical garden of Belmond Jimbaran Puri. Suitable for couples or groups up to six people, you will cruise along the shoreline whilst sipping champagne, taking in the scenic cliffs, ocean views, and charming local life as you enjoy the remaining light of the day. You can also join the captain for a Balinese blessing ceremony by floating an offering in the form of a small palm-leaf basket filled with colourful flowers (Canang Sari), rice and incense – into the ocean from the temple's Cliffside.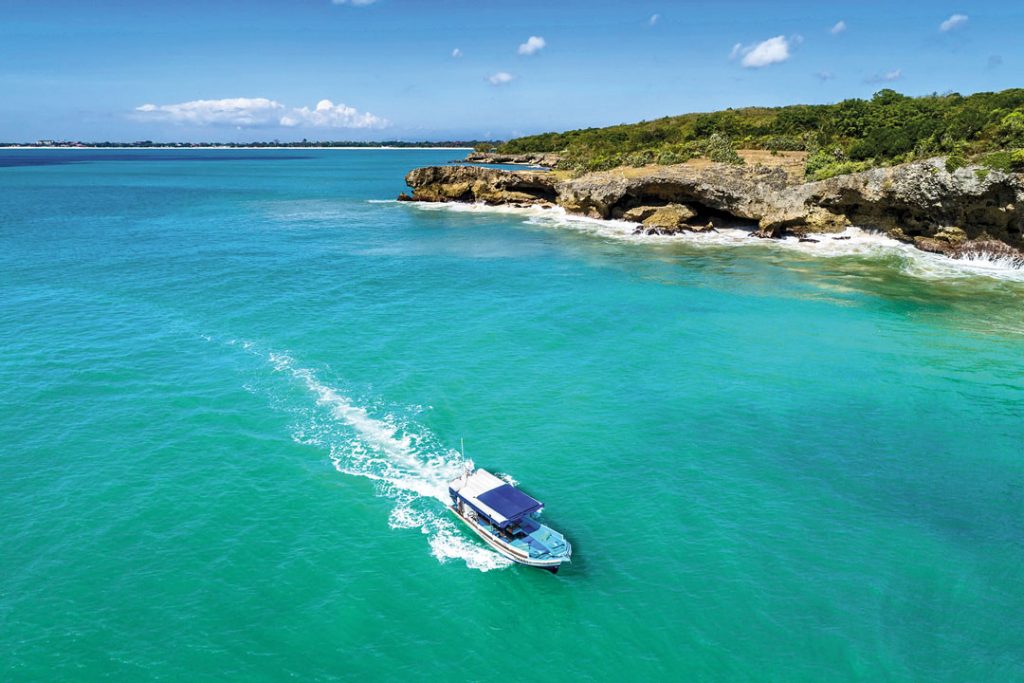 Belmond Jimbaran Puri
Jalan Uluwatu, Jimbaran
+62 361 701605
www.belmond.com/hotels/asia/bali/belmond-jimbaran-puri