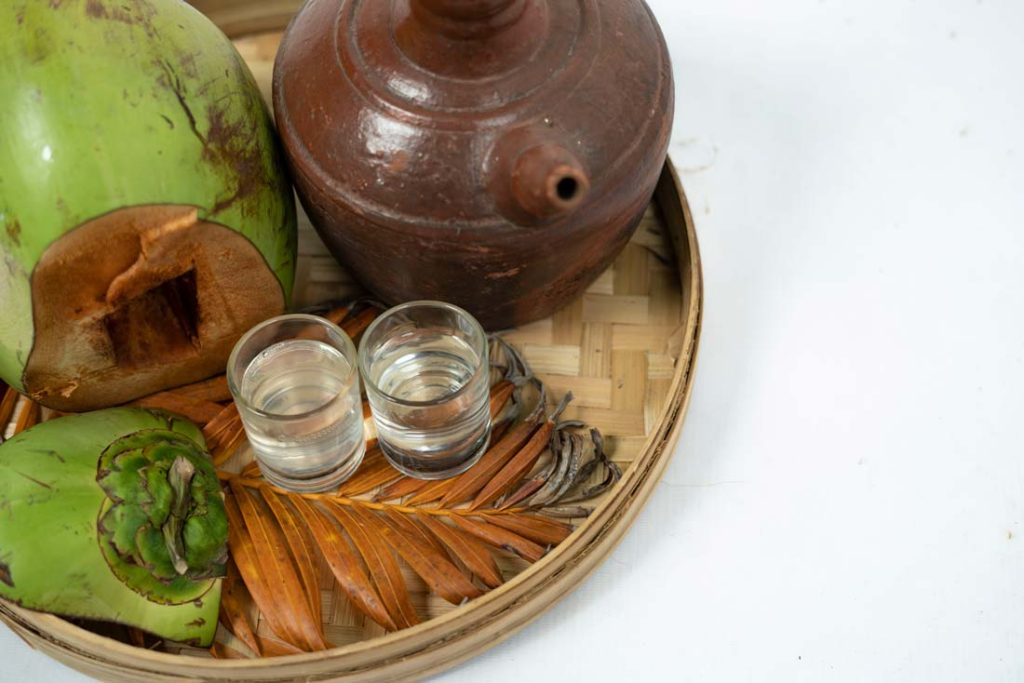 Arak. It is the drink of both celebration and ceremony here in Bali, used at social as well as religious gatherings. Needless to say, it has its role and part to play in everyday life on the island — it is, quite literally, the spirit of Bali.
However, its initial introduction into 'modern life' was far from smooth. Used as a cheap mixing alcohol in party venues, the huge demand led to poor production standards, shortcutting processes, or mixing with methanol. It is after all a traditional 'moonshine' with no standards attached to it. As a result, binge-drinking party-goers suffered terrible afflictions from going blind and some even dying.
With huge media coverage, the arak name was tarnished, becoming almost taboo with foreign visitors who would flinch at the mention of it.
This was a good decade ago. Today arak is on a revival in a big way, seen by many as a heritage or even artisanal drink that the Balinese should be proud of, a local 'experience' visitors should savour and enjoy.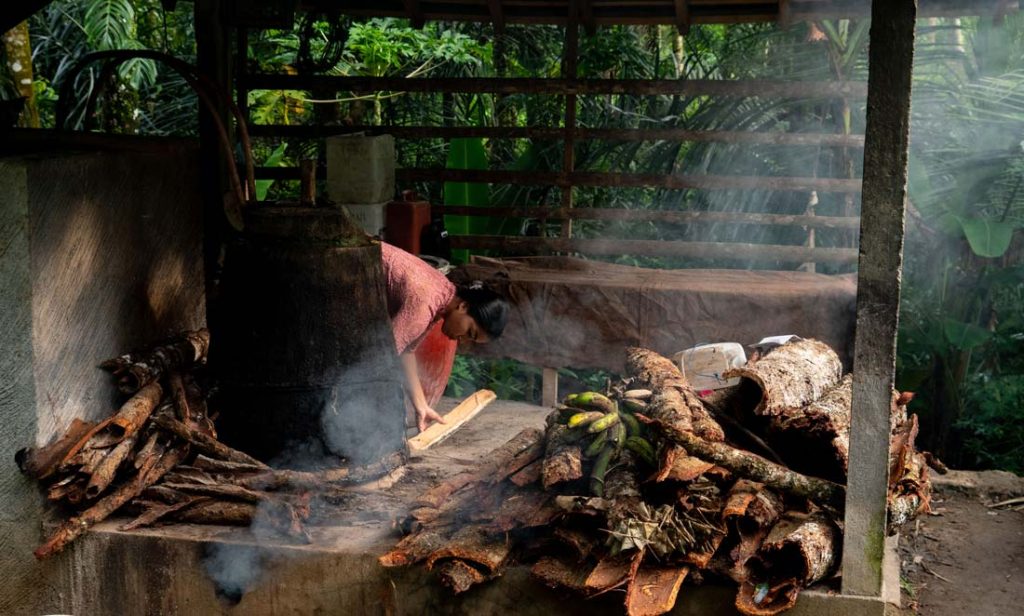 Let's Make it Official
In 2020, Bali's regional government officially recognised and legalised arak through a new law, Peraturan Guberner No.1 Tahun 2020. Through this, new standards and regulations were set for arak producers in order to formalise the industry.
Though originally a cottage industry, arak producers must now secure a license from the National Agency of Drug and Food Control (Badan Pengawas Obat dan Makanan, or BPOM) and an Alcoholic Beverage Trading Business License (Surat Ijin Usaha Perdagangan Minuman Beralkohol, or SIUP MB). Governor I Wayana Koster also created an official 'Arak Bali Day' (Hari Arak Bali), now celebrated every 29 January.
This has spurred the early beginnings of a new arak industry, and already brands offering consumer-safe products have made their way onto the market. This was really the only way for arak to be accepted and become a celebrated part of the Bali experience. And it's working.
Liquid Gold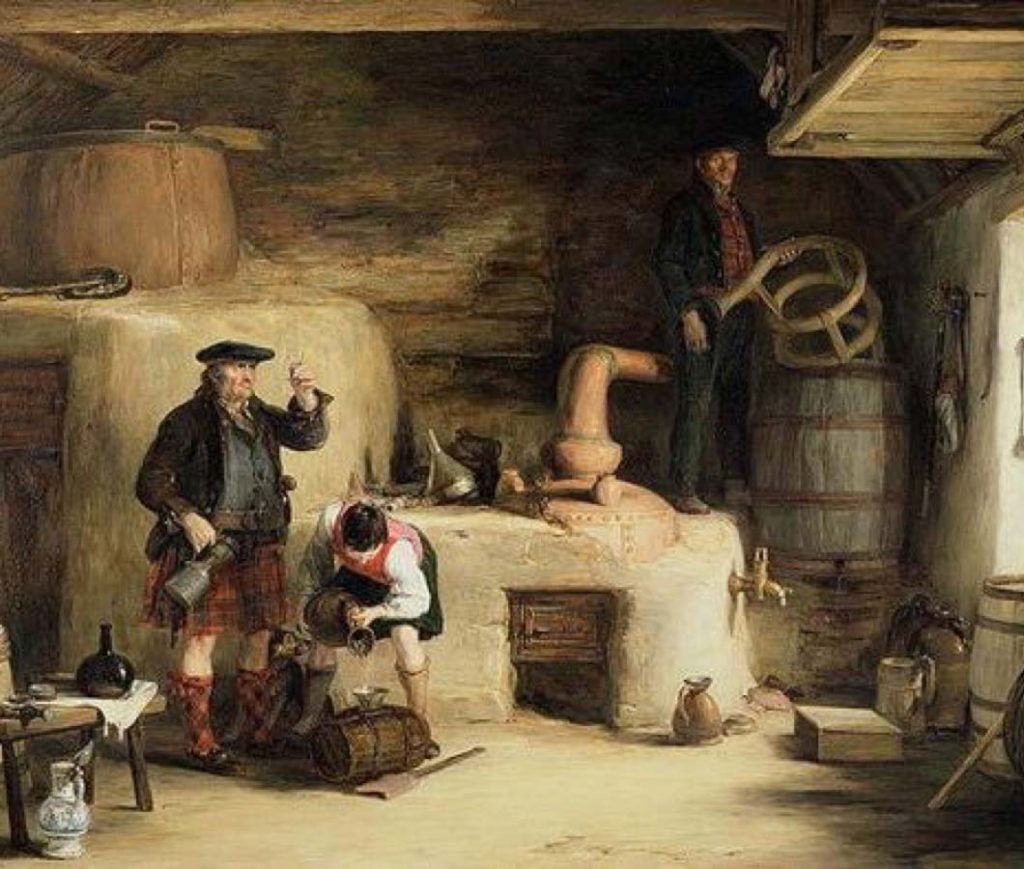 We can draw some really interesting parallels with Scotland's whisky industry, which went through a similar path. Back in the 1500s, many distilleries were similar to those found in Bali today; back of the woods, home-based distillation. Then, through government intervention and taxation, the industry was formalised and legalised. This meant only the big producers could remain in existence of course, with small (black market) producers fined and arrested; but it has also become an incredibly valuable industry and a national symbol.
In 2019, Scotch Whisky accounted for 75% of Scottish food and drink exports, 21% of all UK food and drink exports, and 1.4% of all UK goods exports The Scotch Whisky industry provides £5.5bn in gross value added (GVA) to the UK economy (scotch-whisky.org.uk). If arak can do something similar for Bali, becoming a unique food and drink export, that would be very positive for the island as it would help to diversify the economy outside of the tourism industry — and indeed become a tourism pull of its own.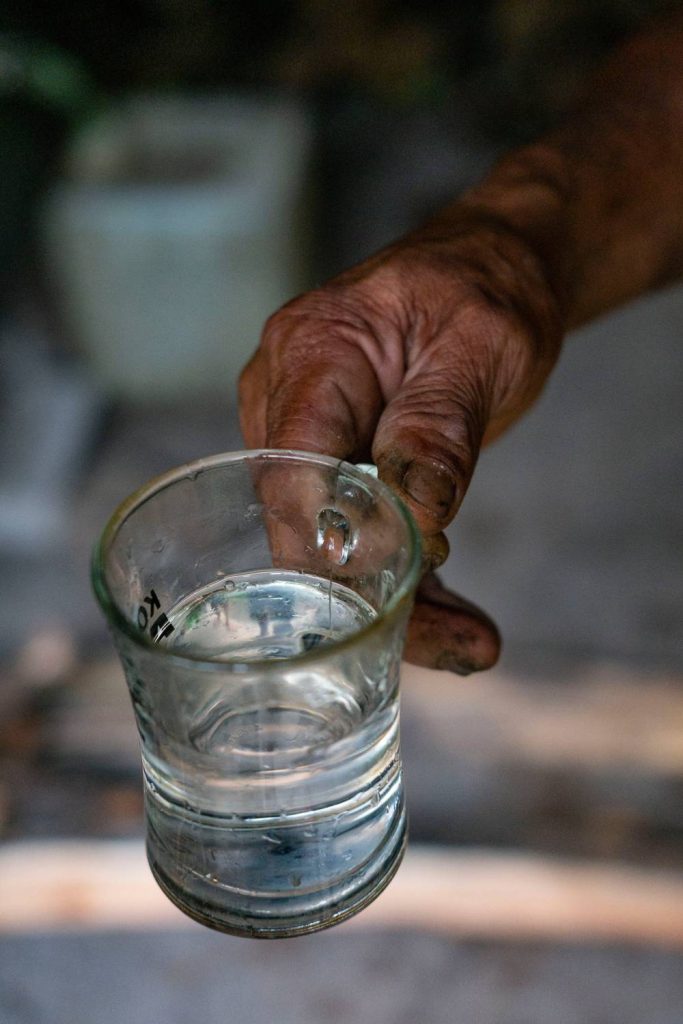 The one downside to the formalisation of the industry is that many traditional arak farmers and producers will be regulated out of production, unable to pay the high costs of licenses. For arak-producing villages, especially in Karangasem Regency, East Bali, up to 90% of households make their money from arak production and have done so for the last 4 to 5 generations. Though we cannot stop progress, it would be wrong to ignore the part they have had to play in the spirit's preservation over the generations.
Nonetheless, in the three years that arak was made official on the island, great brands have emerged to showcase their take on the spirit, some of which we will share here. All of these brands listed are licensed and safe to drink, already finding their way into top bars and cocktails across the island. Make sure you have a taste of the 'Spirit of Bali'.
---
Bali's Great Arak Brands
Arak Bali Dewi Sri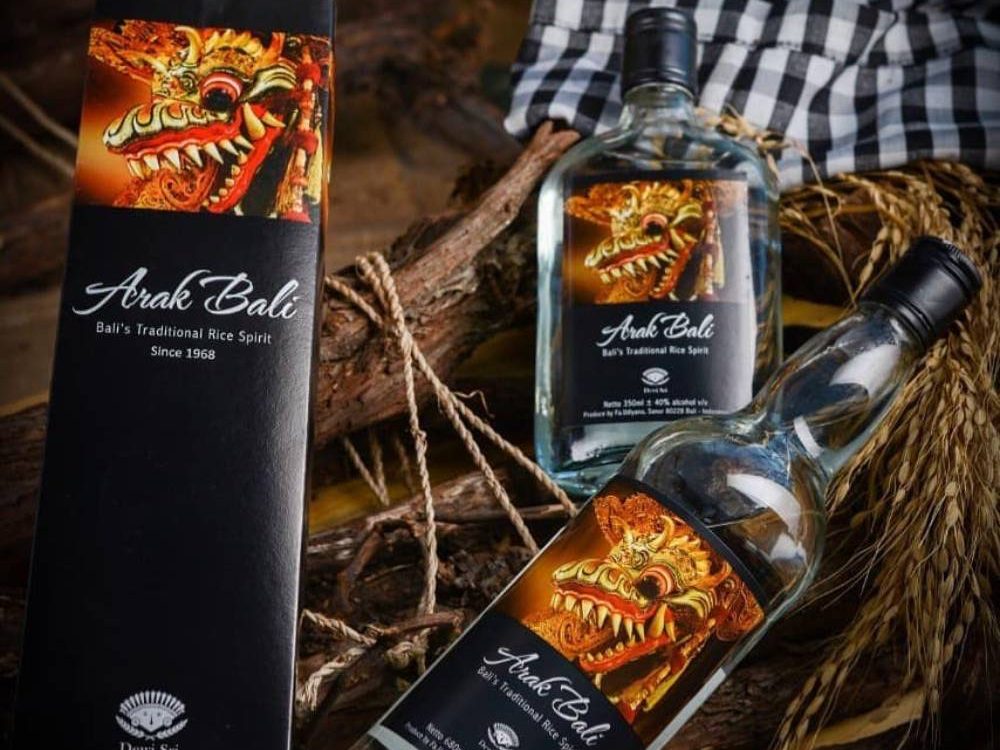 Way ahead of their time, the Dewi Sri company was the first professional producer of Balinese alcohol, producing Balinese rice wine and rice spirits. The company was founded in 1968 by Sanur native, Ida Bagus Gotama, who saw the need for a safe and trusted version of Bali's brem and arak. Seeing the rise of tourism on the island, IB Gotama wanted visitors to experience the island's traditional drinks.
Named after the goddess of fertility, rice and harvest, Dewi Sri's products are all made through the fermentation of rice. In their distillation facility in Sanur, the brem is produced through the fermentation of black glutinous rice; the arak is distilled in a copper still, which removes sulfur compounds that occur naturally during distillation, giving it a smoother, silkier spirit at 40% ABV.
For a long time, Dewi Sri was the only professionally produced and legal distillery on the island, and thus their product was used in restaurants and hotels, mixed into cocktails, to give imbibers a taste of Bali. The company is now run by I.B. Gotama's son, Ida Bagus Rai Budarsa, who is also the founder of Hatten Wines, Bali's original winery.
Arak Bali Dewi Sri is found in most convenience stores, supermarkets and also in the airport where it has become a popular souvenir.
@arakbrembalidewisri | dewisri.biz
---
IWAK Arumery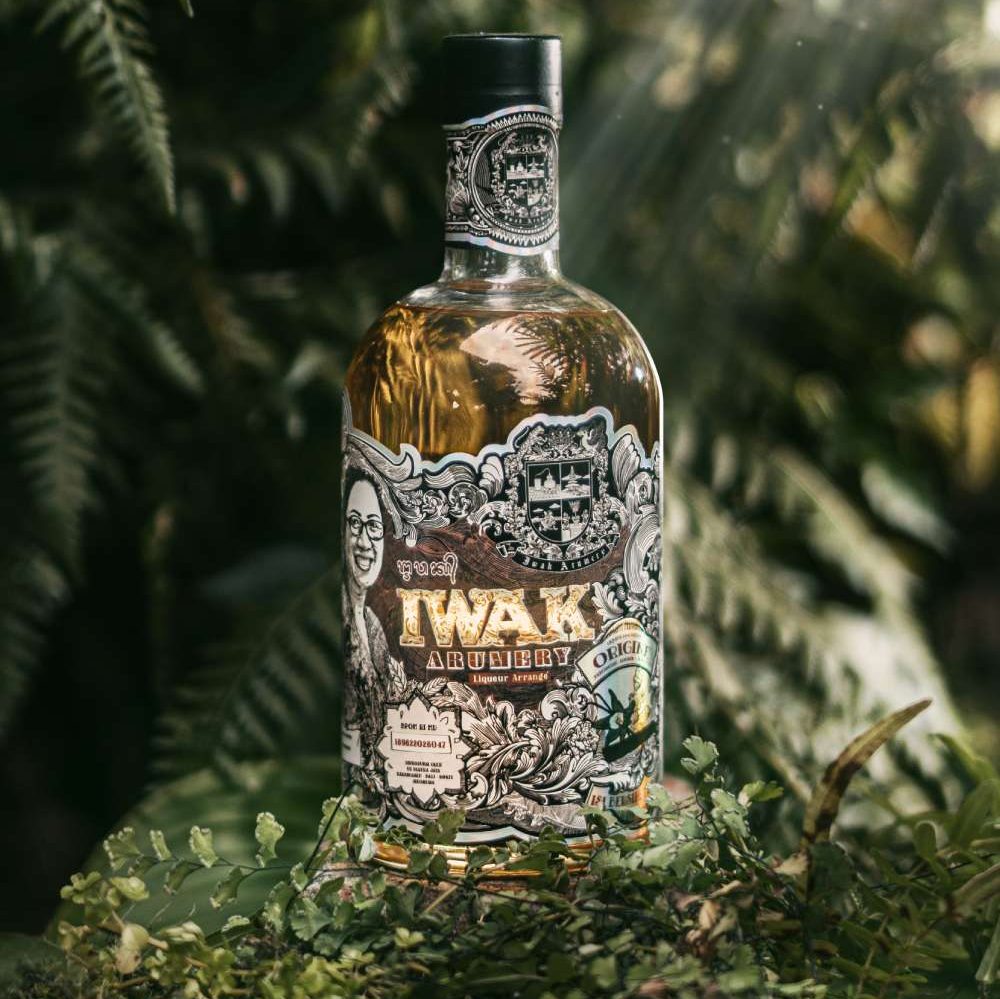 Inspired by arak jung, a medicinal concoction of herb-infused arak created by Brahmins (priestly caste), IWAK Arumery brings an innovative take on the spirit that highlights age-old traditions and local vegetation.
IWAK was founded by Ida Ayu Puspa Eny (Puspa), a female Brahman who, though destined for priesthood, chose a life of adventure, travelling the world as a journalist. As a culinary enthusiast, Puspa explored the traditions of arak jung and sought to create new interpretations for the modern drinker.
The aged liqueurs of IWAK Arumery are double-distilled blends of three different kinds of fermented sap, infused with exotic fruits and spices and then aged for smoothness. The brand currently holds five different varieties, each with its own distinct aromas and flavours.
'Origine' (42,45%) is a light-bodied arak infused with red ginger, vanilla beans, cloves, cinnamon and pure honey, giving it a spicy sweet palate. 'Aveugle' (41,49%) is infused with coffee, spices and honey, aged for a minimum of one year. 'Ameritha' (45,01%), taking its name from the Balinese word for holy water, is a clear, non-infused spirit of pure arak, thus presenting hints of coconut and citrus. Those who love a fruitier palate to their drinks can try: 'Berries' (40,41%), featuring an infusion of sweet and tangy berries and Indonesian spices; or 'Mangoestin' (41,18%), infused with mangosteen, Moluccan cinnamon and cloves and other spices.
IWAK is available in selected retailers, bars and hotels in Indonesia, and can also be found online.
---
Karusotju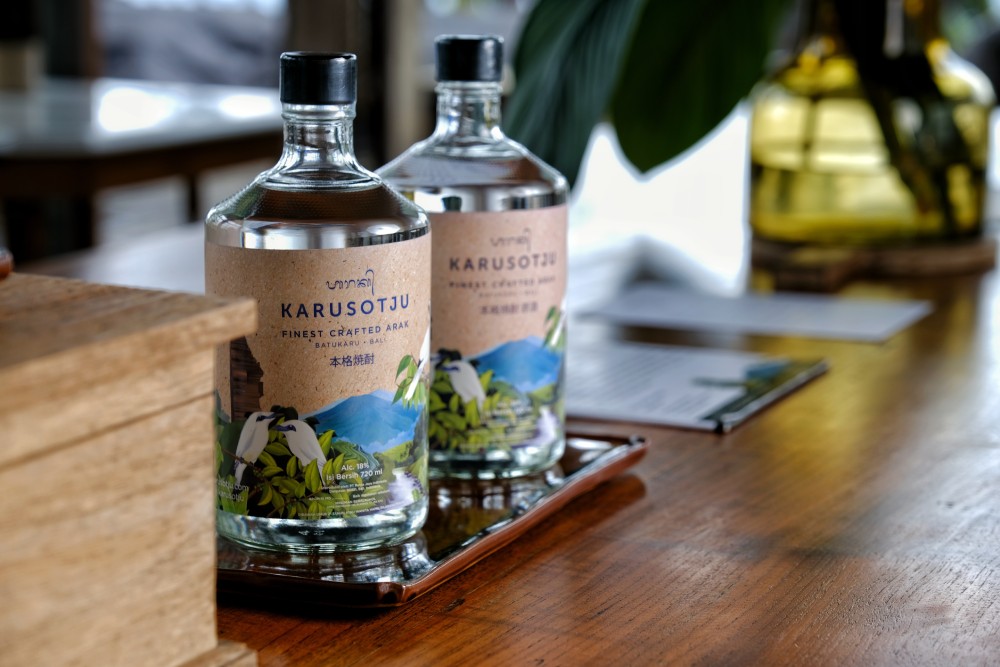 Distilled deep in the forests of Mount Batukaru, Tabanan Regency, Karusotju is a locally-produced premium spirit made from honey sweet potato (yam). The brand's vision is to reimagine arak, in a way that would elevate its perception and reputation amongst discerning drinkers.
Launching in 2021, after four years of research and development, Karusotju released their Karu 18 and Karu 38 varieties — each representing their respective alcoholic proofs. Ever since, the premium spirit has received wide acclaim across the island, from the industry and consumers alike. Clean, crisp and full of character, the product has certainly raised the bar for arak on the island, with the pristine, natural springs waters of Batukaru used to distil and filter resulting in a very pure product.
In 2023, Karusotju released its newest varieties. The first is the Karu 25, with a slightly smoky flavour profile, as an unfiltered variety it retains the fruitiness and characteristic of the sweet potato, giving it more bite and body than its Karu 18 counterpart. The second is a Barrel-Aged variety, where the Karu 38 has been barrel-aged in virgin oak barrels for two years, adding light oak and vanilla notes to the already floral and fruity profile of Karu 38.
Through their refined take on arak, Karusotju is showcasing that this local spirit can be seen in high regard, to become a national pride similar to how sake or soju have become ambassadors to Japan and Korea respectively. Their boutique distillery in Batukaru is available to visit, where you can tour and taste Karu at its origins, as well as explore the surrounding rainforest.
@karusotju | linktr.ee/karosotju
---
Arakbica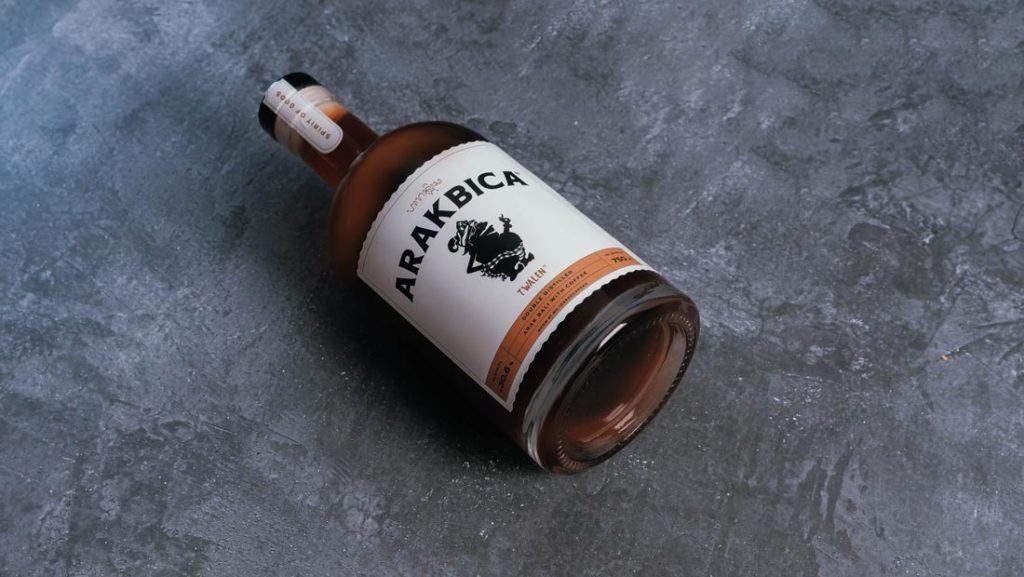 One of the products under the local beverage company, Twalen Spirit, Arakbica brings together two of Bali's speciality products to create something new. It's all in the name, a portmanteau of arak and arabica, as this unique spirit fuses specialty coffee from Kintamani with the palm-tree arak of Karangasem.
At its core, Twalen Spirit hopes to provide a future for local communities. Not wanting to carve out the traditional arak markers, instead, Twalen invests in selected producers and buys directly from them. This arak is then reprocessed in its own facility to standardise alcohol levels and meet standards for legal consumption. Not only that, farmers receive a royalty on every bottle sold. Founded by a Balinese, Komang Wena Wahyudi, in 2021, he wanted to create a sustainable business model around arak that would continue to empower and provide employment for traditional arak farmers — and in fact give them a better, more stable income.
Arakbica is double-distilled and has a smooth finish, at 30.6% ABV it is light-bodied with 3% arabica coffee giving it a soft aroma and coffee palate, with a hint of sweetness as well. Best cold and enjoyed on the rocks, or perhaps as part of a coffee-based cocktail. Available in bottle shops across Bali and Indonesia, Arakbica is also licensed for export, hoping to be an 'ambassador' for Bali's spirit industry overseas.
@arakbica.official | twalenspirit.com
---
Selaka Ning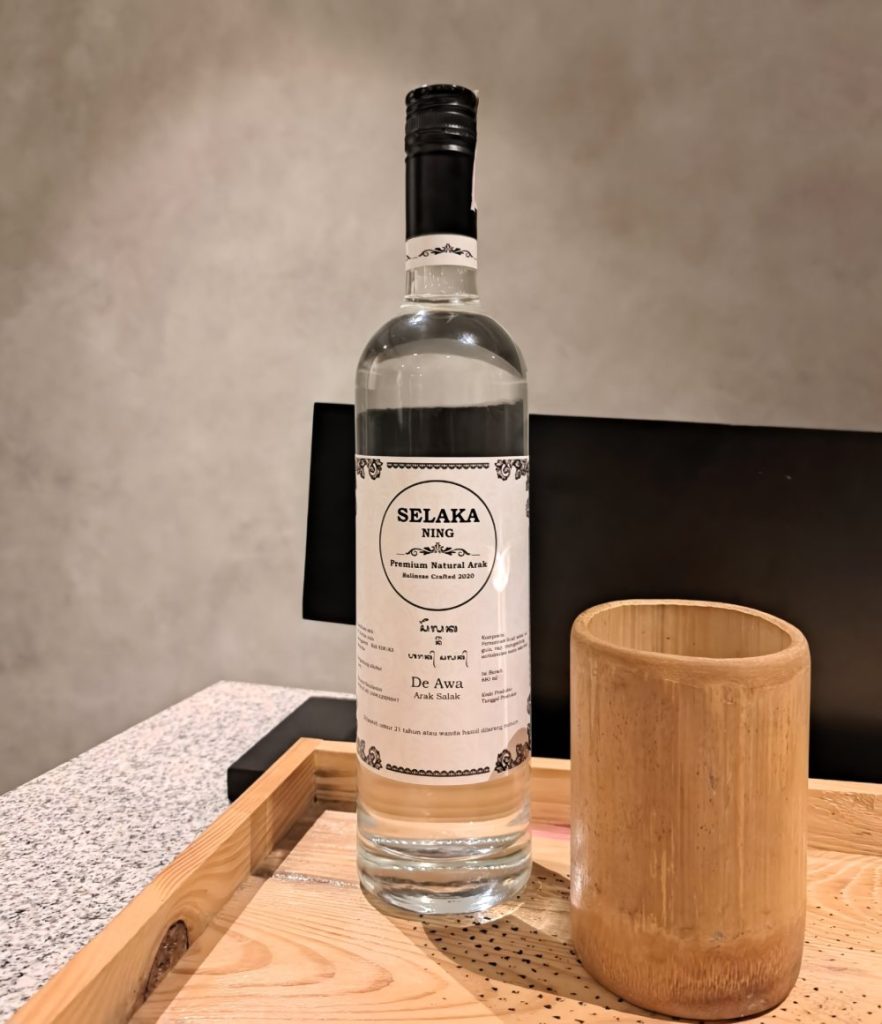 Adding a whole new flavour profile to Bali's arak mix is Selaka Ning, made from fermented snake fruit (known as salak), harvested in the village of Sibetan, Karangasem Regency. This village is known for its salak, with farmers here being in the trade for generations. Founder Dedi Pageriawan sought to assist the salak farmers by giving them a new 'market' to sell to, to ensure their harvests don't go to waste and also to increase the value of their produce.
Selaka Ning is a great play on words. Not only does it pay its respects to its 'salak' base, but selaka means silver in Balinese and ning is the word for clear or holy. Thus this special spirit is perfectly clear, with the salak fruit first crushed and then fermented for up to 2 weeks. The outcome is a 40% ABV spirit, which is smooth, and really captures that natural sweetness and light tang of the snake skin fruit. With its natural sugars, it has the aroma of honey, and has a light-medium body on the palate, with a long finish.
Coming from a fruit, Selaka Ning's flavour profile is certainly different from the other arak listed and as such Bali's mixologists have incorporated it into their concoctions. Its slightly sweeter flavour makes it great for Negronis (or the 'Salagroni, as they call it) or a Selaka Spritz!