Bali's no longer known as a mere holiday stop. Yes – surf, sun, and sea are still parts of the main attraction but in addition to the beach resorts, the tropical destination also stands as southeast Asia's wellness hub. Yoga shalas are sprouting in Ubud, Canggu and beyond; yogis are flocking to the island to learn or teach the practice. If you're to aiming to master sun salutations or you're simply looking for a studio to take up the spiritual sport, here's a list of a few favourite spots:
The Yoga Barn
Overlooking unspoiled countryside, paddy fields, and shrines; surrounded by lotus ponds and bamboo, Yoga Barn is a must to visit for yoga in Bali. It offers 15 classes a day from morning flow at 7AM to meditation practises at 8PM. You'll find a wide variety of classes at Yoga Barn. The classics include vinyasa, hatha, yin, kundalini, yoga nidra, pranayama, and more, whilst they spice things up with power yoga, Tibetan bowls and gong bath meditations, salsa dance, sound healing, acro yoga, and more. They hold events and workshops every other day, such as teacher trainings and spiritual awakening courses. It also doubles as a sanctuary for wellness and detox retreats.
The Yoga Barn
Jalan Raya Pengosekan, Ubud
+62 361 971 236
www.theyogabarn.com
Ubud Yoga Centre
Welcoming anyone of any ages and fitness levels, Ubud Yoga Centre is a contemporary two-tiered complex building designed for everyone to experience the happiness of yoga. The space was created with several functions in mind: yoga centre, Paiste Gong Centre, kids centre, gift shop, and a cafe. Whether it's a vigorous flow class, a hot Bikram, a relaxing yin, or a gong meditation session, you'll find what is right for your body and mind. The aim at Ubud Yoga Centre is for everyone to have access to yoga and have a fun practice in a comfortable setting. From kids yoga, aerial, ashtanga, hatha, to Baddha Konasana classes for women to nurture a healthy reproductive system; and inferno hot pilates. They also offer scheduled yoga retreats and workshops.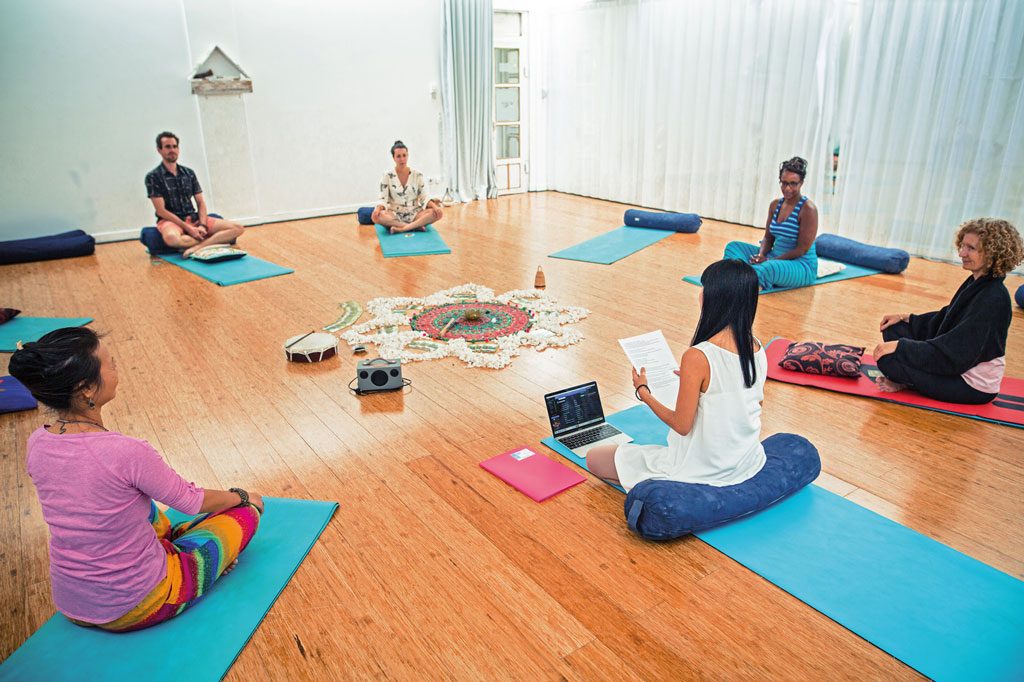 Ubud Yoga Centre
Jalan Raya Singakerta No. 108, Ubud
+62 361 898 7207
www.ubudyogacentre.com
Adiwana Resort Jembawan
To address specific health concerns their guests may have, Adiwana Resort Jembawan has an onsite team of experts, including Ayurvedic doctors and yoga instructors, offering lifestyle programs that are tailored for each guest. Expect relaxation, meditation, and yoga. The Yoga Pavilion at Adiwana Jembawan is situated amongst the resort's tropical garden that breathes life into the resort. It boasts a serene ambiance where you can exercise or meditate in nature under the expert guidance of the resident instructor. Daily sessions of yoga, combining stretching movements and deep breathing, complement all of the wellness programs on offer at Adiwana. The resort is a tranquil hideaway in Ubud perfect to heal the mind and body.
Adiwana Resort Jembawan
Jalan Jembawan 1, Ubud
+62 361 908 3289
www.adiwanajembawan.com
Desa Seni
Desa Seni is a yoga and wellness haven, resort, art village, holistic spa that also has an organic restaurant serving farm-to-table goodness all hidden behind Canggu's buzzing scene. Desa Seni's School of Yoga, The Collective, is internationally accredited by The Yoga Alliance and supported by a team of highly experienced teachers who provide daily classes, personal yoga retreats, continuing education courses and teacher trainings. Offering a selection of distinctive private yoga retreats, you'll embark on a personal journey through deeper exploration based on your individual needs and objectives, meaning there is a private retreat to suit everyone. The personal one-on-one session pays particular attention to your illnesses, injuries, overall health and wellbeing. Desa Seni offers daily yoga programs that are open to public, catering to all levels, from sunrise to sunset flows.
Desa Seni, A Village Resort
Jalan Subak Sari No. 13, Pantai Berawa, Canggu
+62 361 844 6393
www.desaseni.com
Samadi Bali
A centre for 'radical wellbeing and self-empowerment', Samadi Bali is a place for daily yoga classes, retreats, teacher trainings, and holistic wellness treatments. Although Samadi's classes generally welcome all levels, some are specified according to ability, which can be more intimidating for beginners. Ensure you are in the correct class based on your personal skill level. Some of the more experienced classes include Level 2 Vinyasa Flow, Ashtanga, Tantra, and Mysore (you need to be familiar and autonomous with at least the standing sequence of Ashtanga Primary series). Samadi holds weekly and monthly specials, such as the likes of Ecstatic Dance, Women's Circle (described as a self-healing and self-loving place for women), and breathing workshops. It is also loved by many for its Sunday Market, offering local organic produce and artisanal goods, where you can pick up a bottle of fresh kombuchaor a handmade soap!
Samadi Bali
Jalan Padang Linjong No. 39, Canggu
+62 812 3831 2505
www.samadibali.com
Jiwa Yoga
If Bali's 30-degree weather isn't enough for your yoga practices, head over to Jiwa Yoga's hot studio in Seminyak. Bikram devotees, this message is especially for you! Jiwa offers an express Bikram class in the morning and evening, and full 90-minute classes in between. The yoga studio also holds a 60-minute hot yoga flow and hot pilates classes. Hot yoga is naturally more challenging but the classes welcome all levels including beginners who are just starting out. Jiwa's teachers are skilled instructors, hailing from all over the world, who will be of help throughout your experience. Yogis at Jiwa are treated to pre-placed mats in class, genuine and friendly instructors, a free towel, an odour-free room, and fresh coconut water after class!S
Jiwa Yoga
Jalan Petitenget No. 78, Seminyak
+62 851 0041 3689
www.jiwabali.com
Power of Now Oasis
Practising yoga by the sea is as heavenly as it sounds. Power of Now Oasis is a yoga studio and healing centre located in the peaceful fishing village of Sanur, boasting a serene beachfront setting for your practices. It offers a variety of different yoga classes running daily by international and localteachers. From hatha to restorative, you can visit the shala and speak to the staff who will help you choose a class that is most suitable to your skills and needs. Private sessions and teacher trainings are also available at this reputable yoga studio and school. They often have visiting guest teachers from around the world come to share their practice, so keep your eyes peeled for exciting news!
Power of Now Oasis
Jalan Merta Sari, Sanur
+62 878 6153 4535
www.powerofnowoasis.com
Heavenly Spa
To reinforce the Westin Resort brand commitment "preserving wellness through travel", Heavenly Spa by Westin Bali focuses on holistic wellness combining spa therapies with pranayama breathing as well as regular classes in yoga and meditation. The resort has developed signature wellness programmes exclusively for guests and holidaymakers to relish in detoxification and rejuvenation. The yoga classes at The Westin Resort Nusa Dua, Bali are treasured by guests and visitors, mainly because of their wellness manager, Jitendra Pokhriyal. Jitendra hails from the birthplace of yoga in India and has taught yoga in Northern India and the Himalayas. He is known to radiate calmness and inspires you to be better through his wisdom. Westin's commitment is supported by various initiatives led by Jitendra, who is also available to help you achieve your lifestyle goals. He holds sessions in the resort's restful garden.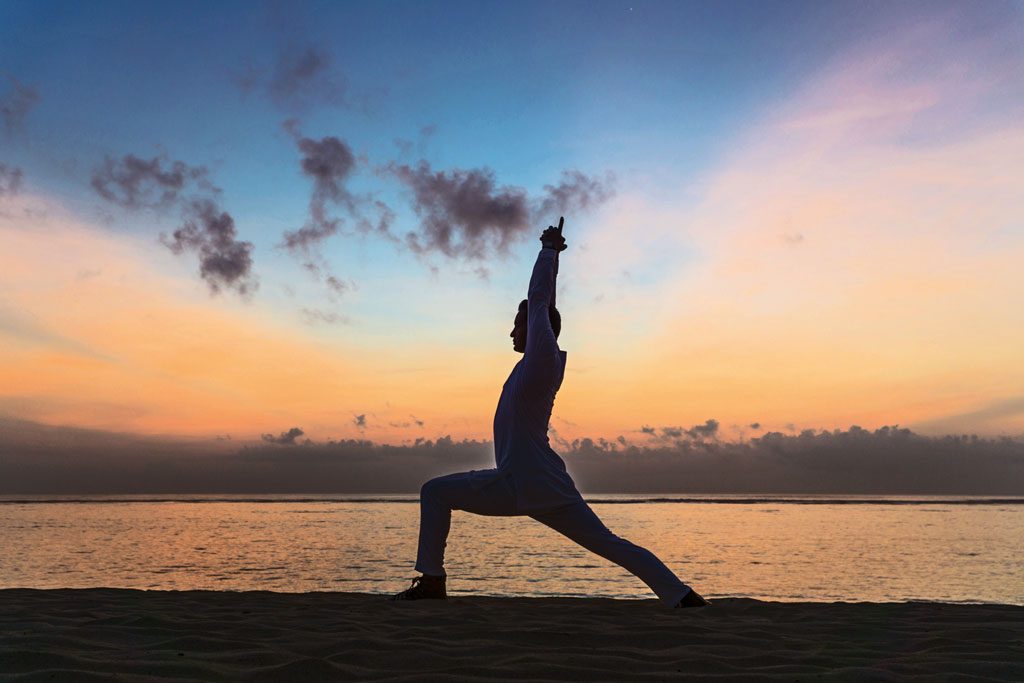 Heavenly Spa by Westin
The Westin Resort Nusa Dua, Bali,Kawasan Pariwisata Nusa Dua Lot N-3, Benoa, Nusa Dua
+62 361 849 8888
www.heavenlyspabali.com