On Tuesday, 16 March 2021, Publisher Alistair Speirs and the NOW! Bali team received an audience with HE the Vice Governor or Bali 'Cok Ace' in Puri Saren Ubud (Ubud Palace) to launch our latest publication TIMELESS Bali.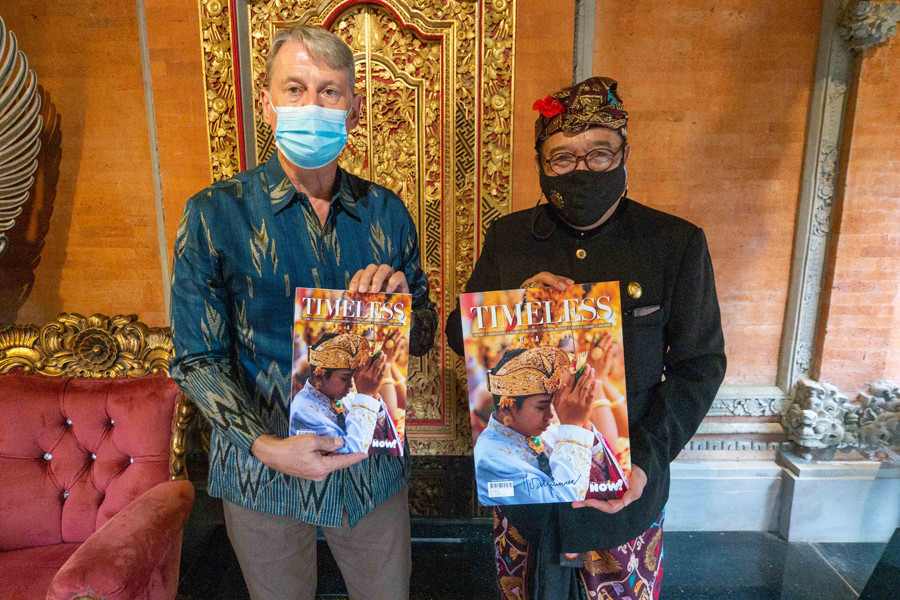 Why the Ubud Palace?
Well, the Vice Governor's full name is Tjokorda Oka Artha Ardana Sukawati, and with such a title it is clear that the Ubud Palace is the Vice Governor's family home. His father, once the King of Ubud, now succeeded by his brother Tjokorde Gede Putra Sukawati. And what a suitable location for a ceremonial 'launch' of this Bali-focused publication.
Seated in one of the many balés of the palace, Vice Governor Cok Ace warmly welcomed all, and very quickly began sharing his insights on Balinese philosophy and belief. From the 'design' of Bali, the origins of Ubud, life purpose and journey, he spoke with passion and heart about such subjects. Of course, this segued into the state of Bali today, and he expressed his hopes that post-pandemic Bali would once again find balance with Balinese core values — which it has not for a long time.
Shared values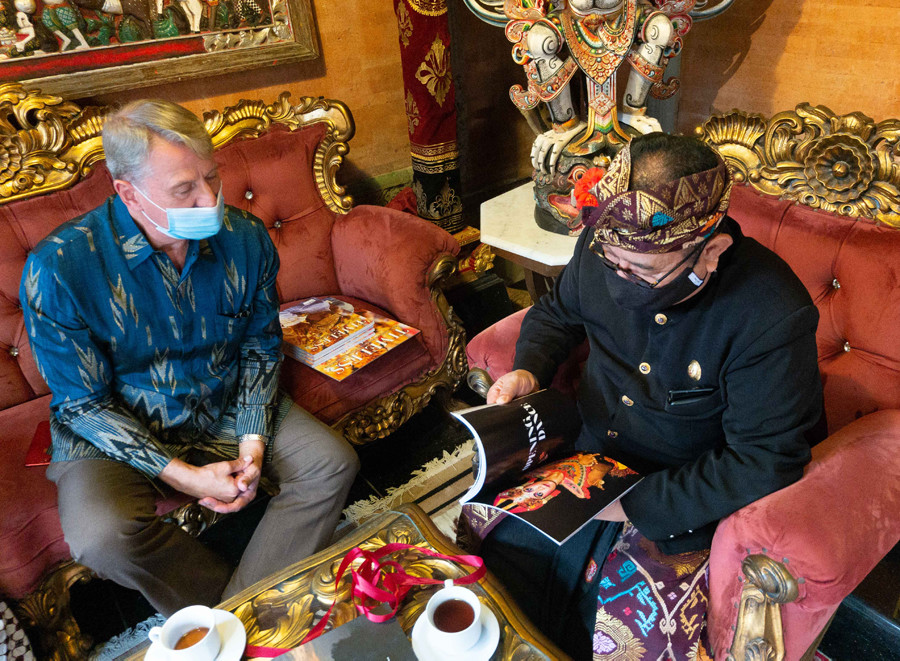 NOW! Publisher Alistair Speirs then shared the values of NOW! Bali with the Vice Governor, explaining that it has always been our mission to provide understanding of Bali's culture. Seeing that this is how 'value' and appreciation is created.
This in fact is the vision and mission of the new publication, TIMELESS Bali, where every feature and story is dedicated to culture, history, society and heritage on the island. Alistair Speirs then presented some of NOW! Bali's previous cultural books, to which the Vice Governor expressed keen interest in 'Dances of Bali' by Kartika Dewi Suardana, as he himself is a trained Balinese dancer, specifically trained to dance the role of Rangda.
Vice Governor Cok Ace, who contributed a welcome note at the start of the publication, ceremoniously signed a copy as well as a showcase front cover, before standing beside Alistair Speirs and the NOW! Bali team to show his support and appreciation for the work. NOW! Bali expresses their deep thanks to the Vice Governor for his time and support.
To find out more about this latest publication go to TIMELESS Bali.