Holidays or leisure time on the island will remain incomplete if you do not consider getting wet and wild with one of many water sports in Bali. We've put together a list that includes options for those after family fun or for the real adrenaline junkies. The water sports in Bali that we've chosen aren't your usual waters sports in Tanjung Benoa – we're looking for actual sports and experiences. From rafting down rivers to exploring the deep blue sea, these water sports in Bali are the deal!
11 Water Sports in Bali
---
Kite Surfing
This new sort of extreme sport combines wake boarding with windsurfing. It is like normal surfing with a kite added to the equation, which allows surfers to make incredible jumps that make them literally fly over those tough waves that are normally not easy to beat. With a few tough steps at first, the basics of kitesurfing can be learned quite easily in around a week. This is not one of those water sports in Bali you can just take up for the day of course, this is something you have to commit to for a few days.
Give yourself a few days to strengthen and practice what you have learned. For first timers, shallow water is the best spot to practise to avoid injuries. What you need to know before kitesurfing in a specific location is the wind statistics and wind forecast. Some surfers believe that strong winds can always bring some problems. Kite flying is already exciting enough, and when you combine it with another sport, it makes for an explosive ride on the water.
Rip Curl School of Surf
www.ripcurlschoolofsurf.com
---
Stand Up Paddle (SUP)
SUP stands for Stand-Up Paddle and is another way to enjoy the waves. Combine surfing with kayaking, this water sport activity is a full-body workout that improves your core strength, cardio fitness, balance and flexibility with virtually no impact. However, since no wave is needed, SUP or paddle boarding can be done on an ocean, lake, and even a river.
Therefore, it is suitable for all ages and fitness levels. In SUP, the key is not about how strong you are, but all about the technique. Unlike in surfing where you need to slightly bend your legs for better balance, here you simply need to stand with straight legs on the board and gaze ahead at the horizon. The boards come in larger sizes than the regular surf board, and are specially crafted to support a specific weight and keep the surfers balance on the water. When paddling on the board, most beginners' first instinct might be to focus on the arms.
Stand Up Paddle is available at many Water Sports in Bali, from Sanur to Tanjung Benoa.
Available at: www.ripcurlschoolofsurf.com | www.bali-standuppaddle.org
---
White Water Rafting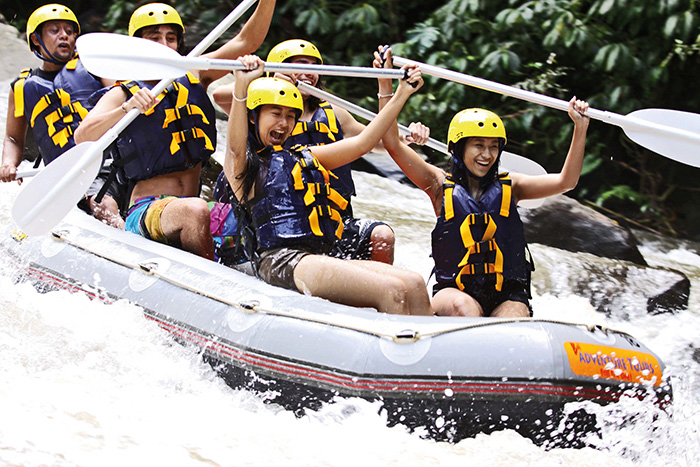 This outdoor activity uses an inflatable raft to navigate a river and is done on different degrees of rough water. Normally, the raft is occupied with 4 to 6 people and therefore the need for teamwork is part of the experience. Rafting requires the individuals on the raft to paddle in sequence and manoeuvre through the various waterways on the river. For some people, this adrenaline inducing activity can quickly become addictive.
Many rafters from all over the world put Ayung River in Ubud on their bucket list due to its fast-flowing and frothing waters running over huge rocks and through tight gorges. As easy and fun this may sound, please bear in mind to follow the safety procedures by wearing the necessary equipment required, such as helmets and life vests. Also, choose your level of difficulty based on age limit and the degree of one's physical stamina. Always go with a professional rafting guide who is familiar with the specific river.
Mason Adventures Bali
A : Jalan ByPass Ngurah Rai, Pesanggaran, Denpasar
T : +62 361 721480
W www.masonadventures.com
---
Free Diving
Freediving is a form of underwater diving that relies on divers' ability to hold their breath until returning back to the surface. This may sound like a simple water activity that requires no equipment whatsoever, however, you still need to be wary of the safety procedures.
In Bali you can learn to free dive and discover all the beautiful corals and fish around the island — it means you're free to swim without all the heavy scuba gear.
Take lessons now at this Free Dive Class in Nusa Dua: www.freedivenusa.com
---
Flow Boarding
This activity involves riding a stand-up board on an artificial wave machine that shoots out water at speeds of up to 48 km/hour over a padded surface. People always think flow boarding is surfing outside the ocean, but they are totally different to one another, from the techniques used to the structure of the boards. If you are a surfer, you know very well that in order to maintain balance you have to lean forward on the board.
Surf & Turf Beach Club
A : ITDC Nusa Dua, The Bay Lot C-0, Nusa Dua
T : +62 361 9388007
W : www.surfturfbali.com
---
Wake Boarding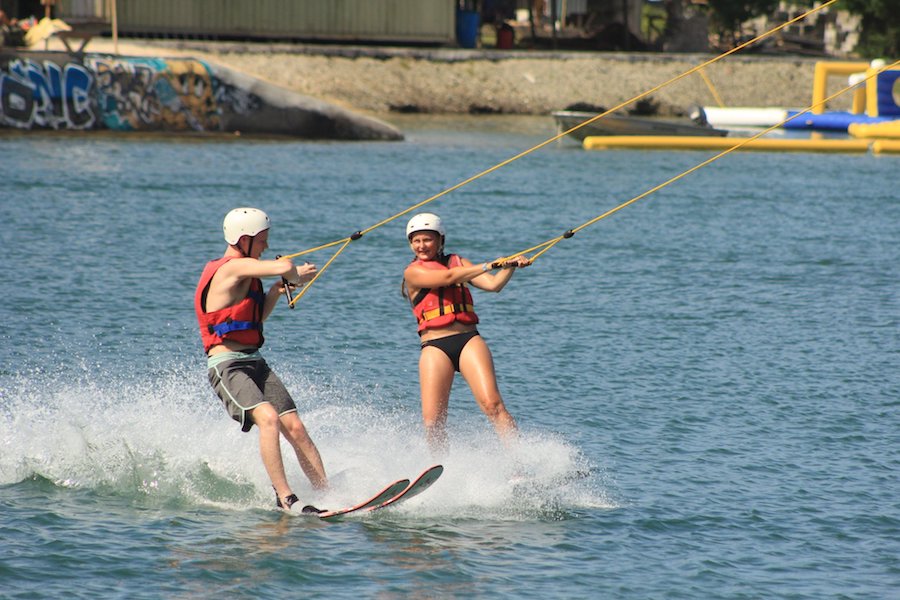 Newest to the scene of water sports in Bali is Bali Wake Park.
It occupies a massive 5-hectare area which has been sculpted into a lake measuring 600m in circumference. A sophisticated system of automated cables runs above the lake, simulating the traditional pull of a speed boat. The park caters for all abilities: beginners to pros! Pros, you'll be strapping up and heading for the ramps and rails peppered around the lake, too easy. Beginners, not so fast…
You'll likely start with the knee-board, so that you get used to the 'pull' of the cables without having to balance too much. It's an extremely fun way to get the hang of things and if you want you can just kneeboard all day. If you're up for the challenge though, upgrade to the wakeboard!
Bali Wake Park
Jalan Raya Pelabuhan Benoa No. 7x, Benoa, Bali
0361 8468866www.baliwakepark.com
---
TUBING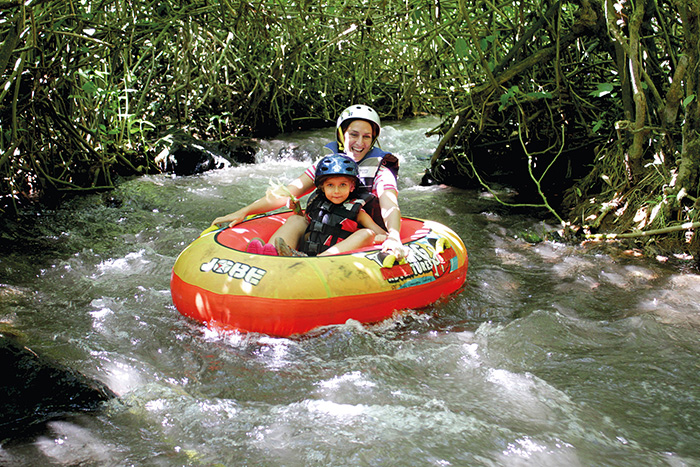 River tubing is a fun and exhilarating activity as you can drift down the river in your own inflatable tube through the virgin wilderness in an idyllic stream hidden inside a secret canyon. In Bali, Siap River is one of the best spots for this friendly activity. Practically, no significant effort is required for you to make. Not even to paddle the tube. You simply need to sit on the tube and let the river current take you downstream leaving you to soak in the surroundings. If you are lucky enough, you might spot monkeys or rare birds nestled in the treetops.
Bali Quad Discovery Tours
A : Jalan Wirasatya VI / 4X, Suwung Kangin, Denpasar
T : +62 811 3800046
W : www.baliquad.com
---
Aqualand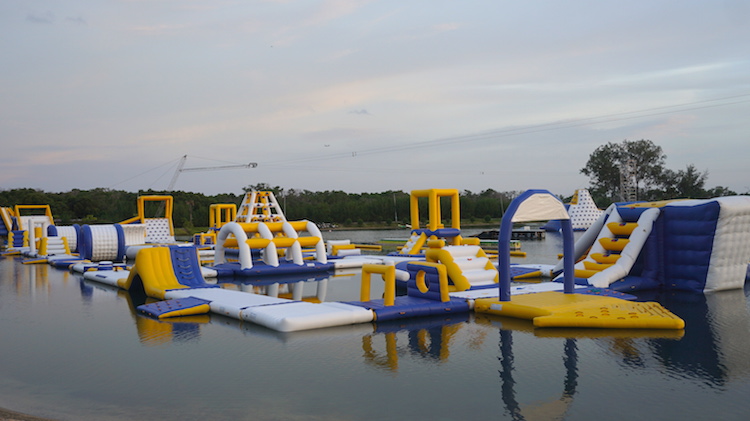 Here's another one for the whole family, also found at Bali Wake Park. This may not be one of your conventional water sports in Bali but Aqualand has proven to be lots of fun for everyone. A massive inflatable playground has been set up here and strapped in your life vest you slide, slip, jump and run along it trying to get to the other side.
Bali Wake Park
Jalan Raya Pelabuhan Benoa No. 7x, Benoa, Bali
0361 8468866www.baliwakepark.com
---
Swim with Sharks
How about a swim with the sharks? Of course, it isn't actually dangerous; Bali Sharks is a conservation nursery for young sharks here in Bali. Through this eco-tourism focused experience, they want to bring people closer to the usually feared sharks, whilst also save these creatures from being killed for food or simply out of fear. Jump into a tank with shark pups, get up close and personal with these predators of the sea. Your experience of course helps to fund Bali Sharks' conservation efforts as well.
Bali Sharks
Jalan Tukad Punggawa, Serangan Island
+62 361 9965101
www.balisharks.com
---
Snorkelling
It's a shame not to look below the surface of the water when you're in Bali, as a different world exists there. Snorkelling can be done and seriously enjoyed in many areas of the island, but the very best are east and off the coast! Up the eastern shorelines, stop by Bloo Lagoon in Padang Bai for family-friendly snorkelling, or further North in Amed where corals and marine creatures teem with life. Across the waters, on the islands of Nusa Lembongan and Nusa Ceningan, combine a day out at sea with snorkelling better than you'll find around the waters of main land Bali.
---
Diving
For those who want to plunge deeper still into the depths of the ocean will enjoy the divingopportunities Bali has in store. From the Japanese and American (USS Liberty) shipwrecks of Tulamben, to manta ray diving around Nusa Penida, or searching for the giant mola-mola sunfish, the eel gardens, – there are so many exciting dive sites! Of course, we suggest using a local (and reputable!) dive centre, like Bali International Dive Centre, as they will know where is the best place to dive and when is the best time, an important factor too. Changing conditions and poor quality standards are a dangerous combination, so make sure to make a safe option if you choose to explore the underwater world.
Bali International Diving Professionals
Jalan Blanjong I, No 333, Sanur
+62 361 270 759
www.bidp-balidiving.com