There's little point coming to a paradise island like Bali if you're not spending some time outdoors. Hiking a volcano to chase sunrise, picking vegetables for a cooking class, there are so many ways to immerse yourself in the island's natural surroundings. However, for those nature lovers with a more daring soul, there's one activity that's a must: white water rafting in Bali ! 
White Water Rafting in Bali 
White water rafting in Bali famously takes place on the majestic Ayung River, the longest river on the island. Located in Kedewatan Ubud, the Ayung stretches 75 kilometres from the northern mountains to the Badung Strait at Sanur. The river serves turbulent, rocky waters and small drops in the dry season, but poses no substantial threats.
In the rainy season, the water level rises and so does its International Scale for River Difficulty. For thrill seekers, its definitely a better time to hit the rapids, but you'll be needing your manoeuvring skills to manage the medium to large waves and sharp bends. Of course, with that, safety should also be the utmost priority.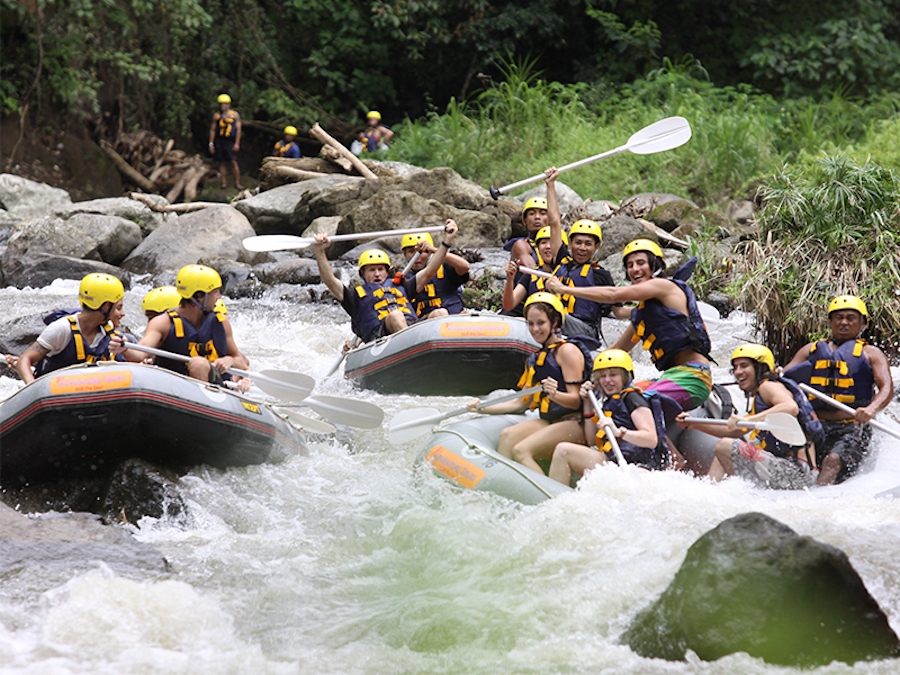 When it comes to rafting and tours, Mason Adventures have excelled for years. Previously established as Bali Adventure Tours, they are the pioneers of Bali's adventure industry. Safety has always been a keyword for them, with luxury coming a close second.
In all honesty, there are countless rafting companies out there, navigating a different stretch of the Ayung River. But when it comes to things like safety and hygiene, especially for an adventure activity like rafting, why take a risk?
Mason's offers a 5-star experience, with everything from well-kept changing rooms, fresh towels, hot showers, electronically secured lockers, top of the range equipment and well-trained guides removing any of the potential worries people might have. The company went as far as constructing two impeccably built flights of stairs from the top to the bottom of the gorge to make sure their guests would be safe.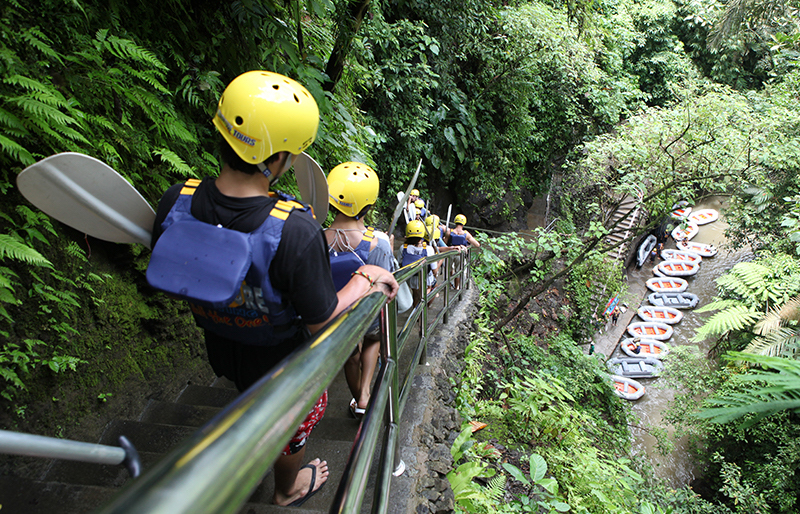 Health and safety covered, what's equally as important is of course the rafting experience itself! The tour is Bali's longest, where you'll be navigating 12km of the river. Now the Ayung is not just famous for its length, it's also famous for its beauty.
From the river you'll be surrounded by towering gorge walls, covered in 'Jurrasic-esque' vines, ferns and other vegetation that crawl their way to the top. Ancient trees, at times sheltering Bali's infamous monkeys, line the river banks, and countless waterfalls spill out to fill the river's waters. It's a view you could only ever enjoy from the river itself.
You won't be enjoying the views the whole time though, because you'll be paddling hard to navigate rapids and rocks, hanging on as you slide down drops and, on top of all that, you'll be participating in many water wars! That's right, it's every boat for itself on the Ayung, as you and your neighbouring boats part-take in splash fights all the way down. Oh and don't think the guides are any better, they'll make sure you're soaked by the time you're finished!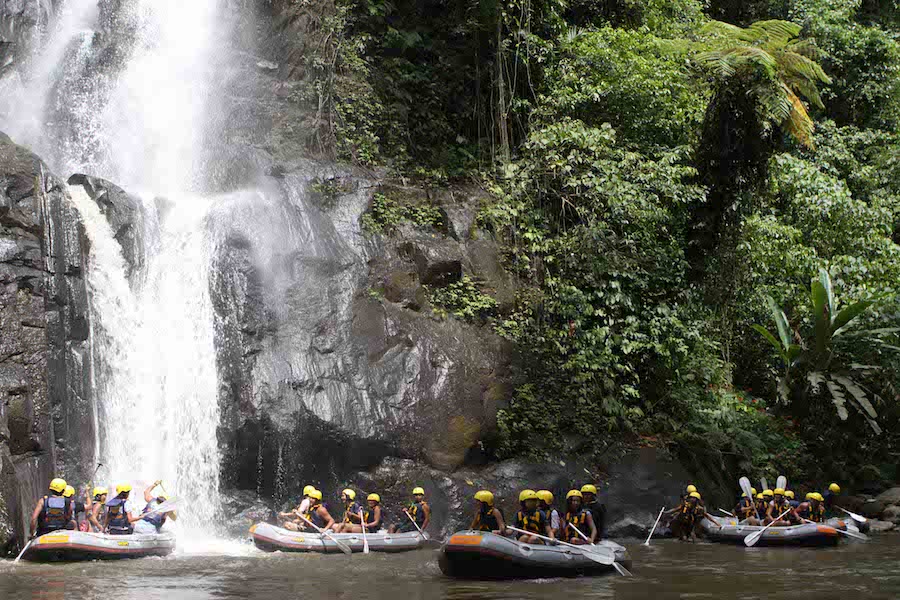 Other than lush greenery, make sure you stop by Ayung Resort's stunning wall stone carving – a definite photo-op not to be missed.
When the rafting's all said and done, you'll be able to freshen up with a hot shower back at the Mason's Ubud Adventure Centre. After which you'll refill your tanks with a gourmet lunch that comes as part of the tour.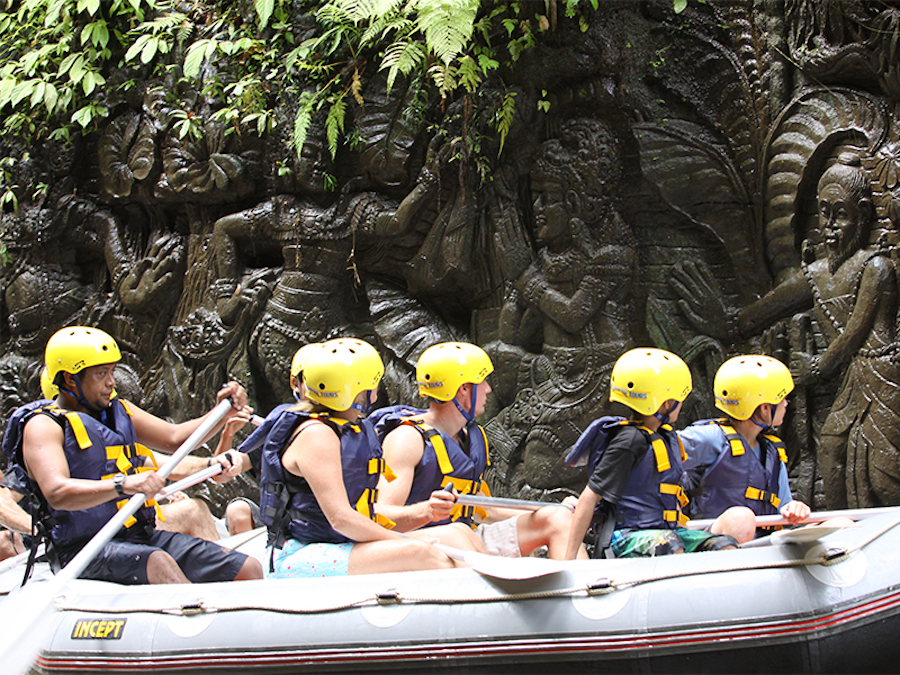 Finally, for those who are eco-conscious, you'll be happy to hear that Mason Adventures takes pride in being a corporate citizen. They are the only company that holds regular river cleanings (twice a month) as an initiative to keep the Ayung River plastic-free. Make sure to bring your own water bottle on the day!
Mason Adventures welcomes those aged 5 to 65 years old to join their white water rafting. Those who don't fall into the category may join at their own risk, as they will not be insured with an Emergency Accident Insurance from the company. There are two slots per day, morning and afternoon, and you can even bundle your day with another adventure, such as visiting the Elephant Park or jumping in one of their Jungle Buggies!
Mason Adventures Bali
Jalan Raya Kedewatan II, Ubud
+62 361 898 9777
www.masonadventures.com