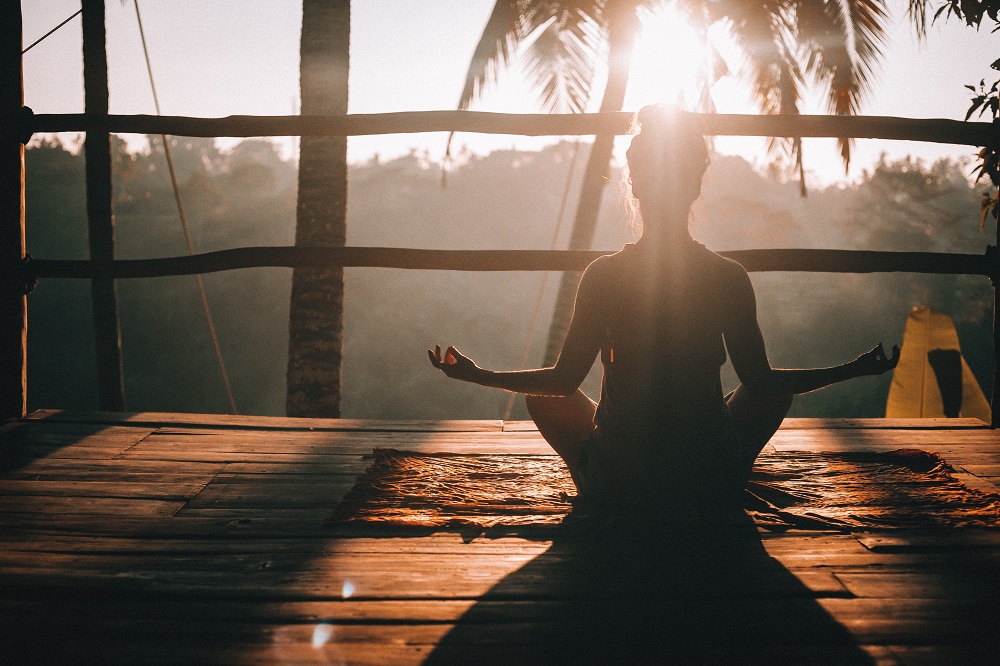 Ubud is renowned as one of the most coveted health and wellness epicentres in the world, where we see countless visitors come each year seeking to achieve ultimate physical, mental and emotional well-being. From wellness retreats and holistic healing centres to yoga sanctuaries and healthy dining destinations, visitors of Ubud will find whatever it is they are looking for. Ubud is also popular with yoga enthusiasts, from beginners to experienced yogis, here we list down some of the most renowned Ubud yoga centres, offering a diverse range of yoga classes led by professionally trained instructors.
---
The Yoga Barn
Tucked in the bustling downtown Ubud, The Yoga Barn is a welcoming tropical sanctuary that has been a pillar for the yoga community since its humble beginnings back in 2007. The spirit of The Yoga Barn is fundamentally anchored by their respect for Balinese culture and spirituality, plus Ubud's ancient healing roots.
As a direct response to the demands of students and fuelled by the passion and positive intentions of the team, The Yoga Barn's expansions since its establishment have made them into a global yoga epicentre, making it one of the most well-known wellness and yoga centres in the world, a place for learning, self-discovery, wellness, healing, rejuvenation and inner-transformation. The minds behind The Yoga Barn are also responsible for one of the biggest yoga festivals in the world held annually in Bali, the BaliSpirit Festival.
Equipped with 7 studios, The Yoga Barn holds over 100 classes every week, from meditation, dance, healing, satsangs and seminars, health and wellness sessions, spa treatments, and a vast selection of yoga classes. The studios are famed for their tropical environment, which fosters an 'in nature' connection, where the yoga classes are led by expert residents or visiting international teachers, making it a great destination for yoga in Ubud.
As one of the most renowned Ubud yoga centres, several of the yoga classes available include Traditional Hatha Yoga, Morning Flow, Yin Yang Flow, Kundalini Yoga, Yoga Therapy, Hatha Flow, Power Yoga, Vinyasa Flow, Yoga with Weights, Beginners Yoga, Gentle Yoga Stretch, Yin Yoga, Fly High Yoga, Strong Flow Yoga, Empowerment Flow, Thai Yoga Massage, Yoga for Your Chakras, Restorative Yoga, Acro Yoga and so much more.
+62 811 398 3789 | theyogabarn.com
---
Sacred River Spa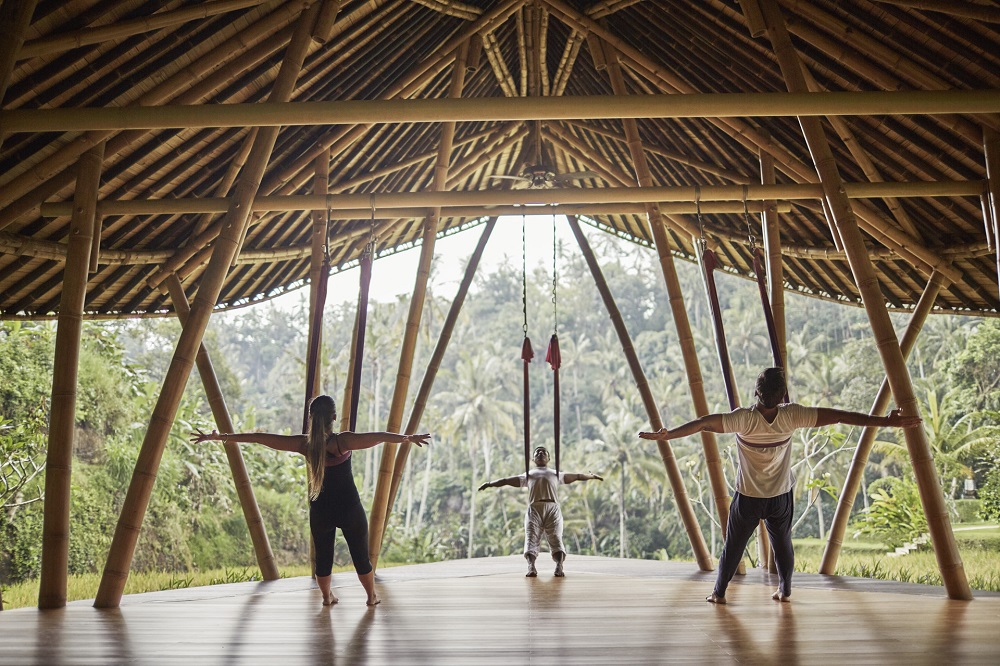 Those seeking a yoga experience immersed in nature should head to the Sacred River Spa, one of the most luxurious Ubud yoga centres, at the enchanting Four Seasons Resort Bali at Sayan. As its name suggests, it is found deep within the Ayung River valley, along its sacred banks, surrounded by rice fields and jungle. In this serene and nurturing environment is Dharma Shanti Bale, the resort's tropical yoga pavilion.
Led by professionally trained instructors, the resort offers a variety of dynamic yoga programmes for different purposes. The 60-minute Yin Yoga is designed to increase the elasticity and mobility of connective tissues and is a slow, gentle practice that is suitable for all levels. The Chakra Yoga offers seven classes, each targeting one of the key energy centres located along the spine to restore balance and harmony from the inside out.
One of the highlight classes is Antigravity Yoga, a dynamic 'flying' practice that incorporates athletic strength with the motion of dance in a session that lengthens the spine and improves flexibility. They use custom-designed Harrison AntiGravity® Hammocks to safely support bodies of all ages and abilities.
Those wanting to bathe in moonlight and channel the force of the universe can partake in the Full Moon Yoga, while the Restorative Hot Stone Yoga utilises hot stones collected from the Ayung River placed on the body as static, fully-supported poses are held to further target the muscles and ease layers of tension.
Power Yoga is a strong physical exercise that combines breathing exercises, dynamic sun salutation and flow movement of yoga to enhance metabolism, burn calories and contour the body. For a unique exercise, Laughter Yoga merges the freedom and health benefits of laughter with yogic breathing (pranayama) and asanas (poses). Additionally, Hatha Yoga and Easy Yoga classes are also available.
Book your next yoga session at one of the most luxurious Ubud yoga centres.
+62 361 977 577 | fourseasons.com/sayan/spa/yoga
---
Alchemy Yoga & Meditation Center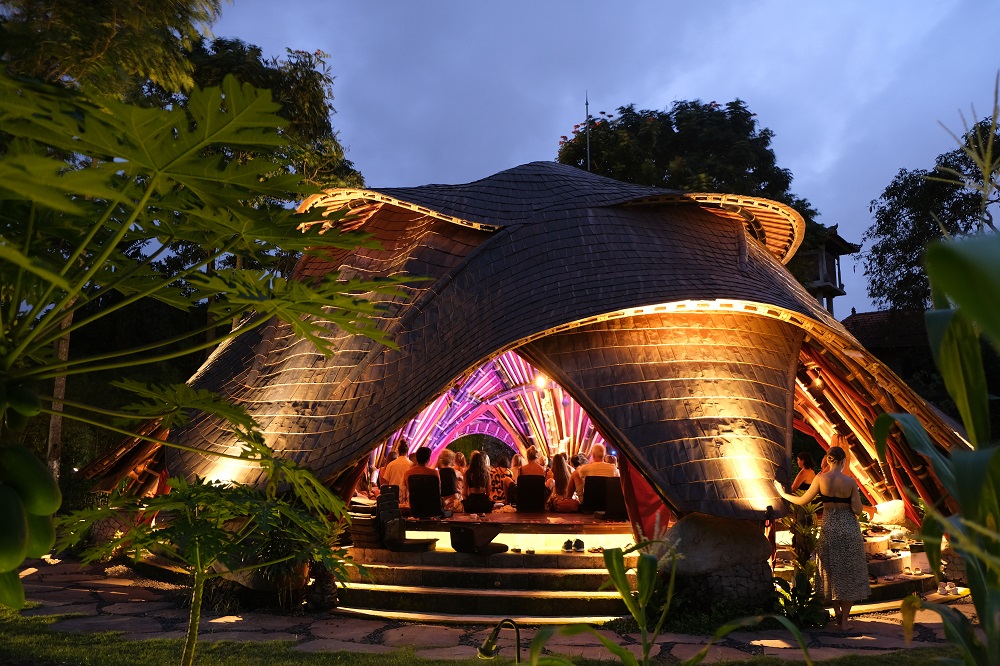 Wellness practitioners seeking a holistic experience can find solace in one of Ubud's newest yoga destinations, Alchemy Yoga and Meditation Center (AYMC), found in Penestenan. This wellness hub has been created to accommodate those seeking more than just yoga programmes but a health-giving experience that encompasses the body, mind and spirit.
Established in June 2022, Alchemy Yoga and Meditation Center is a sanctuary in which to study, practice and participate in community. Their exquisite bamboo Yoga Shala is designed by IBUKU a Bali-based sustainable design architecture firm, which is surrounded by a permaculture food forest, managed by the Kul Kul farm at Green School Bali, which helps supply organic food to Alchemy Restaurant. All aspects of the healing process are thus present.
As the latest addition to Ubud's yoga industry, this yoga sanctuary offers a vast range of services to visitors, from yoga classes for all levels to meditation, sound healing and holistic wellness. Daily classes are associated with elements of earth, water, fire, air and ether, along with presenting a practice called Krama, a class featuring a distinctive set and progression of postures. Each class type offers students a unique approach to the practice, which is suitable at different times for varying experience levels, daily energy or personal preference.
The instructors are highly certified within industry standards and deeply immersed in their practice and craft to ensure students enjoy a memorable experience. If you're looking to join yoga in Ubud, ACMY should be on top of your list.
+62 812 2837 5036 | ashton@aymcbali.com | alchemyyogacenter.com
---
Ubud Yoga Centre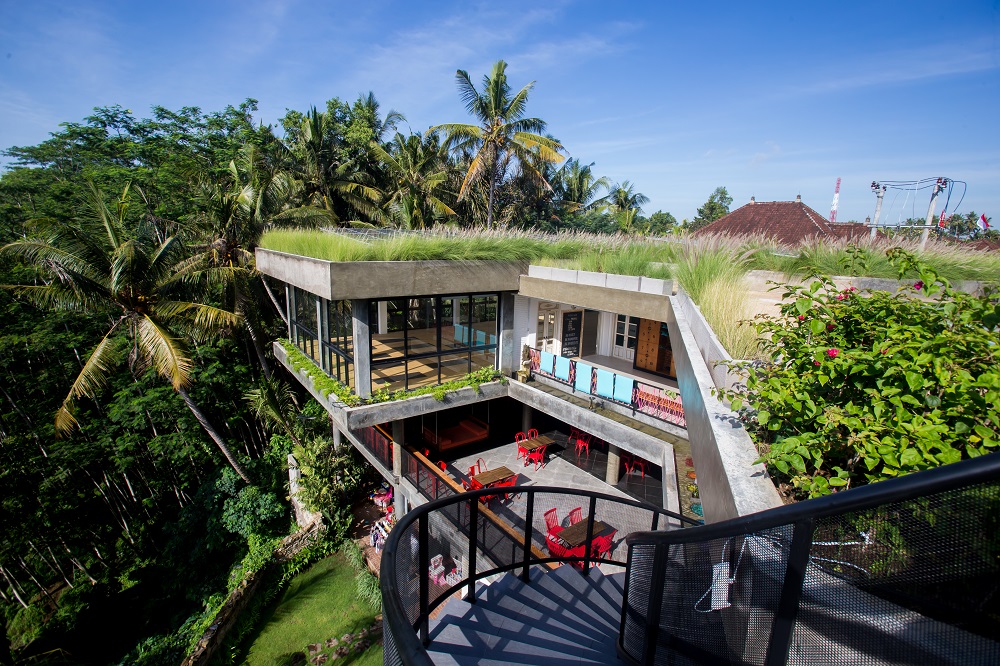 Situated only a five-minute drive from Central Ubud in the quaint area of Nyuh Kuning, is Ubud Yoga Centre. A top pick for yoga in Ubud, this expansive, three-storey compound is a destination meeting many needs, featuring a multifunctional yoga shala, Paiste gong centre, kids centre, gift shop and a café winebar.
The building was designed by one of Bali's most prolific international award-winning architects, Popo Danes, with a dedication and passion for the environment. Ubud Yoga Centre features three modern, clean and naturally lit yoga rooms, with infrared and air-forced heaters, air conditioning, barre, hammocks for aerial yoga and paiste gongs all available. On the third floor sits the largest yoga shala, offering views of the surrounding valley in all directions and a gentle breeze through the open windows.
One of the best Ubud yoga centres, this establishment features different rooms and many facilities, it's a one-stop shop for all things yoga. You'll find a variety of classes including Bikram, Hot Barre, Ashtanga, Yin, Hatha Yoga, Kids Yoga, Vinyasa and more. Open to all ages, their classes welcome practitioners of different fitness levels wanting to get a taste of the joys of yoga. Visitors can also rent mats and towels if they didn't bring their own.
+62 361 981 782 | ubudyogacentremanager@gmail.com | ubudyogacentre.com