Ever wanted to feel like Lara Croft or Indiana Jones? Adventuring through many landscapes and terrains, going off the beaten track, cascading down rivers? Well, Bali's great outdoors offer many experiences for adventure.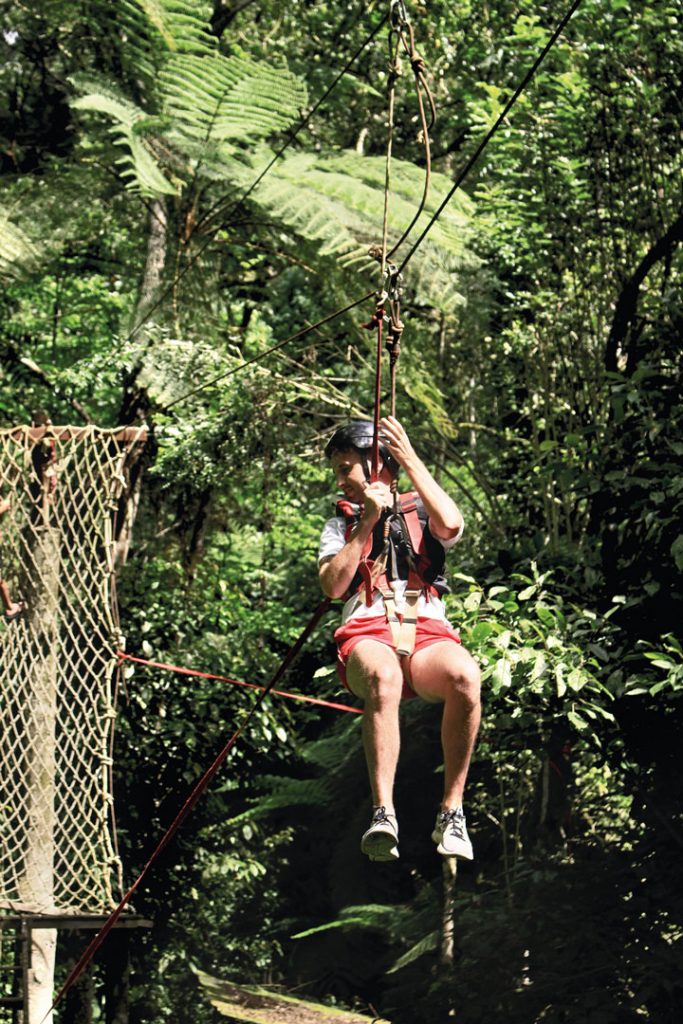 Bali Quad Discovery Tours offers a variety of ways for you to venture through Bali's wild terrain, including quad biking, buggy rides and canyon tubing . With Bali Quad you'll navigate through rice fields, plantations, jungles, mud tracks, river rapids and on top of it all observe the authentic, traditional everyday life of Kerta Village residents.
Whatever experience you opt for, you're signing yourself up to a full-day adventure in a hidden gem of a location outside Ubud. Before any of their activities though, you'll be shown instructional videos to show the ropes and the dos and don'ts, making sure that you and everyone taking part sticks to their safety procedures. Yes, this is a must, as all activities and facilities at Bali Quad Discovery Tours comply to European safety standards. After all the formalities, its onto the adventure.
First up: Canyon Tubing.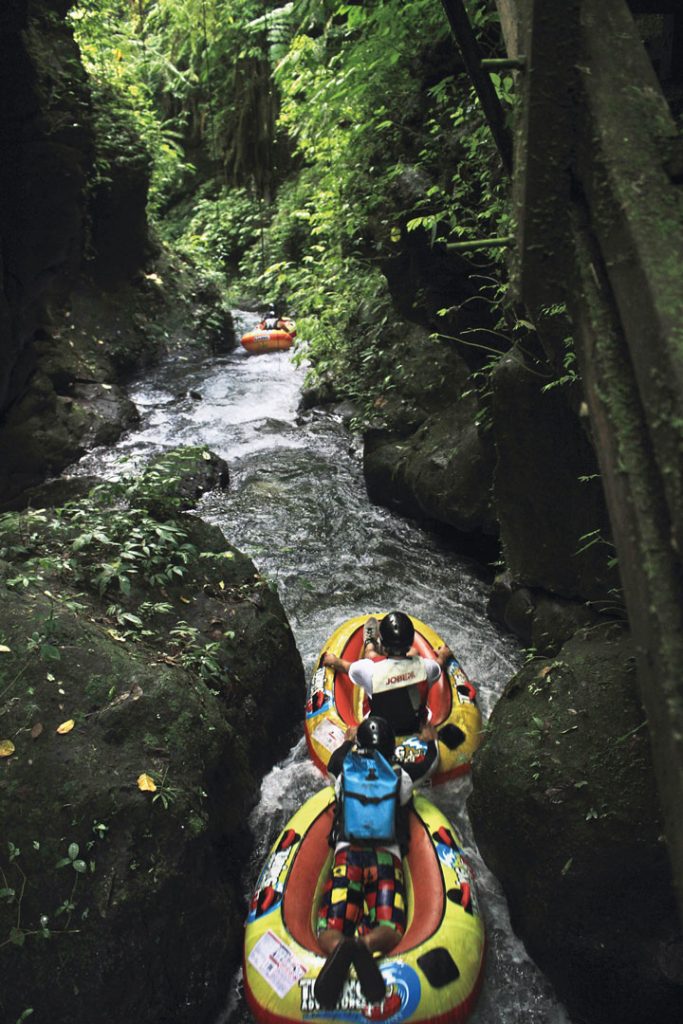 This is a one-man ride, though you'll have your very own designated guide to ensure a smooth journey. Before the fresh water frenzy commences, you'll get the chance to skip a series of steps down to where Siap River awaits, and descend via the zip line. There's no better way to kickstart the adrenaline than going down like a flying fox.
In your own inflatable tube, you'll make your way through a secluded canyon, through the virgin wilderness in an idyllic stream on an approximately 90-minute voyage. You don't need to be a swimmer, the stream is shallow with an average depth of 40 cm to 50 cm. The Canyon Tubing tour is not an extreme adventure and people of all ages (starting from 5 years of age) can join. Though you need to be in good physical condition.
Imagine your favourite waterpark's 'lazy river' but tucked in pristine nature with rapids, unexpected dips, and cold streams to keep you fresh and excited – as well as uninterrupted scenes of wildlife. It's a mixture of an adrenaline rush and complete tranquility, a mixture of "Wooh's!" And "Ahh's". If you're lucky, you will also catch a glimpse of monkey troops in action – or relaxation. A definite rare sight to see is the striking flora and fauna. We mean majestic singing birds, rare bird nests on treetops, vibrant butterflies and blooming flowers.
Once you have reached the finish line, you'll get escorted back to the basecamp on a quad bike. Say no thanks to torturous stair climbing before or after the tour! At the Bali Quad basecamp, you will be greeted with coffee or tea, lunch, and a hot shower.
Next: Quad Bike and Buggy Ride.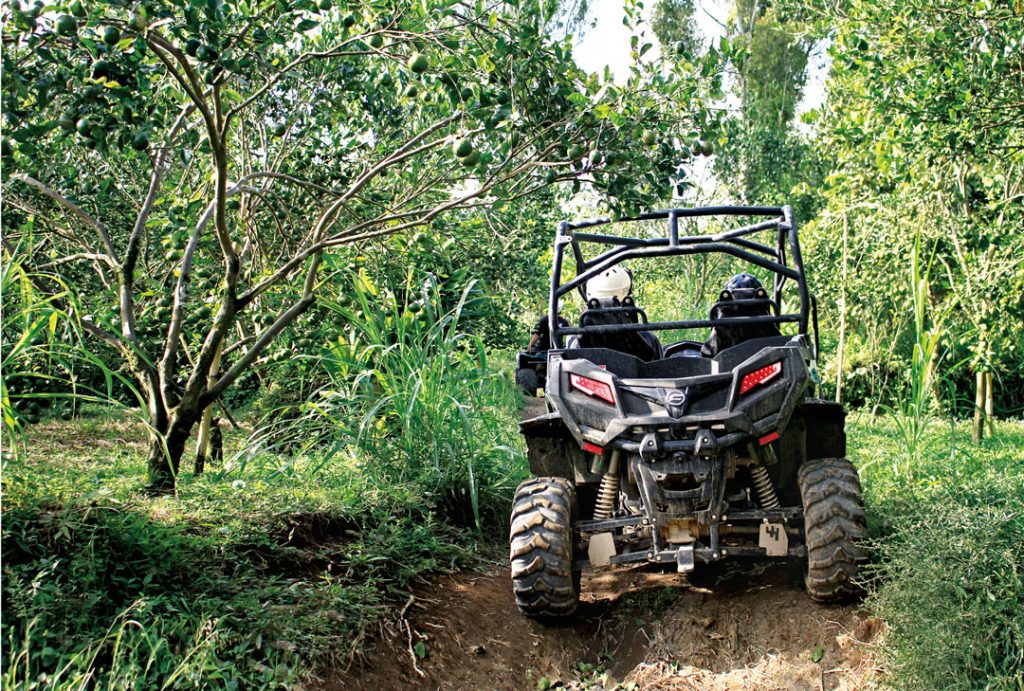 Here's where the real adventure begins. You'll drive your own quad or powerful 4×4 buggy through Bali's most authentic corners and traditional villages and jungles on muddy trails. It's the perfect off-the-beaten-path experience for thrill seekers and culture lovers. You'll make the most scenic pit stops on high hilltops, a temple overlooking the village, and fields of oranges. It is a definite Lara Croft moment for you adrenaline junkies and riding around the natural environment and picturesque panorama is without a doubt a memorable experience.
The off-road adventure is accompanied by experienced guides, meaning all eyes are on you when you are out there – so let your hair down and have fun! The vehicles are fully automatic and easy to operate, but if you prefer, you can ride as a passenger with somebody from your group or one of the Bali Quad guides. Also, groups will be split up into different groups, based on driving skill, to make sure that each tour is catered to your liking.
With nearly 20 years of experience, Bali Quad Discovery Tours is one of the adventure pioneers in Bali dedicated to showing you the authentic parts of the island with an adventurous approach. Aside from European standard safety, good food, clean facilities, and unique sightseeing tours, Bali Quad Discovery Tours is committed to taking care of the village that the tours are based in. They are actively involved in local projects to continue to improve the quality of life of the local residents.
Their tours are inclusive of free transportation (pick up and drop off), snacks, lunch, safety gear, impeccable service and attentive staff. You will also need to sign a safety insurance form.
Bali Quad Discovery Tours
Payangan, Gianyar
+62 361 720 766
www.baliquad.com