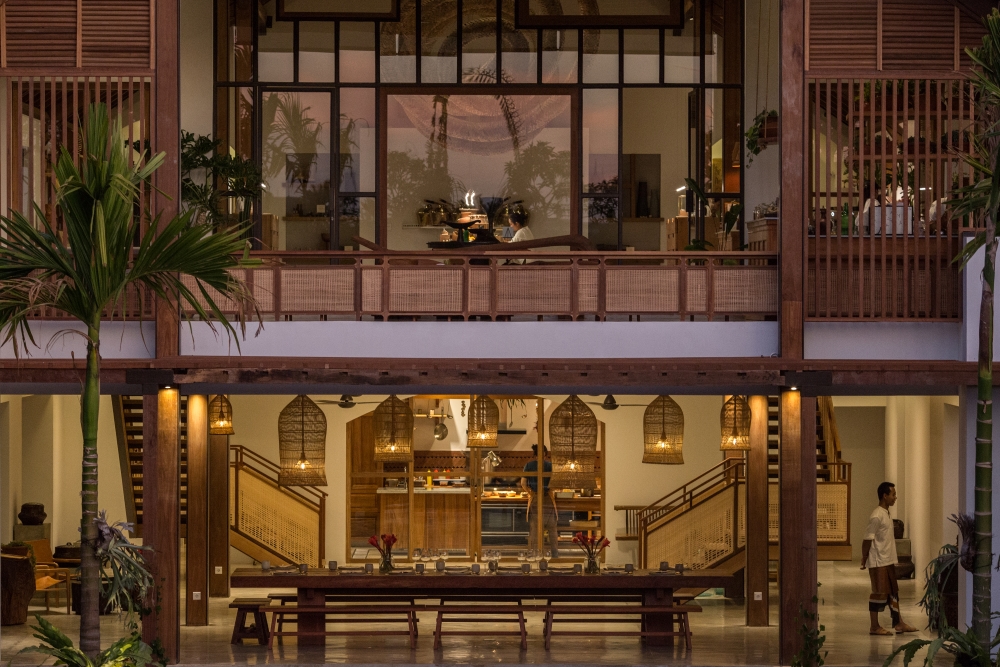 The John Hardy Boutique & Gallery in Seminyak is celebrated not only for its globally renowned artisan jewellery collection but also as a leisurely destination with an exceptional array of culinary delights. They've now unveiled revamped menus, dining experiences and cocktail menus, offering guests a truly unique dining experience on the island.
Recognised for its sustainable luxury jewellery and meticulous craftsmanship, the John Hardy brand embraces a philosophy rooted in the preservation of traditional skills and local culture. This same ethos is extended to the dining approach at the stunning two-storey John Hardy Boutique & Gallery in Seminyak. Executive Chef Tomy Saputra, resident mixologist Yudi Permana, and the team at John Hardy welcome guests to revel in the new menus and revamped cocktail menu.
From their signature Long Table Lunch to the all-day Sharing Plates prepared every day in The Kitchen, the innovative traditional health elixir-inspired concoctions from The Jamu Bar, the leisurely Sunset Picnics in the establishment's gorgeous terraced garden, to the sweet and savoury Kudapan bites, their food and beverage programme offers unique experiences beyond ordinary dining.
The All-Day Dining from the Kitchen and Sunset Picnics
While special programmes such as Kudapan and The Long Table Lunch require a one-day advanced booking, guests looking to drop in for a bite or sip can indulge in an eclectic all-day menu of shared plates, beverages, and craft cocktails, available daily for walk-in guests.
Unwind in the beautiful terraced garden overlooking the temple and enjoy a cup of artisan coffee or specially blended tea, head to the lower-level gallery for a sumptuous Long Table Lunch, or tuck in the cosy picnic set up for sunset cocktails and shared plates, every dish on the menu draws inspiration from the archipelago's wealth of culinary heritage.
The Sunset Picnics invites guests to recline on traditional straw meats embellished with pillows under terracotta umbrellas, where they can savour invigorating cocktails and tantalising food from The Kitchen's all-day menu and the Legends menu, inspired by John Hardy's signature jewellery collection. Try out signature dishes such as Nasi Lawar (grilled local beef, Balinese daikon, moringa soup, steamed jackfruit 'tum wrapped in banana leaf, grilled on an open flame with chicken satay and sambal matah) and Nasi Goreng Tungku (made with heritage rice from Tabanan, cooked in a traditional terracotta pot with smoked mushroom, leek and house-made 'Sambal Roa', served with fresh seafood, cured egg, and traditional pickle on the side).
For sharing, the new menu for the Sharing Plates offers lighter bites such as Tuna Tartare Magelang (arak-infused tuna tartare with shallots, green tomato, sour starfruit and fermented Balado sauce, served on tempura beetle leaf. Part of the appeal of the experience is sourcing uncommon ingredients such as lontar sugar and cold-pressed coconut oil, pickling, fermenting, crafting signature sambals and sauces, and serving every dish in locally-made artisanal ceramics.
The Legends & All-Day Sharing Plates Menu starts from IDR 50,000++
Special Jamu-Inspired Cocktails for Sunset Picnics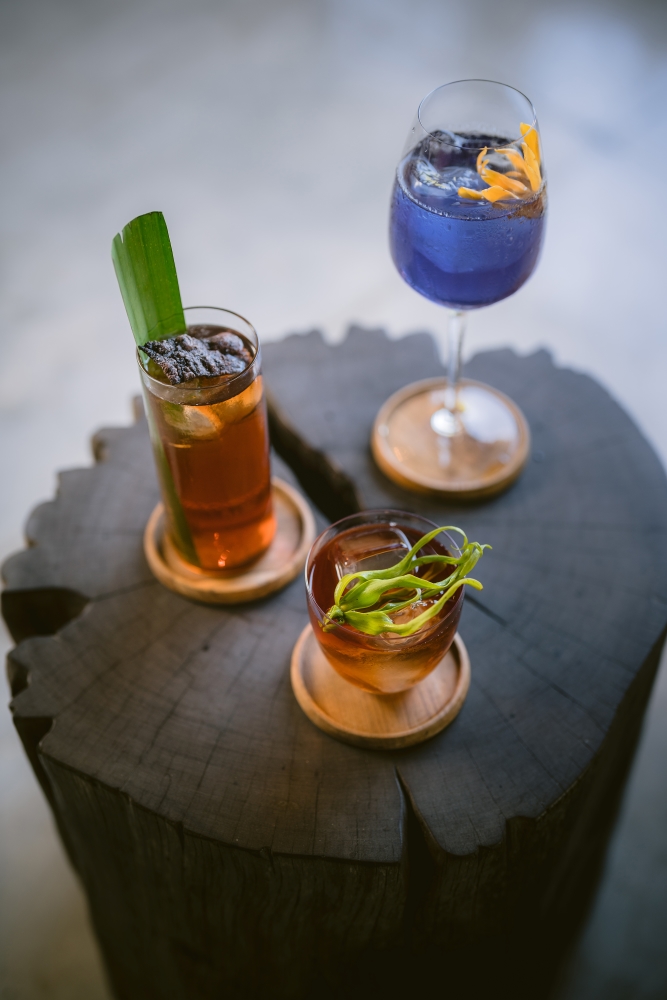 If you've never tried The Jamu Bar's unique cocktail menu, then you're in for a treat! They also have special cocktails crafted exclusively for the Sunset Picnics. Several new highlights on the menu include clarified cocktails infused with local flavours such as Nangka (inspired by Arak with jackfruit and soursop) or the Kalimantan Calamansi Fizz (made using citrus gin, passionfruit, Prosecco, and lemon jello). These new cocktails complement the existing Jamu-inspired cocktails that you can enjoy with or without alcohol.
The Jamu Bar Inspired Cocktails start from IDR 55,000++
The Jamu-Inspired Special Cocktails for Sunset Picnics start from IDR 120,000++
Sunset Picnics are available Friday to Sunday, from 4pm – 7pm. No bookings are required.
The Sweet and Savoury Kudapan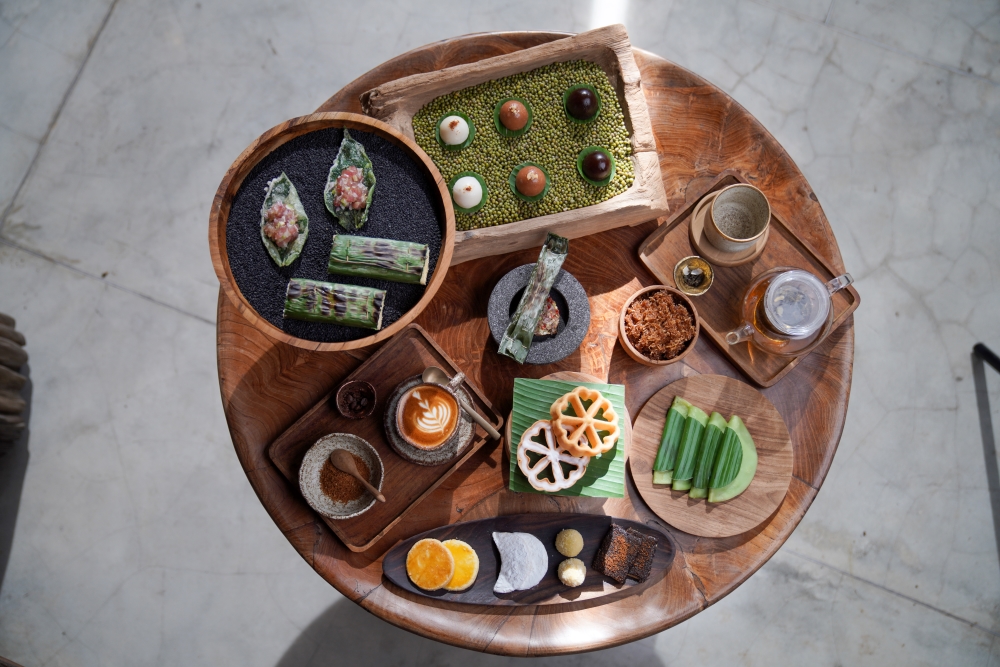 The Kudapan experience draws inspiration from traditional Indonesian households, where they'll prepare special bites for festive occasions, a series of local snacks known as 'kudapan' that are commonly prepared to be shared with friends and neighbours.
The experience starts with cookies or 'Biskuit', traditionally served with tea. This is how we traditionally greet guests as a gesture of welcome before the savoury dishes are served. Then, indulge in an array of savoury bites including tempura betel leaves topped with tuna tartare and toasted sandwiches wrapped in banana leaf and filled with smoked beef and homemade pickles. You'll then be served with a surprising jamu-inspired palate cleanser with the Dadar Gulung (coconut pancakes) before a platter of sweet delights from John Hardy's Hung Kwee collection, flavourful homemade jellies. Enjoy these scrumptious offerings perfectly paired with tea, coffee or signature cocktails.
The Kudapan Menu is priced at IDR 225,000++ per person.
Served daily from 2pm – 5pm with one-day advanced bookings required.
The Signature Long Table Lunch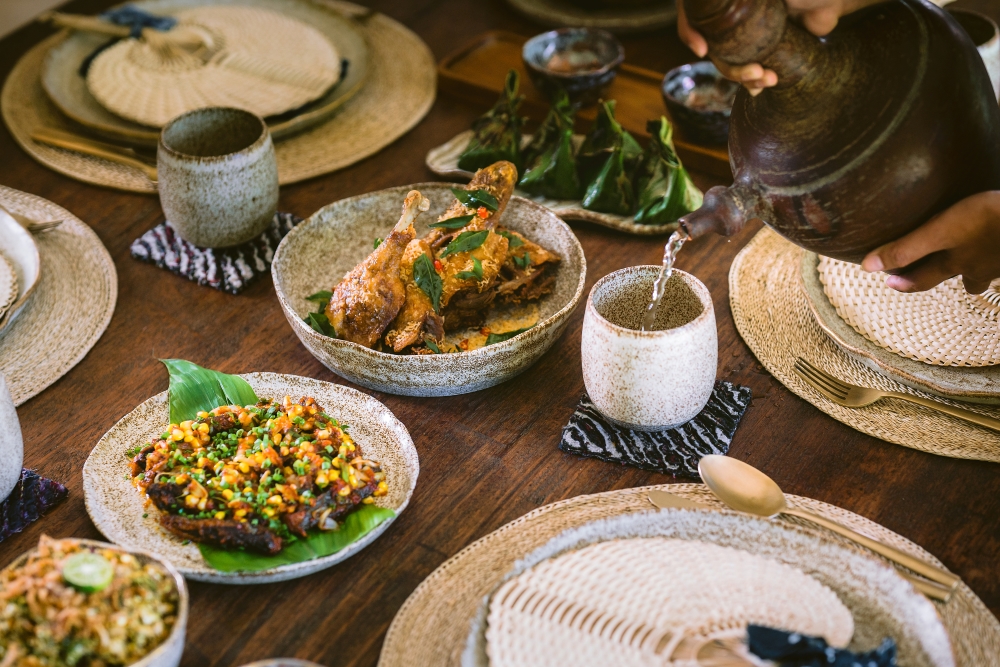 The Long Table Lunch originated from the flagship John Hardy in Mambal, which is brought over to the Seminyak outlet since it opened. Offering a monthly rotating set menu, the lunch includes tea, coffee and dessert. The recipes are sourced from across Indonesia's rich archipelago and enjoyed family-style around the long table that can accommodate from 2 up to 24 guests. The Long Table lunch presents a unique communal experience to guests, especially those new to the island. Each dish is prepared traditionally, using time-honoured cooking techniques including the traditional grilled fire with coconut husks. An assorted selection of sambals and kerupuk (crackers) accompany each meal, while local desserts such as the Es Campur are prepared and served tableside.
The Long Table Lunch Menu is priced at IDR 390,000++ per person.
Served daily from 11am onwards with one-day advanced bookings required.
John Hardy Seminyak is open daily from 11am – 7pm.
For more information or reservations, please call +62 361 9344 244 or WhatsApp at +62 811 3811 8004
John Hardy Boutique & Gallery Seminyak
Jl. Raya Petitenget, Seminyak
+62 361 9344 244 | +62 811 3811 8004
seminyak@johnhardy.com
johnhardy.com