It's hard to imagine that an island like Bali requires its own island escape, but it exists! The three 'nusas' (islands) of Nusa Penida, Nusa Lembongan and Nusa Ceningan serve this purpose exactly; each island presents they're own sights and thrills and have become day-trip, weekend or even outright holiday destinations.
Surrounded by azure waters and white sand beaches, Nusa Lembongan is small (6.5km2), but makes it for an idyllic island getaway. It's great for families and couples especially, where laid-back hotels and villas look out to open waters, and nature and traditional life dominate the surroundings.
Contents
• How to Get There
• Activities and Attractions (Beaches, Devil's Tear, Mangrove Forest etc)
• Accommodation
• Lembongan Day Trip
---
You can also explore Nusa Penida and Nusa Ceningan.
---
Getting to Nusa Lembongan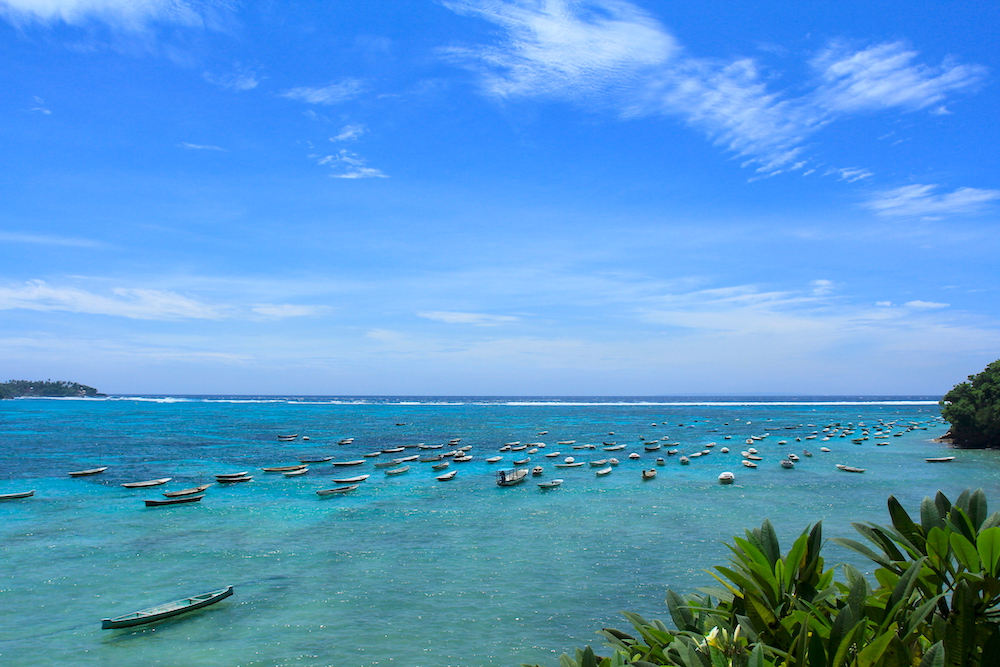 Found off of Bali's Southeast coast, approximately 12km away, still part of the Klungkung Regency, Nusa Lembongan is a mere 40-minutes away on a fast boat, most often departing from the Sanur Harbour or in some cases – like for the Bali Hai Cruises – from the Benoa Harbour.
The fastboats to Lembongan either dock at the harbour on Jungut Batu Beach, or at Mushroom Bay.
The best way for a family with kids to navigate around the island is hiring a golf buggy or even a truck, driver included. If you're handy on scooter, then this is also a fun, care-free way of exploring.
---
What to See and Do on Nusa Lembongan
Beaches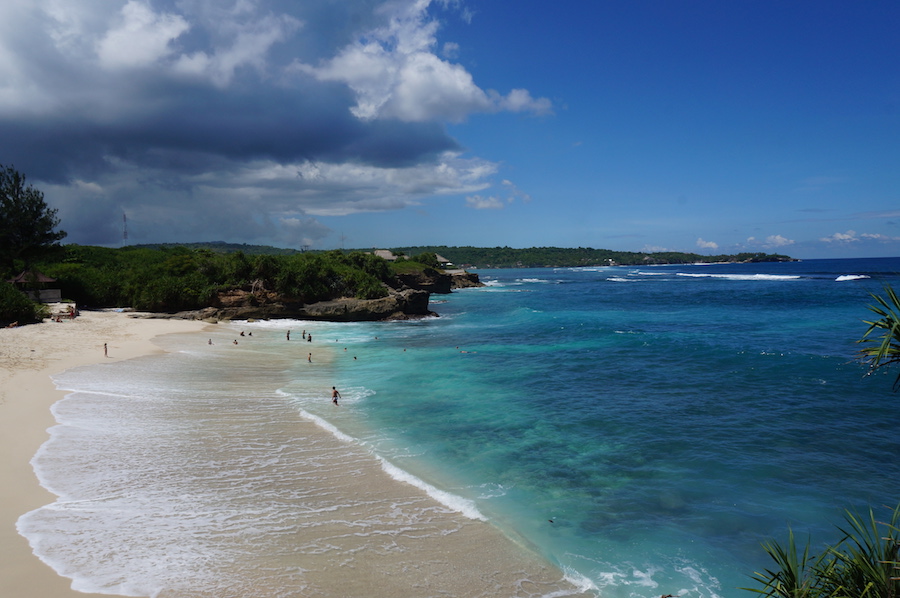 Dream Beach, no doubt one of the prettiest beaches in Bali, is increasingly drawing more visitors. The coastal landscape in this part of Lembongan (south coast) is mostly low-lying limestone cliffs, and there are some dramatic cave formations.

A beautiful view can be seen from the cliff at the right side of Dream Beach, especially during sunset. Other beaches to enjoy are those mentioned earlier, including Mushroom Bay and Jungut Batu.
These are however more developed beachfronts, but this means that access to cafés and restaurants is much easier. This is a great area to bring the family, where Mum and Dad can eat and drink, whilst kids keep themselves busy on the beach itself.
Jungut Batu Beach ( Kartika Dewi Suardana)
Jungut Batu Beach ( Kartika Dewi Suardana, left), lunch at Bali Hai on Mushroom Bay
Devil's Tear
A five-minute walk from Dream Beach is the Devil's Tear, a rocky outcrop that presents a dramatic water show!
During the right tide, the huge waves that roll in here crash up against the rocks and splash way up onto cliff where you stand, and the ocean's spray washes against your face. It's actually very exhilarating and has to be experienced firsthand!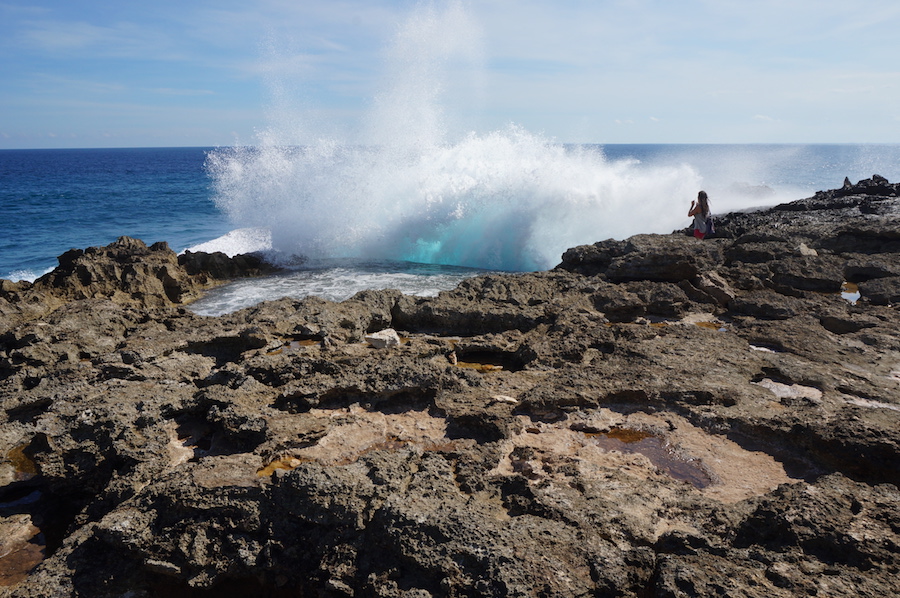 Mangrove Forest
Lembongan is also home to an expansive mangrove forest on its northeast coast, where locals offer an immersive mangrove tour.
The mangrove forest covers almost a third of the entire island and you can either jump on a stand up paddle or take the kids for a leisurely canoe experience through the waterways that wind through the estuary that goes deep into inland from the open sea.
The atmosphere deep in the forest is calm and serene, where the children can look out in wonder and intrigue at this rare natural sight. If you're lucky, you may spot a Javan kingfisher, a vibrant blue bird known to nest in such a habitat. Below the crystal clear waters, crabs, shrimp, fish and other small creatures can be found lurking.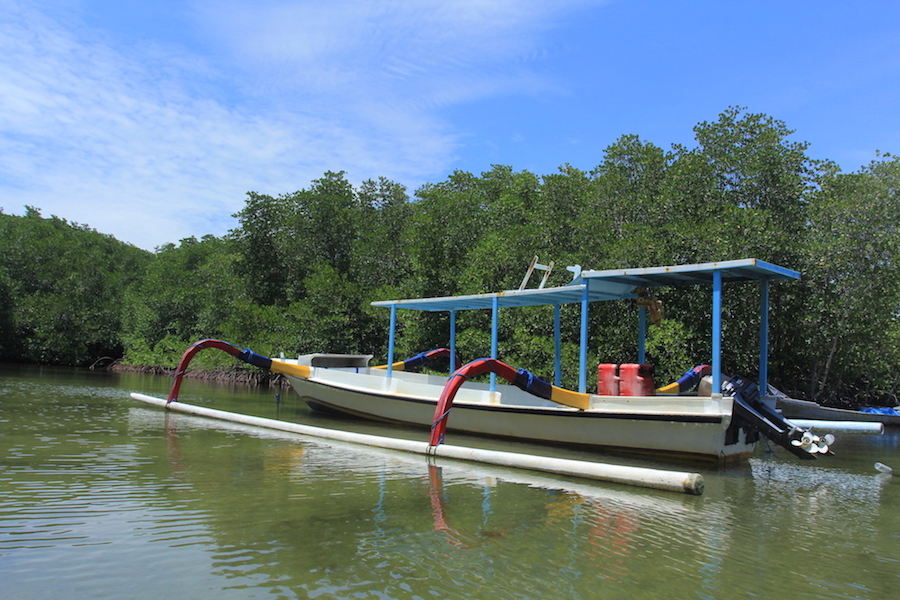 Seaweed Farms
Between Nusa Lembongan and Nusa Ceningan, the coast is filled with seaweed farms and farmers. Looking out to the sea, you can see small groups of men and women bent over, tending their lines of seaweed.
It isn't a mega-agricultural site, but the seaweed farmers of Lembongan take the business very seriously, and are even going about it in an environmentally-friendly way!
All along the beach seaweed farmers come and go, bringing out bags of seedlings or loading the latest harvest into their boats. The farm consists of a few simple buildings the farmers use for resting and for preparing the seedlings.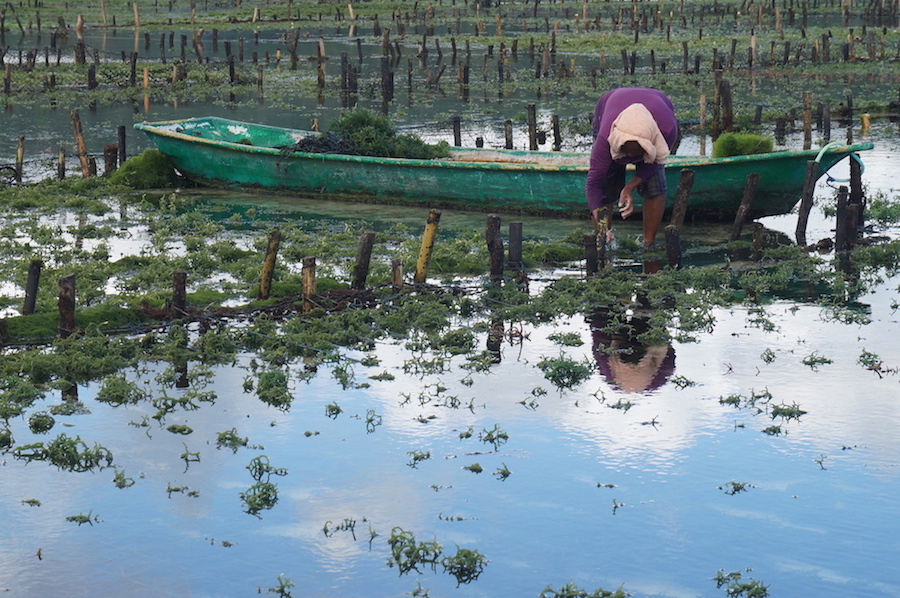 The remaining land is used for drying the seaweed, which, when dried, is sold to the local suppliers for less than five dollars per kilogram! The dried seaweed will then be shipped to Denpasar and other areas in neighbouring Java to later be used as an ingredient for food and beverages as well as cosmetic products. Read more about Lembongan's seaweed farmers here.
Gala Gala Underground House
An attraction unique to Nusa Lembongan is Gala Gala Underground House, built by an extraordinary Balinese man named Made Byasa. Byasa spent fifteen years digging on his own yard to make an ideal meditating place.
In 1976, the 500 square meters of labyrinth was completed with a complex web of holes that consist of: a meditation room, bedroom, bathroom, dining room, living room and kitchen. Of course, don't go expecting to sit comfortably on the living room's cozy sofa or anything like that!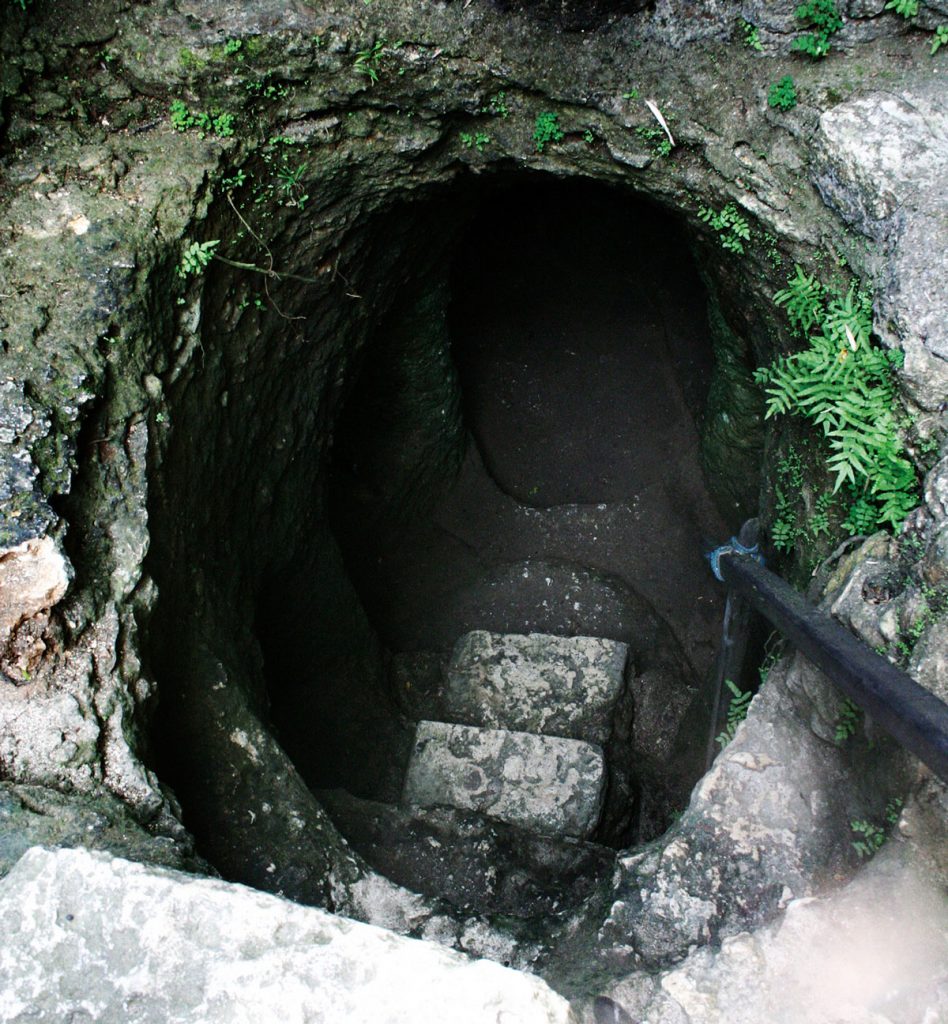 There are some parts of this house where you need to bow down when exploring them, unless you feel like hitting your head on the rocky ceiling. Gala Gala's seven entrance/exit doors are pretty steep and could be slippery at times. Gala Gala is located down a small lane off the main road after the Nusa Ceningan suspension bridge (on the left side if you come from Jungutbatu/Mushroom directions). The small lane (wide enough for motorbike access) is the one with a small wooden signboard saying "Gala Gala Underground House".
The Yellow Bridge
A favourite spot is the crossing between Nusa Lembongan and Nusa Ceningan, where a shining yellow bridge connects the two islands, taking pedestrians and motorbikes over the bright blue waters beneath them.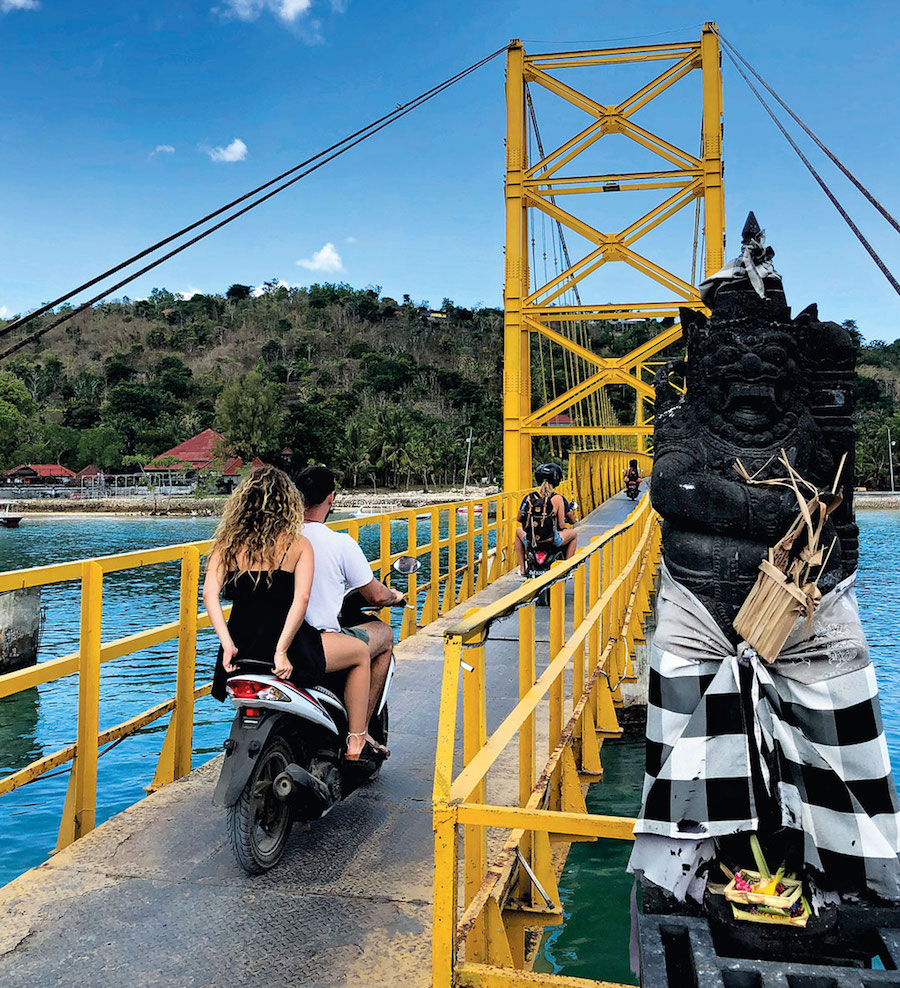 All of the 'Nusa' islands are great for diving too, we've made a separate article on Bali's best diving spots that covers this separately.
---
Nusa Lembongan Accommodation
Whilst a day trip to Nusa Lembongan is fun, staying a few nights there allows you to fully explore what the island has to offer. There are quite a lot accommodation options here, including hotels, villas and resort. Here are a few of our favourites (note they may be closed due to the pandemic):
The Tamarind Resort, Nusa Lembongan
The Tamarind Resort – Nusa Lembongan is perched on the heights of Nusa Lembongan, offering an unparalleled view over to mainland Bali. The Tamarind Resort is currently the only five-star resort in Lembongan, making it an indulgent escape for you and the whole family.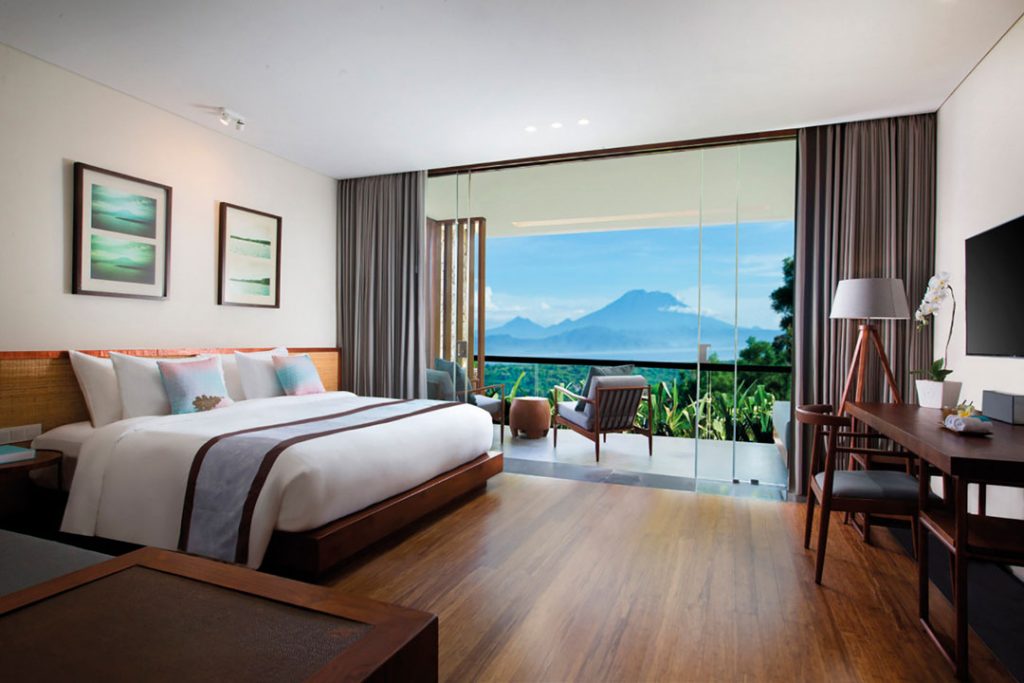 The Tamarind offers 3 types of rooms – Candrika, Atapa and Pavana – each providing king-size beds, air conditioning, rain shower/bathtub, cable TV, Bluetooth speaker and private balcony on each room. The rooms also enjoy sweeping views of the ocean, majestic Mount Agung and Lembongan village. The resort also has decadent villas, each boasting three bedrooms, two of which can have twin bedding to host up to five children across two suites and 2 adults sharing a king-size suite. . (www.preferencehotels.com)
Hai Tide Beach Resort
Hai Tide Beach Resort, found on Mushroom Bay, is a delightful getaway. It has 17 traditional 'lumbung' rice huts as your accommodation, perched beach-side. Complete with bar, restaurant, swimming pool, games, diving facilities, water sports and more, Hai Tide Beach Resort exudes tropical escape like no other. (www.haitidebeachresort.com)
Lembongan Beach Club by Tjendana Villas
Found on Jungut Batu beach, and is comprised of 37 villas with private pools, offering a slightly different experience. Find out more at:
www.lembonganbeachclub.com .null
Day trip to Nusa Lembongan
If you really only want to explore Nusa Lembongan in just one day, the most highly recommended organiser of day trips is The Bali Hai Cruises, who have catered their trips to be family friendly and packed with activities and sights to see.
The Bali Hai Cruises' luxury vessel departs Benoa Harbor at 9.15am everyday to cruise from the Bali mainland to Nusa Lembongan, where it moors alongside a purpose-built pontoon packed with activities for the whole family.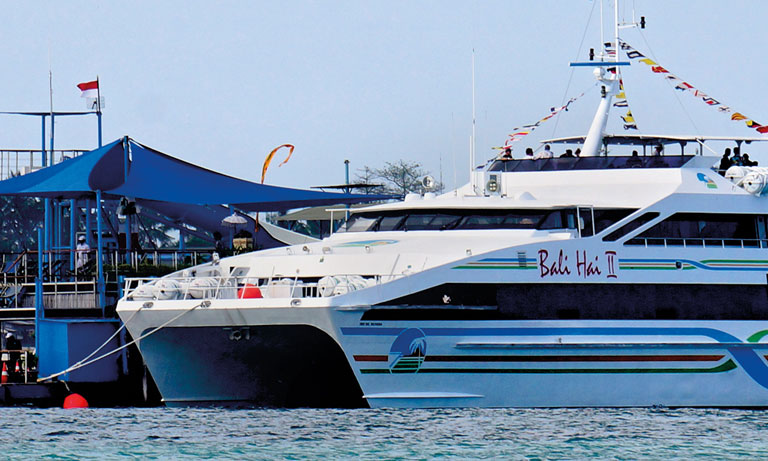 During this day trip, you can see Lembongan island's exotic marine life and colorful corals from the comfort of Bali Hai's semi-submersible coral viewer, by going snorkeling in beautiful Lembongan Bay, or even by trying scuba diving for the first time with an experienced team of PADI diving Instructors.
Other cruise activities include unlimited banana boat rides, a cultural tour of Lembongan Island, or you can slide the exciting 35-meter waterslide. And when you've finally worked up an appetite, feast on a delicious buffet served in air-conditioned comfort aboard Bali Hai II.
The Bali Hai II departs from Nusa Lembongan Island around 3.15pm and slowly cruises back to mainland Bali as you relax and enjoy the view across the ocean. If you are not ready to go home then perhaps you want to join the Bali Hai's Aristocat sunset cruise (www.balihaicruises.com).