This dinner was the celebration of World Chaine Day and was held at Sip. Located on the main street in Seminyak, Bali and being Saturday, the coming and going of curious tourists, party goers and other Saturday night revellers added to the excitement and anticipation of this special dinner.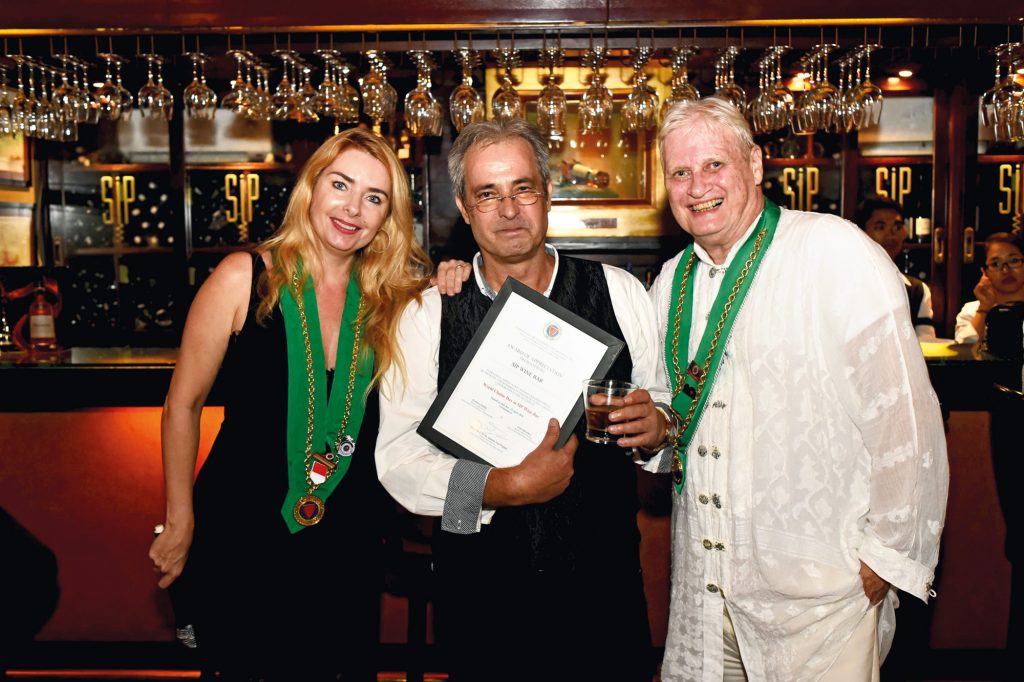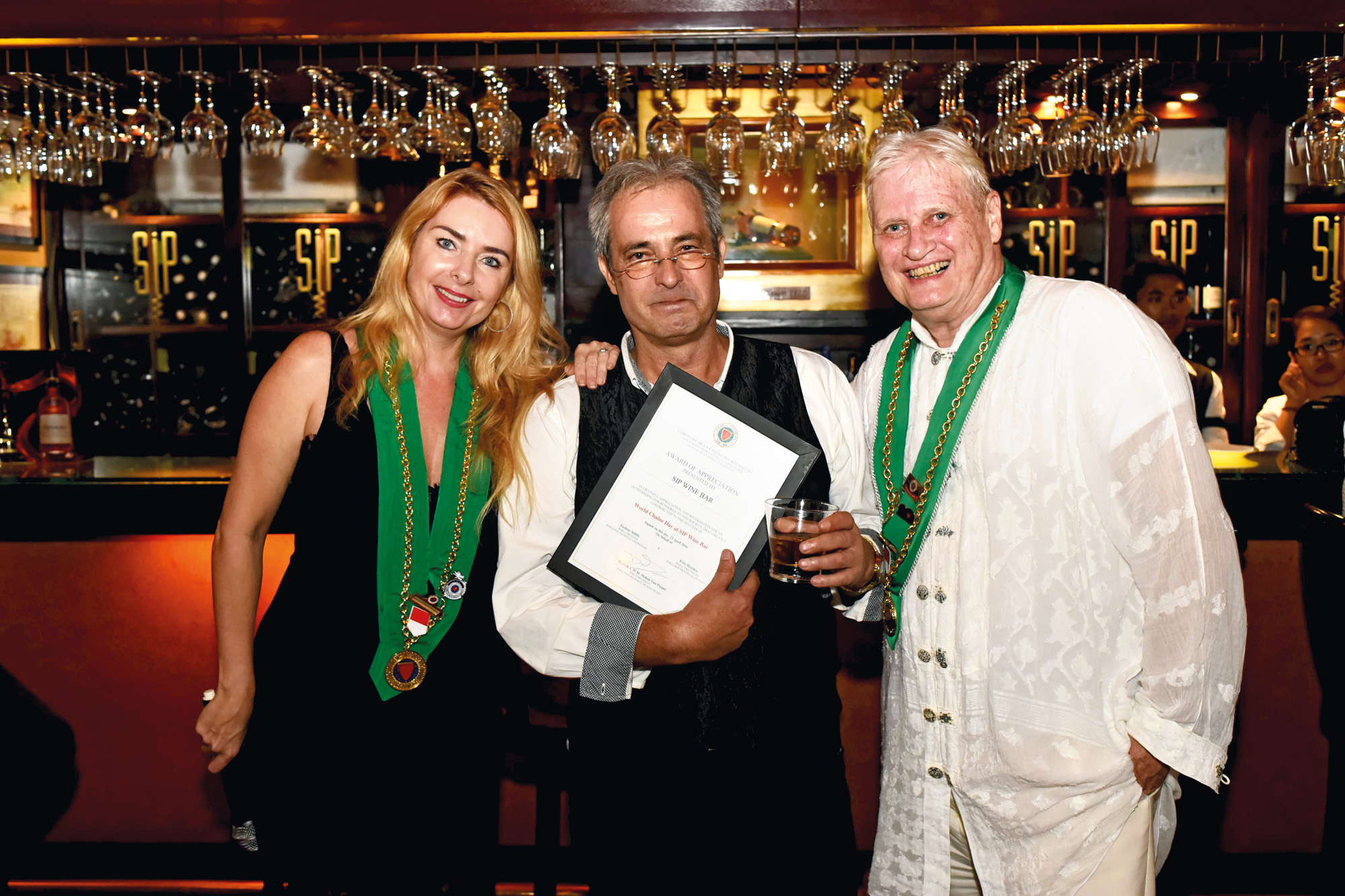 Guest were greeted with champagne and enjoyed pre-dinner canapés on the timber decked terrace overlooking the street. The smiles and hugs of greeting friends together with the introduction to new ones signalled an amiable evening of camaraderie.
Our host Monsieur Daniel Vanneque had prepared a true and pure French menu reminiscent of the fare served at the legendary La Tour D'Argent. He and his brother had worked for many years in this famous restaurant in Paris that has been operating for almost 100 years. A highlight was an old photograph hanging on the wall depicting Daniel's older brother serving wine to the famous Salvador Dali.
The evening commenced with a rusty rendition of Le Marseillaise which was followed by a hearty round of applause signalling the commencement of our French feast.
The first entree titled Quenelle Tour D'Argent was a spoon moulded mousse of steam poached Tasmanian Salmon and Barramundi with mornay sauce au gratin service with Bordeaux, Clarendelle 'Haut-Crion' 2012. A delightful ensemble.
This was followed by, Coquille Saint Jacques Ravioli Cardinal. The perfectly al dente ravioli contained scallop and were gently swimming in a delicate lobster sauce with bechamel, white wine and truffle juice. A cote du rhone, Paul Jaboulet 'Paralellle 45' 2013 was again a perfect match.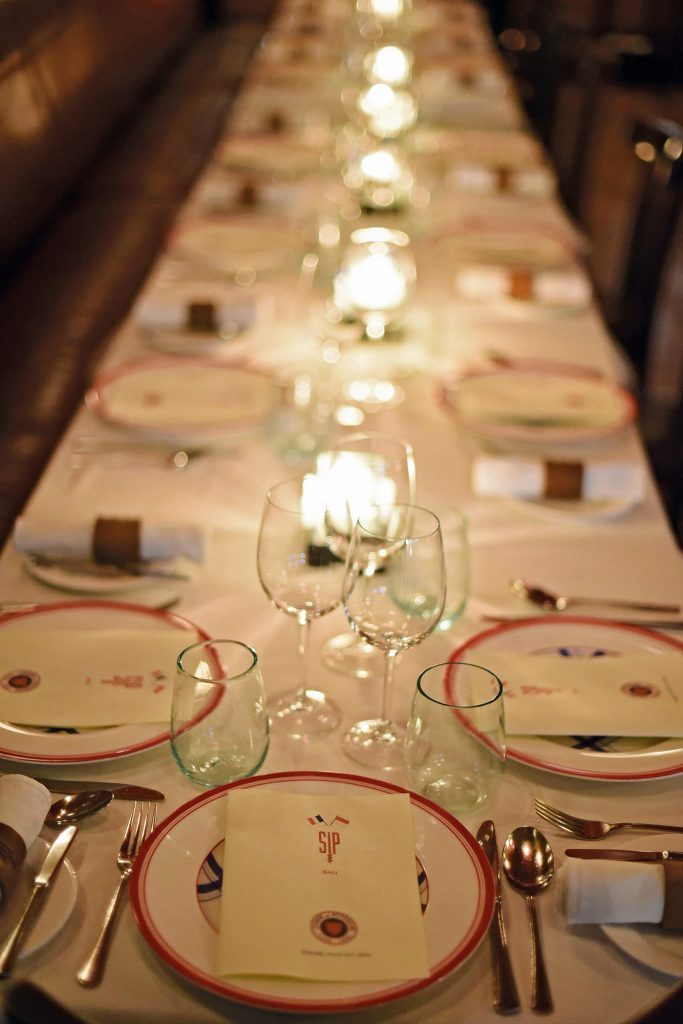 The palate cleanser 'Trou Normand' followed.
The main course 'Canard Marco Polo au Poivre Vert' was a generous portion of roasted fillet of Barberie duck deglazed in white wine. The fillets were cooked pink and served with slightly creamy green peppercorn sauce and Maxim's potato. The wine was Grenache-Syrah Costieres de Nimes, Chateau de Valcombe 'Prestige' 2010. A delicious course.
Assiette-d'or A.O.C. – Fromage included 3 cheeses; Fourme d'Ambert, Reblochon and Brie De Meaux accented by a Cabernet sauvignon, Merlot and Petit Verdon blend from Margaux, Chateau Tayac Cuvee Nicholas 2011.
The guests were then treated to a most unexpected floor show ! 3 couples gaily dressed in flamboyant blue costumes performed a wonderfully acrobatic Can-Can! What a delightful interlude whilst chef and his assistants created the dessert.
And what a 'piece de resistance' it was. The service staff with military precision marched 43 perfectly formed soufflés to the applauding guests. The 'Soufflé au Grand Marnier' served with Bordeaux, Chateau calves 'Reserve du Ciron Sauternes' 2010 was a fitting end to the La Tour D'Argent inspired evening.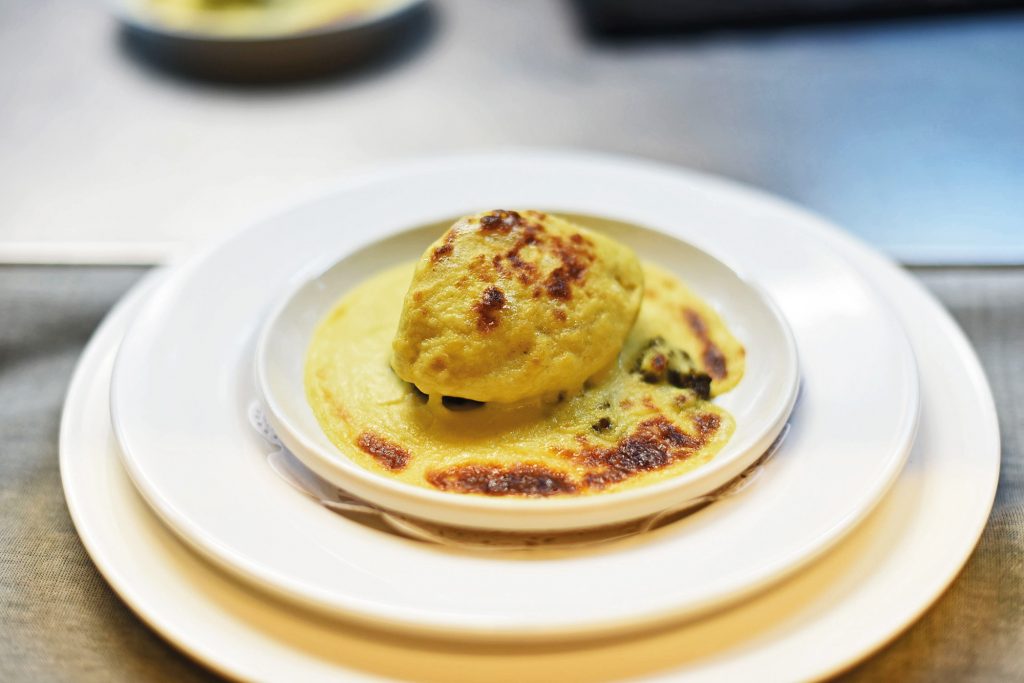 Well-deserved accolades were delivered to Head of Culinary: Patrick Chauchereau who regaled the guests with a wonderful story about how he can produce such delicious typically French dishes with Balinese kitchen staff. Patrick complimented all his staff for being so enthusiastic, punctual and happy and what a delight it was to work with them.
Head of Service, Putra Puniasa also did a marvelous job, and all staff were rewarded with a standing ovation.
All the guests, suitably primed, stayed on taking tea, coffee, cognac and cigars as once again Bali Bailliage hosted a dinner fit for a Sultan!